From the Himalayas in the north to the plains in the south, Nepal is a country of quite staggering beauty, as well as the richest cultural heritage. The birthplace of the Buddha, the highest peak in the world and the most friendly people, there is so much to ensure that your Nepal holidays will live with you for ever.
Nepal will always be a country that has a soft place in the heart of Travel Begins at 40. It was in the mountainous country that our founder, Mark Bibby Jackson, first fell in love with travelling, after struggling to come to grips with it on the sultry plains of Rajasthan. Years later, it was while attending a bloggers convention in its capital Kathmandu that this website was conceived.
Blessed with the most majestic mountainous terrain and stunning scenery other countries can only dream off, Nepal is an absolute must on any trekker's bucket list. With eight of the ten highest mountains in the world, all of which are over 8,000m, this is a country you most definitely look up to.
While most people on their Nepal travels probably end up trekking either from Kathmandu to Everest or from Pokhara to Annapurna, the country has much more to offer than just a hard slog. Having said that Nepal trekking holidays are rich and rewarding and at the top of a list of things to do in Nepal, just so long as you avoid the logjam at Mount Everest.
The Kathmandu Valley has seven UNESCO monument zones, and in Bhaktapur and Patan, two former medieval kingdoms which are easily accessible from the current capital Kathmandu. There are also both spectacular Buddhist and Hindu temples that are perfect for an early morning visit.
Not all the country is mountainous. Chitwan National Park in the south has rhinoceros and Royal Bengal tigers, and a much more manageable terrain.
But above all, it is the warmth of the hospitality of the Nepal people that amazes. The people who have endured so much in recent times will give you such a welcome that it is impossible not to want to return.
Read on for more Nepal travel advice in our Nepal travel guide for the Over 40s.
Trekking in Nepal
See Outdoors and Nature, and Nepal Safety and Health sections below for the advice on Himalaya trekking in Nepal, as well as trekking from Pokhara. You will need to get permits for your trekking. This can be done online or through a Nepal travel agency.
Nepal Heritage and Culture
People have lived in Nepal from the 30th Century BC, ever since the Gopal Bansa settled here. The Kiratas were the earliest rulers of Nepal. However, it did not become the Kingdom of Nepal until the Gorkha King Prithvi Narayan Shah unified the country through pacifying neighbouring kingdoms in a series of brutal battles, most particularly at Kirtipur in 1769.
Prior to this, there were three kingdoms in the Kathmandu Valley – Bhaktapur, Patan and Kathmandu. This is reflected in the seven monuments on the UNESCO list: the Durbar Squares of Kathmandu, Patan and Bhaktapur; as well as two Hindu temples – Pashupati and Changu Narayan; and the Buddhist stupa complexes of Swayambhu and Bauddhanath.
What this means for the modern-day tourist is that there is so much to savour on your Nepal travel.
Of the three medieval kingdoms, Bhaktapur is arguably the best preserved, despite the effects of the 2015 earthquake (see below). If you wish to avoid the bustle of Kathmandu's Thamel district Bhaktapur makes a great place to stay, especially while wandering through the traffic-free cobbled streets as potters spin their wheels. Marvel in the glorious architecture, especially the Lion and Golden gates, the statue of King Bhuptindra Malla, Nyatapola Temple and the 55-window Malla Palace.
Hindus come to cremate their dearly departed in ceremonies at the country's most sacred Ghats, while yogis preserve their vows of silence nearby
Patan also has a wonderful Durbar Square and Golden Temple while Kathmandu's Bodnath Stupa is at the centre of the country's biggest Tibetan community and a constant hub of prayer.
Indeed, the capital's streets still possess a charm that makes it unique, even though the only Nirvana you are likely to encounter is that played by cover bands in Thamel's bars.
If you are looking for early morning starts then Swayambhu, or Monkey Temple, has spectacular views of Kathmandu, while Pashupati truly is a remarkable place. Here Hindus come to cremate their dearly departed in ceremonies at the country's most sacred Ghats, while yogis preserve their vows of silence nearby.
Try to coincide your visit with one of the many Nepal holidays and festivals (see below) observed in the country.
If time permits escape Kathmandu Valley and Pokhara to visit some of the smaller communities and villages to discover the rural culture. Your Nepal holidays will be all the more rewarding if you do so. One such place is the village of Nuwakot, itself an ancient capital, which was decimated by the earthquake, but makes for the most amazing day trip from Kathmandu.
Where is Nepal?
Landlocked Nepal is sandwiched between the two largest populations in the world India and China. To the north is Tibet. Its isolation has left it perennially dependent upon one or other of its two super-power neighbours. Travel to Nepal from India is possible by bus (or train and bus) to either Pokhara or Kathmandu. Travel advice can be found here.
Outdoors and Nature in Nepal
With eight of the ten highest peaks in the world, you might be forgiven for thinking that Nepal is only about mountains, but the country has a quite diverse terrain, with three distinct regions – Himal, Pahad and Terai.
Himal contains the high Himalayas with all its lofty peaks and the mother of them all Mount Everest. Pahad is a low mountainous region with peaks of up to 4,000 metres, and the Terai contains the southern plains bordering on India including Chitwan National Park.
Most trekking focuses upon either Everest Base Camp or Annapurna.
Trips to the Himalayas take time. It takes up to 14 days to trek to the Everest Base Camp, taking a flight from Kathmandu to Lukla. Alternatives are to trek from Jiri, Saleri or Phaplu. The main trekking seasons are from March to May, and October to November. Take sensible precautions for altitude sickness (see health and safety below) and hire a guide and/or porter. Even if you are confident of the route, the locals depend upon the income you provide them, and it is a lot easier on your back.
The sense of fulfilment and becoming at one with nature is an experience that will live with you forever
Treks to Annapurna set off from Pokhara, and include the Annapurna Circuit, Annapurna Base Camp (ABC) and shorter treks to Poon Hill. We really can't recommend this highly enough. Although at peak times, especially in the lower hills the treks can get crowded, the sense of fulfilment and becoming at one with nature is an experience that will live with you forever. I still recall the natural high I felt, in both senses, of reaching Annapurna Base Camp in 1994.
Those wishing to climb Everest or other peaks in the Himalayas, can get some tips here.
However, there is much more to Nepal than high mountains, and arguably trekking in the more remote low highlands, which get far less through traffic, can be a more rewarding experience, especially if you get to know the local people.
Down in the plains, Chitwan National Park has a wealth of animal life to see, including rhinoceros, crocodile, deer and many species of birds, as well as the tigers for which it is famed.
Top 10 Peaks
to climb on your Nepal travel
It is no wonder that Nepal is trekkers' heaven. The country has eight of the ten highest peaks in the world. The highest peaks are:
Mount Everest, 8,848m, Nepal/China (Tibet) in the Himalayas
K2, 8,611m, Pakistan/China, in Karakoram Mountains
Kangchenjunga, 8,586m, Nepal/India, in the Himalayas
Lhotse, 8,516m, Nepal/China (Tibet), in the Himalayas
Makalu, 8,485m, Nepal/China (Tibet), in the Himalayas
Cho Oyu, 8,201m, Nepal/China (Tibet), in the Himalayas
Dhaulagiri, 8,201m, Nepal, in the Himalayas
Manaslu, 8,163m, Nepal, in the Himalayas
Nanga Parbat, 8,126m, Pakistan, in the Himalayas
Annapurna, 8,091m, Nepal, in the Himalayas
Food in Nepal
While nothing to write home about on your Nepal holidays, Nepalese cuisine is hearty and wholesome, ideal for those cold winter nights while trekking in the Himalayas. The main Nepalese meal is dal bhat, a wonderful never-ending meal that can be eaten at lunch or dinner. Dal soup is served with bhat (rice), a vegetable curry (tarkari), pickles (achar) and chutney. Often served vegetarian for a few rupees more you can add meat to it.
Another popular dish is the momo, steamed dumplings that come either with a meat or vegetable filling. In the main tourist areas of Kathmandu and Pokhara as well as on treks, you will also find a wide variety of international cuisine, and if you are really lucky some pizza that will make you most happy.
Festivals in Nepal
With 36 Nepal national holidays each year – more than anywhere else in the world – as well as some 50 festivals, it would seem a pity to miss out on all the fun during your own Nepal travel.
The largest festival is Dashain, which falls in September or October. For 15 days the goddess Durga is worshipped with animal sacrifices, offerings and ritual bathing. This is also the time when people construct giant swings (or ping), that consist of four bamboo poles that can be anything up to 5 metres high.
Tihar, or the Festival of Lights, is Nepal's second biggest ceremony. Held in October or November, for five days people clean their houses and pay tribute to Laxmi, the Goddess of Wealth, believing she will only visit the cleanest of houses. Dogs, crows and cows are worshipped at this time, and there is much gambling, as the prohibition on it is temporarily lifted.
Lhosar or Tibetan New Year falls in February. A colourful festival, Buddhist monasteries are decorated and people join in traditional dances. Shivaratri, in February or March, is when thousands of Hindus make the pilgrimage to Pashupatinath temple to pay tribute to Lord Shiva.
Other major festivals celebrated include Holi, the Indra Jatra Festival in September, New Year in April 2019 and Buddha Jayanti which celebrates the birth of the Buddha (see Nepal Religion below). Nepalese do not work on Saturdays rather than Sundays.
For further information on Festivals in Nepal, click here.
The national flag of Nepal has one claim to fame – it is the only one in the world that is not rectangular. Laid down in the country's constitution, its shape resembles two horizontal red triangles with blue borders joined together, inside of which are a moon and a sun. The red stands for victory as well as being the colour of Nepal's national flower the rhododendron. The blue reflects peace. The curved moon symbolises the peaceful nature of the people while the sun represents the warlike nature of its fighters. Clearly, Tolstoy would feel at home in this War and Peace nation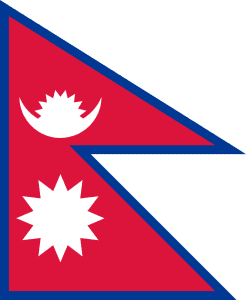 Nepal Weather / Best Time to Visit
Nepal weather is serious. Avoid June to September which is monsoon season, when floods can cause landslides and trekking can be extremely treacherous. September to November has clear skies and the rains have driven away the dust. After that snow can block certain passes if trekking, but the walks are less crowded. Spring from February to April has longer days.
Mustang is reputed to be the coldest place in Nepal recording temperatures of -27 degree centigrade.
Nepal Earthquake 2015
Measuring approximately 8 on the Richter scale the Nepal Earthquake struck at 11.56 on 25 April (Nepali time), with its epicentre at Barpak, Gorkha. The worst natural disaster in Nepal since 1934, it killed almost 9,000 people, injuring a further 22,000. An avalanche triggered by the earthquake killed 21 climbers on Mount Everest. Hundreds of thousands of people were left homeless with entire villages flattened. The earthquake also damaged several heritage sites in the nearby Kathmandu Valley.
Latest Nepal Travel Features & Articles
Nepal Visa
Like most countries, citizens of the UK need a visa to enter Nepal, although this can be purchased at the main Tribhuvan International Airport. It saves time to apply for a visa in advance. For information on UK visas as well as safety advice for your Nepal travel, click here. Further information about visa on arrival can be found here.
Flights to Nepal
Tribhuvan International Airport in Kathmandu is the only international airport, although there are plans to upgrade both Pokhara and Gautam Buddha airports to an international standard. The latter serves Siddharthanagar, which is the gateway to Lumbini, the birthplace of the Buddha.
There are no direct flights from London Heathrow to Kathmandu, although you can fly via Delhi with Air India, with Qatar Airways via Doha, Emirates via Dubai, and Turkish Airlines via Istanbul; the latter departs from London Gatwick.
Our Nepal Travel Special Offers
Nepal Travel Photos


Some of the sights to enjoy on your Nepal travel
All of the amazing Nepal travel photos on this page are courtesy of Nathan Horton who runs the most wonderful photography tours through the country twice a year. For more details visit: Nathan Horton Photography Tours.
[adrotate banner="31″]
Getting Around Nepal
Unfortunately, the road network around Nepal hasn't improved much in the twenty years since our first Nepal holidays. With no railways, the cheapest way to get around the country is by bus, but expect major delays as the roads can get clogged up, especially if you are heading out of the Kathmandu Valley towards Pokhara.
It's best to fly between these two major tourist destinations. The half-hour flight with Yeti Airlines or Buddha Air is relatively inexpensive and will save you lots of time. However, build in some flexibility in your itinerary as the flights are notorious for getting delayed. There are also internal flights to other parts of the country.
If taking a bus make sure it is air-conditioned and from a reputable company. Taxis are available in both Kathmandu and Pokhara, and the latter is easily walkable, especially if you are wandering around its lake.
Nepal Safety and Health
Nepal is a developing country and as such there are sensible precautions you should take while on your Nepal holidays especially if you are travelling to Nepal alone. Check up on the recommended jabs with your doctor, and avoid drinking the local water, leave valuables in a safe, etc.
There is a fair chance that you will pick up some stomach bug on your trip, so take something for this, and always carry some toilet paper with you in case you are caught short.
There are extra precautions you should heed if trekking in Nepal. The golden rule is to take your time. There are no prizes for the first person to reach the base camp or the next tea house. In fact, the longer you take the more time you have to soak in all that beauty around you – my favourite ever day trekking was the one where I never left my tea house and just saw the clouds rolling in through the valley as trekkers kept on trudging past. If you feel tired then take a rest.
Allow time for acclimatising to the altitude in scheduling your Nepal travel and build in some rest days where possible, eat well and keep on taking fluids. Remember, there is 50% less oxygen at the base camp than at sea level. If you have a headache, feel dizzy or out of breath then you might be suffering from altitude sickness. If symptoms persist after taking some rest then you should seek medical advice.
You might pick up a bargain in the numerous shops in Thamel, but when they start rubbing a day into your 10-day trek you might soon be regretting your decision
Trekking for several days can be arduous, especially at altitude, so make sure you are in reasonable shape before you set off on your Nepal holidays. I recommend taking a walking stick or two with you, especially for those steep steps – remember it's often more difficult going down than up.
Bad blisters, twisted ankles and swollen knees are the curse of walkers. Make sure your walking boots are comfortable and worn in before you set off. You might pick up a bargain in the numerous shops in Thamel, but when they start rubbing a day into your 10-day trek you might soon be regretting your decision. Take plenty of socks – that second pair might just be the extra comfort you need – waterproofs, sunscreen, Deep Heat, ankle and knee supports and first aid kits. If this all sounds excessive then that's another reason for hiring a porter who can carry your spare clothes while you take care of the essentials.
It's not a bad idea to stick to a vegetarian diet, especially while trekking. Dal bhat (see Nepal Food section above) is a major part of the Nepalese culture and provides great energy for trekking. As the Nepalese say 'Dal bhat power, 24 hour.'
At time of writing this Nepal travel guide, the country was going through a period of peace. However, this has not always been the case, and there are often political demonstrations, so it is best to keep abreast of the news and check the latest Nepal travel advice before you set off.
Nepal SIM Cards / Internet
The main service providers are Nepal Telecom and NCell – the former is slower but has better coverage in mountains, while NCell is a bit more user friendly. You can buy a SIM card at Kathmandu Airport or in Thamel district, Kathmandu Nepal. The SIM card will cost you pennies. It's best to get a Nepal holiday package for the duration of your stay, which includes plenty of data coverage – you will use this more than make phone calls.
If you are travelling to remote places it might be advisable to buy both Nepal Telecom and NCell SIM cards to provide you with greater coverage. However, I'm not sure if either reaches the summit of Mount Everest.
Top up your SIM card with extra data allowance at any store which shows the brand of the service provider you are using.
Internet coverage is pretty impressive throughout the country, even while trekking in Annapurna – which could be a good or bad thing, depending on whether your idea of a Nepal Holiday is to get away from things, or not.
Languages in Nepal
The majority language is Nepali, which is spoken by 44.6% of the population, with Maithili as the second language (11.7%), followed by Bhojpuri (6.0%), Tharu (5.8%) and Tamang (5.1%). Other languages are Nepal Bhasa, Bajjika, Magar, Doteli, Urdu, Awadhi and Sunwar. All figures are taken from the census in 2011. There are also four sign languages.
Nepal Religion
The majority of Nepalese are Hindu, with Shiva regarded as the country's main deity. Hindus from all over the globe make the pilgrimage to Pashupatinath Temple, literally 'the Lord of animals', to pay homage to Shiva, the protector of all things on earth.
Buddhism is the other main religion, with Siddhartha Gautama, or the Buddha, said to have been born in Lumbini in Nepal's Kapilavastu district in 563BC. Made a World Heritage Site by UNESCO, Lumbini is also a popular pilgrimage site.
Nepal Currency
The currency is the Nepalese Rupee. At time of writing this Nepal Travel Guide, there were approximately 145 rupees to the GB pound.
Nepal Population
29,304,998 (2017)
Nepal Country Code
Nepal's dialling code is +977.
Nepal Timezone
The time in Nepal is GMT / UTC + 5.45. Some 15 minutes ahead of India; perhaps a politically-motivated move. There is no daylight saving time.
Booking a hotel or flights for your Nepal travel? Look no further.
Are you booking a hotel, a budget hostel, or a five-star resort for your Nepal travel? Our hotel and flight comparison engine will help you find the best flight and hotel deals from around the world. Each booking also helps to support our website while still getting you a great deal on booking hotels and flights. Get started below.
We search hundreds of online travel agent (OTA) websites to find you the best available deals on Nepal hotels and flights to Nepal. Your booking is made directly and securely through the travel operator website (e.g. Agoda, Booking.com), we don't handle your bookings or any payments directly.