Over 50s in the UK Are Keen to Travel
Travel Begins at 40 Editor
Posted on 4th Mar 2021
Mature travellers will be the first to pack their suitcases and jet off across the globe according to a new travel survey.
The Covid-19 pandemic has seriously curtailed holidays for past the year, but the wide-ranging survey by Asia travel specialists Experience Travel Group (ETG) in conjunction with AITO (The Specialist Travel Association) has revealed some interesting insight into 2021 travel plans as optimism rises that international travel will be possible from May 17.
More than 20,000 travellers from across the UK took part in the survey over January and February and before the UK government's Covid-19 roadmap out of lockdown was announced. ETG's managing director Sam Clark has summarised the findings and the implications for travellers in an online report on immersive travel.
Amongst the key findings was the real desire to head overseas once again – and particularly in the near future. The data revealed that the 50-59 age group will be at front of the queue getting their passports checked with 85% of respondents indicating they will either be 'amongst the first to travel' or will be 'travelling once the time is right'.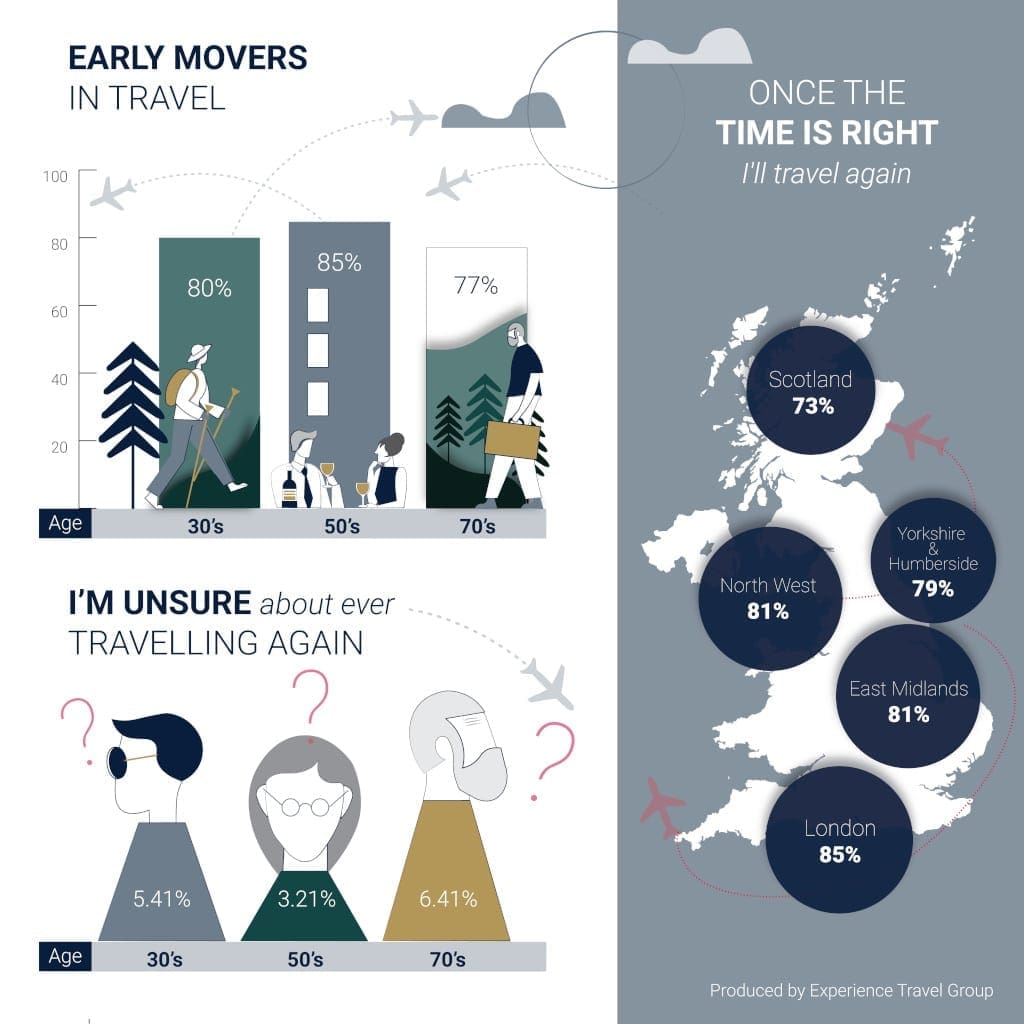 Not far behind are those in the 60-69 age group (82%), while the 70-79 age group is a positive 77%. Those aged 80 plus are more reluctant than other age groups, but with a still healthy 68% of those surveyed ready to head abroad. By comparison, the 30-39 age group are at 80%.
What was a surprise were the numbers from respondents considering never travelling overseas. It is just 4% amongst those in the 60s, with the 50s age group 3.5%. By contrast, almost 7% of 30–39-year-olds expressed this view as did a similar proportion of those in their 70s.
However, there is a wide variation from across the regions on who will be jetting off. Travellers living in London lead the way at 85 per cent – across all age groups. Across England the figure averaged 80.5%. This in sharp contrast to Scotland (73%) and Wales (78%), who have less appetite to embark on international travel.
The survey also identified what key activities travellers want to do when they eventually get away. Walking and hiking – which has increased in popularity during the pandemic, is now one of the more popular activities people want to do on holiday. Out of 19 options, it was third at 55%. Engaging with wildlife (58%) was second with exploring and embracing culture, arts and history in a destination top at 66%.
With bookings now increasing, respondents also indicated three key 'musts' if they are to travel this year. These are being vaccinated, low Covid-19 rates in their intended destination and Covid-19 travel insurance.
This explains why 79% confirmed they will use a specialist travel company or travel agent to book their holidays over the next 12 months, as travellers look to have additional assurances and confidence when on their overseas holidays.
Reflecting on the results, Clark said: "This in-depth survey gives a clear indication that people across the UK are eager to get away and what choices they will make.
"The results showed that there is a huge pent-up demand to take holidays overseas and perhaps surprisingly, that is so amongst all age groups. It was less surprising to see that mature travellers in their 50s and 60s will be amongst the early movers to head overseas as we are very aware they are extremely adventurous in their travel choices.
"Being aware of what travellers want to do and also their requirements to ensure their holiday is a safe and pleasurable experience is crucial for the industry."
---
For more information, latest news and offers from ETG visit the website.
Travel Begins at 40 Editor
Travel articles, news, special offers, festivals and events from the Travel Begins at 40 Editorial team and our global network of travel industry contributors.