Luxury Eco-Retreat Opens at Sydney's Taronga Zoo
Travel Begins at 40 Editor
Posted on 6th Sep 2019
This October, a unique Australian sanctuary will open just fifteen minutes from the bustle of urban Sydney. The new Wildlife Retreat at Taronga is an elegantly designed overnight eco-retreat nestled within the world famous Taronga Zoo on the edge of Sydney Harbour.
The first of its kind, the Wildlife Retreat offers guests an extraordinary, once-in-a-lifetime opportunity to have a luxury sleepover with Australia's unique wildlife and support conservation projects to save Australia's iconic wildlife.
Guests of the Wildlife Retreat will have the chance to wake up to the rustling of a bandicoot or the call of a lyrebird, and to revel in the natural beauty of the surrounding bushland. From their stylishly appointed room, they will step out into a lush sanctuary where koalas and echidnas roam and platypus swim. They can choose to join guided tours with passionate keepers and guides, or simply connect with the wildlife and its habitat in their own time, reassured by the knowledge that their stay has made a meaningful difference to this not-for-profit, conservation-based organisation.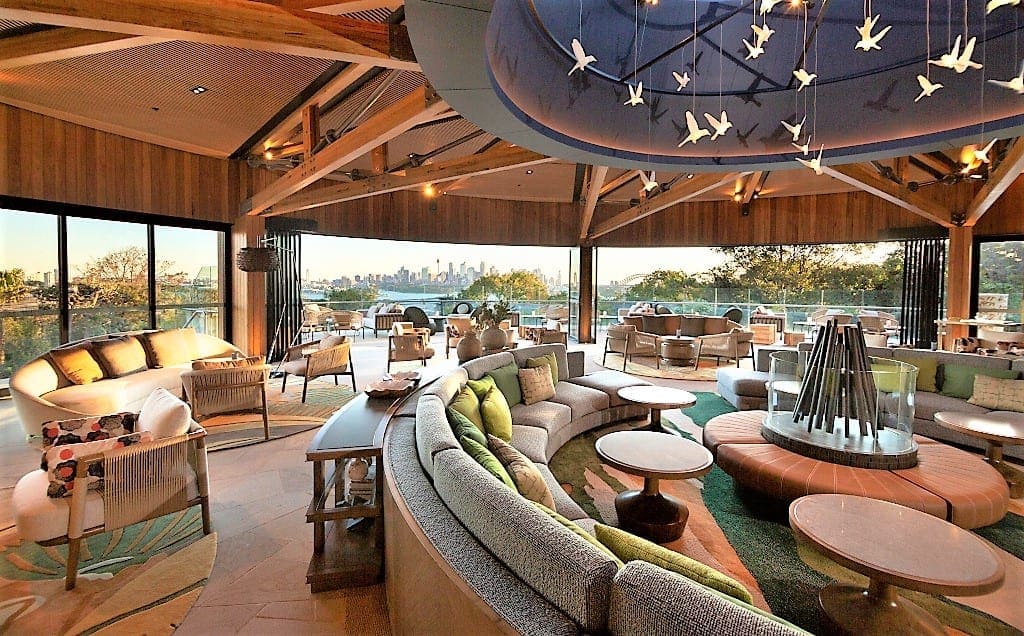 Designed by leading Australian architects at Cox Architecture, the Wildlife Retreat features five environmentally-sensitive, sustainably-designed lodges built into the native bushland setting of Taronga Zoo, with 62 elegant rooms and suites that overlook the wildlife habitat, many of them with wonderful views of Sydney Harbour. Integral to the Wildlife Retreat at Taronga experience is its dining, featuring uniquely Australian menus with a strong focus on fresh local produce and native ingredients. The restaurant, Me-Gal, boasts some of the most spectacular views in all of Sydney. Through every element of its concept, design and experience, the Wildlife Retreat has been thoughtfully designed and curated to cater to couples and families alike, and to appeal to local guests as powerfully as it does international visitors.
Says Cameron Kerr, CEO of Taronga Zoo, "For a zoo to remain relevant, it must constantly evolve. Our new Wildlife Retreat at Taronga will deliver truly unique experiences to the people of Sydney, NSW, Australia and our international visitors. Through the Wildlife Retreat, we will foster genuine connections between people and Australia's fascinating wildlife, and inspire them to care as passionately as we do about our most precious residents. Guests will leave not only rejuvenated, but also with the knowledge that their stay has made a meaningful difference to wildlife and its conservation."
Owned and operated by Taronga Conservation Society Australia, the Wildlife Retreat will contribute essential funding towards the care of Taronga's animals and broader conservation and education programs in Australia and around the world, as well as increasing employment opportunities in the areas of hospitality and tourism. Taronga is a not for profit organisation and works tirelessly to achieve a shared future for wildlife and people, striving to be a centre for conservation excellence and an inspiration to individuals and communities.
The Wildlife Retreat at Taronga opens to guests from Thursday 10 October 2019. Rates start at £436 per night for two adults and includes two-course dinner, buffet breakfast, immersive and exclusive Australian animal experiences and complimentary general admission to Taronga Zoo.
---
For more information and to make a reservation please visit www.taronga.org.au/retreat
Travel Begins at 40 Editor
Travel articles, news, special offers, festivals and events from the Travel Begins at 40 Editorial team and our global network of travel industry contributors.