Nihi Sumba is Travel + Leisure's Best Hotel in the World
Website Admin
Posted on 24th Aug 2017
Readers of Travel + Leisure voted the idyllic resort of Nihi Sumba in Indonesia as the best hotel in the world. Nihi Sumba scored 99.12 score out of a possible 100 as part of the annual contest.
In second place was The Brando in Tetiaroa, French Polynesia – boasting 35 private villas, each with their own pool and beach to give the illusion you're the only person on the island – with an overall score of 98.91.
Those not seeking an island retreat might want to consider the rustic but luxurious Lodge & Spa at Brush Creek Ranch in Saratoga, Wyoming, which came in third.
The top ten winners of the publication's 2017 'World's Best Hotel' list was as follows: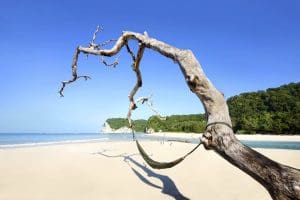 1 – Nihi Sumba Island, Indonesia
With just 33 villas on 560 acres, guests can enjoy complete privacy here at Nihi Sumba – with nightly rates starting at £800 – located in Indonesia an hour's flight from Bali. Nihiwatu beach, meaning 'mortar stone', was named by the early Sumbanese settlers for its isolated rock formation along the tide. The spacious villas play off the jungle-and-beach setting by using organic, eco-friendly materials and the surrounding ocean is crystal clear – perfect for snorkelling.
2 – The Brando, Tetiaroa, French Polynesia
While filming Mutiny on the Bounty, Marlon Brando fell in love with the French Polynesian atoll of Tetiaroa, buying it in 1967 with a view of turning it into his own personal paradise. This is the result. There are 35 private villas, each with their own pool and beach to give the illusion you're the only person on the island, while dining options range from a beachside bar to a stunning restaurant with a menu from Michelin-starred chef Guy Martin
3 – Lodge & Spa at Brush Creek Ranch, Saratoga, Wyoming 
This lavish 30,000-acre working cattle ranch was the venue for Girls star Allison Williams' wedding to Van Veen back in the summer of 2015. Its rustic interiors and wide range of outdoors activities – everything from riding and fly fishing to trail adventures – earned this resort the number three spot on the list.
4 – Lodge at Kauri Cliffs, Matauri Bay, New Zealand
This lodge is settled in a subtropical landscape of citrus, avocado and kiwi-fruit orchards which give way into the sparkling ocean, trimmed with steep cliffs. It's a majestic, scaled-up version of an early New Zealand settler's villa, with wraparound verandas, airy rooms, huge sofas, and country-style antiques.
5 – Gibb's Farm, Karatu, Tanzania 
Gibbs Farm is located in the Ngorongoro Karatu area of Northern Tanzania – the original farm-stay in the Karatu area. It's a quirky, inviting lodge on a historic coffee estate, which offers romantic lantern-lit dinners beneath the stars at night.
6 – Tswalu Kalahari, Tswalu Kalahari Reserve, South Africa
Guests can bed down amidst the wildlife in the savanna on an intimate safari at Tswalu Kalahari, in Kalahari, South Africa. It's South Africa's largest private game reserve, protecting over 110,000 hectares of spectacular grasslands and mountains, and allows no more than 30 guests at a time.
7 – Triple Creek Ranch, Darby, Montana 
This multi award-winning abode lies at the heart of the breathtaking Bitterroot Mountain Range of the Montana Rockies. It offers a selection of private log luxury ranch cabins and ranch homes, all connected to its warm and comfortable main lodge.
8 – Cavas Wine Lodge, Mendoza, Argentina 
Surrounded by 55 acres of vines and over 25 top wineries, not to mention stunning views of the Andes mountains, it's easy to see the appeal here. Cavas Wine Lodge's rooms are colourful and modern, and its plunge pools plentiful and beautifully lit.
9 – Inn at Willow Grove, Orange, Virginia.
Close to Charlottesville in Virginia and dating back to 1778, this grand property supplies oodles of southern charm. Every stay includes concierge Butler service, complimentary canapés in the Salon in the evening, and fresh house-made cakes with locally-roasted French press coffee delivered to your door in the morning.
10 ­– Rosewood CordeValle, San Martin, California 
CordeValle, a luxury, secluded golf resort resides in the rolling foothills of Northern California's Santa Cruz Mountains. Dining is taken very seriously here, with menus that change seasonally according to local harvests and the yield from the resort's own herb and vegetable garden.
Website Admin
Reclusive code geek, designer, photographer, and webmaster of Travel Begins at 40. Occasionally leaves the house to travel around Southeast Asia with a laptop bag rather than a backpack.
Upcoming Events

Subscribe to our newsletter