Samuel Pepys Silver Plate at Museum of London
Robert Spellman
Posted on 30th Oct 2019
Silver plate belonging to 17th century London diarist Samuel Pepys on display in the Museum of London.
A silver trencher plate belonging to Samuel Pepys has been put on display in the Museum of London. The plate is one of three silver pieces known to have belonged to the 17th century Londoner and bears a family coat of arms that until recently was not identified with him.
Pepys was Chief Secretary to the Admiralty under Charles II and James II but is famous for the diary he kept that detailed the great events of his time, observation of the everyday and his personal opinions and tastes. In the diary, Pepys expresses his love of silver and his pride in serving dinner guests on silver plates rather than pewter ones. He also notes, rather smugly, how impressed and awestruck visitors to his home were by his collection of tableware.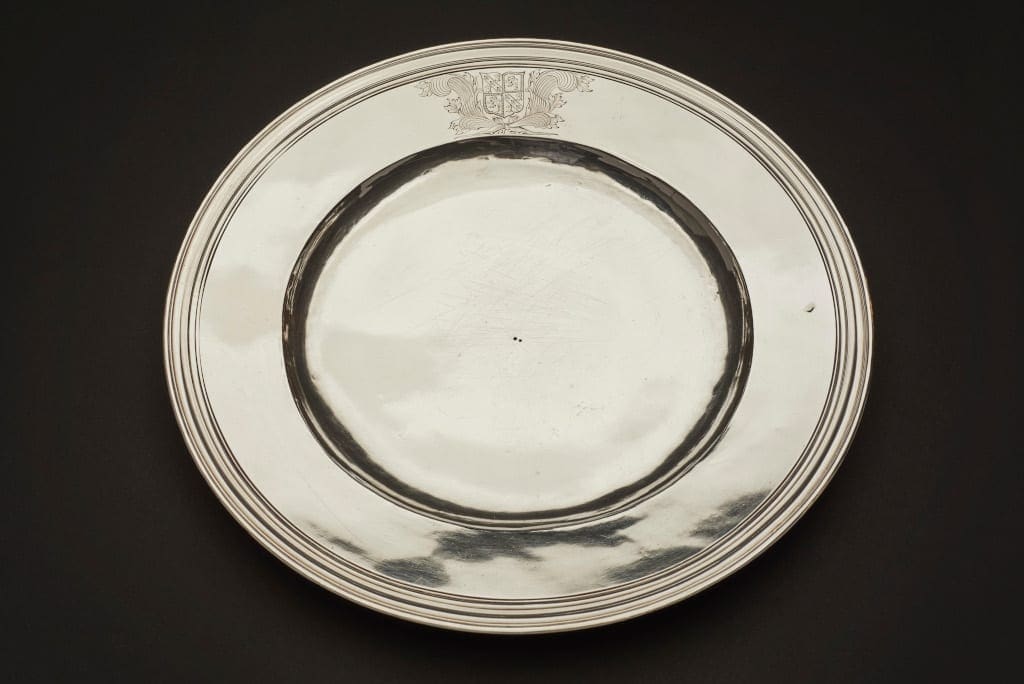 Knife and fork scratch marks are visible on the plate's surface and stamped on the underside are purity hallmarks and the date 1681/2. Another mark is that of the maker, "MK in a lozenge", indicating that it was made in the workshop of Mary King in Foster Lane, which is about five minutes' walk from the Museum of London.
Very little 17th century silver has survived, because it was regarded as an investment and was constantly refashioned or melted down. This plate, on display in the War, Plague and Fire gallery in the museum, is the only silver item belonging to the diarist in the UK. The other two are in the US.
Hazel Forsyth, Senior Curator at the Museum of London, said, "This is a very important object as it is exceptionally rare to be able to identify the maker and the owner of a plate from this period. The fact that it belonged to Samuel Pepys, one of the most celebrated figures in literary and English history, makes it even more special."
Pepys started his diary in 1660, the same year Charles II was restored to the throne, and it contains detailed accounts of the king's coronation, the Great Plague, the Great Fire and luminaries such as Sir Christopher Wren and Sir Isaac Newton.
Samuel Pepys Silver Plate Collection is on permanent display in our War, Plague and Fire gallery.
---
Words by Robert Spellman. Photos courtesy of Museum of London.