Travel Thailand with a Four-Year-Old
James Hardy
Posted on 4th May 2020
Before the coronavirus lock-down, father of one, James Hardy and partner Miriam Dembach, forewent the safe haven of Europe to travel Thailand with their four-year-old daughter Nova. He discovered the experience more enriching than 15 years previous as a backpacker.
Children have a reputation for shortening the travel sightseeing to-do list, so common sense has dictated our holiday destinations for the last four years – repetitive, safe and secure European getaways, much of which I've spent talking about having a more cultural experience next time or reminiscing about my days in Asia as a twentysomething.
For many families, taking a small child to southeast Asia can spark concerns – from the heat and oppressively fast traffic to insect bites and unfamiliar food. It's enough to make anyone stick to half-board package holidays with kids' clubs.
But our four-year-old daughter, Nova, is peppy, potty trained and pliable – so when we got the opportunity to take her on a three-week trip to Thailand, we jumped at the chance of getting her something more lasting than passport stamps, and planned a multi-destination travel itinerary. Having tried to manage my own fears that it might turn out to be a vanilla version of my Asia travels 15 years ago, we set off excited, the only constants being my Lonely Planet guide and swimming shorts.
The Cities: Bangkok and Chiang Mai
Bangkok was better than I remembered. After only a couple of hours of 'conditioning' in the hotel, we grabbed a tuk tuk and sped past torrents of traffic and exotic food smells, which give the city its energy. I could see it awakening the roughly three trillion cells of Nova's being; some might call it sensory overload.
We started with two Bangkok landmarks: the Grand Palace and Wat Pho. Catching only a few moments in the shade, we visited key attractions, the expansive and must-see Chinatown and a tailor, finishing up at a kerbside restaurant in Dusit district, local to our digs – far more than I remember ever attempting in one day when solo. Was my family vacation already proving more adventurous?
After a few nights in Bangkok, our tour took us to Chiang Mai, which quickly became one of our favourite cities. We spent three days entranced by the buzz of the never-ending markets and the green, cooler climes of the  mountain, Doi Inthanon, and indulging ourselves with street food, especially the curried noodle dish khao soi gai.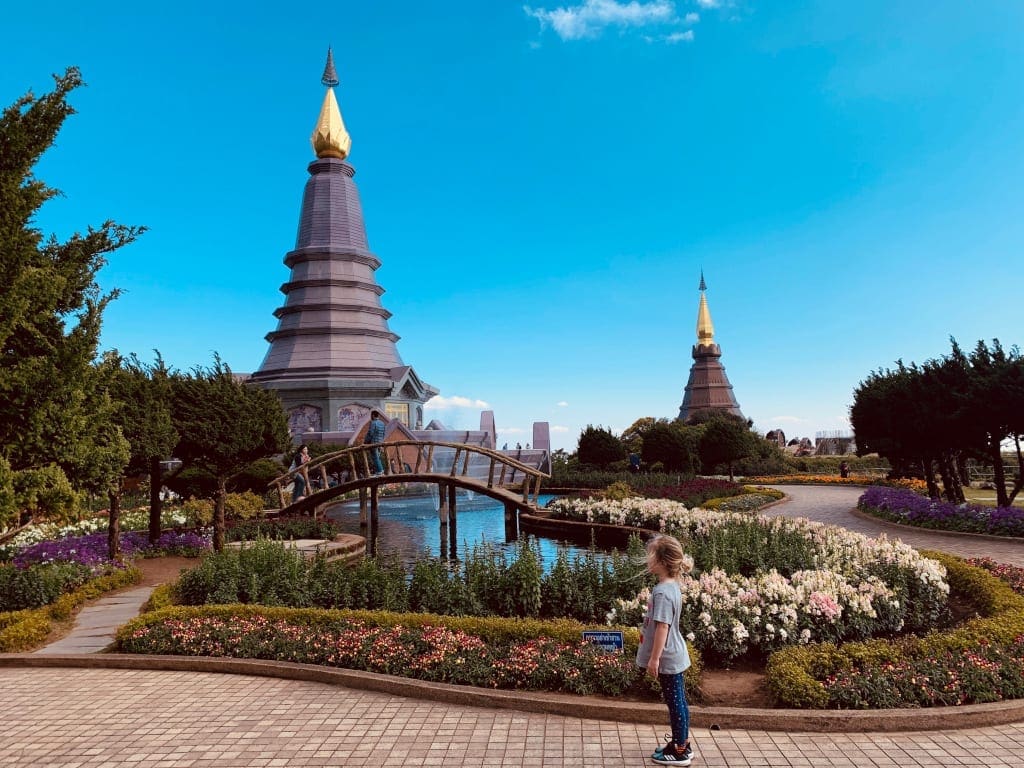 The Islands: Phuket and Phi Phi
After two highly charged city breaks, we flew to Phuket for some R&R and stayed on the private Coconut Island for the classic sun and sea experience. We ate at floating fish restaurants where you could choose from a huge variety of live fish and seafood. This is when we first sampled the pla rad prik (whole fried fish) that became our staple while we were coastal.
The only organised excursion we took was a boat tour round the Phi Phi Islands. These are spectacular but the tourism on Phi Phi Don in particular is seriously damaging the island and its natural habitat. Maya Bay, where The Beach was filmed, is already closed until mid-2021 so that the marine life can regenerate. Phi Phi Don should be next, in my view. There was that much plastic floating in the water that we felt compelled to use our only hour on the island to fish it out. Encouragingly, this prompted others to take time out of their busy sunbathing schedules and do the same.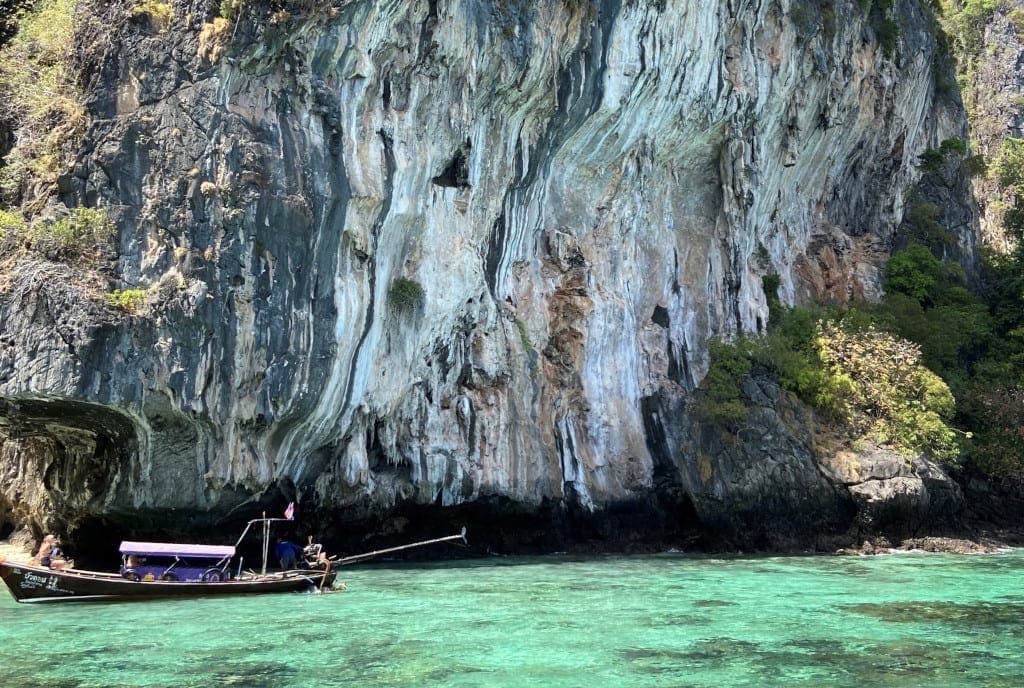 The Jungle: Khao Sok
With our daughter in mind, we were keen to have a blend of city, beach, hills and – for completeness – jungle, so our next move was to Khao Sok.
This national park, to the north east of Phuket on the mainland, gave us some of our most exciting moments from the get-go. Our transfer involved a three-hour cross-country journey in what could only be described as a party bus, fully kitted out with a surround sound speaker system, a built-in cocktail bar (itself complete with etched whisky tumblers) and a mirrored ceiling. I wouldn't have been seen dead in it during my twenties but now I revelled in the irony of it.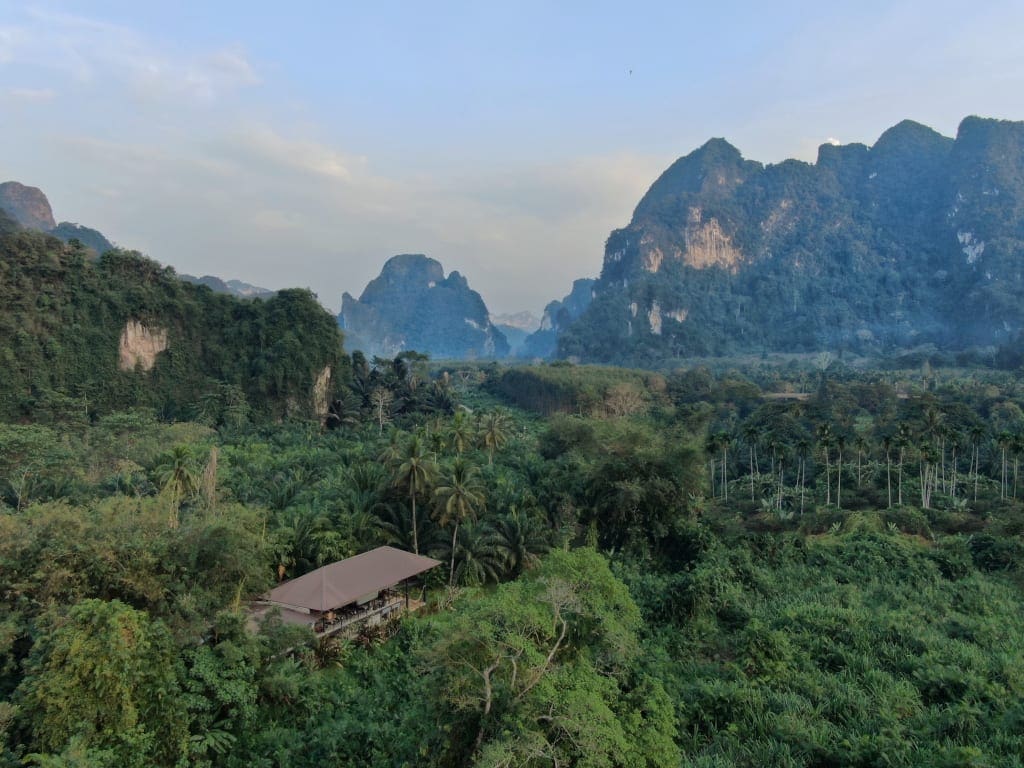 We stayed at the Anurak Community Lodge, which makes you feel you're staying in a near-infinite jungle, surrounded by age-old trees, hanging vines and butterflies that would satisfy even the most seasoned lepidopterist. The lodge had everything needed to make us feel comfortable, all the necessities for a full jungle experience (including a hand-drawn map of a local hike) and a view of the wilderness so brilliant that it should be on prescription.
A highlight was a river tour, which was a way of taking in the jungle-covered mountain scenery. Our four-person canoe slipped quietly among boulders and through light rapids, giving us front-row seats to watch kingfishers, eagles and snakes in the trees overhead. Next came our rendezvous with a rescued elephant, which evolved into a pancake-making lesson from the keepers. We rounded the day off with Anurak's magical jungle supper cooked in bamboo over a log fire. A perfect day in my book.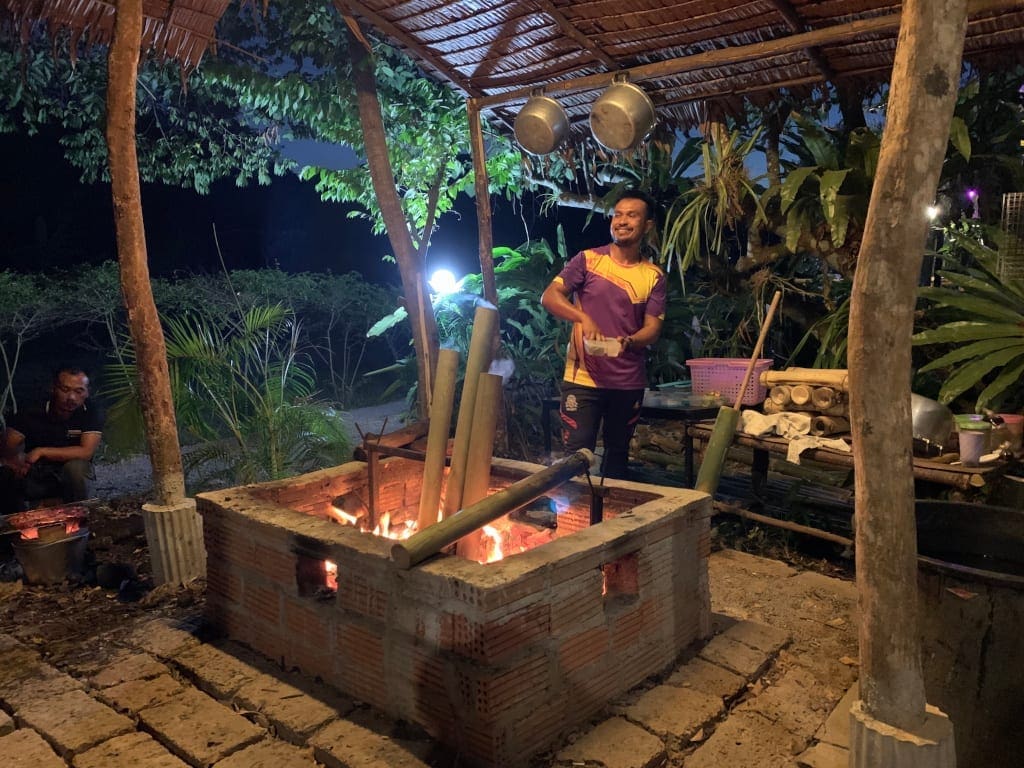 The Escape : Outrigger Koh Samui
I'd promised myself that our holiday would end in total luxury, so our last stop was an escape to the Outrigger beach resort at Koh Samui's Hanuman Bay to sooth our senses. Outrigger has a clever set-up: all the readily available luxury offerings of a high-end resort, with the intimacy of a private villa. A beautiful big tree provides the centrepiece for outdoor dining and a romantic view over the ocean. Outrigger invests in coral growth, too, so once you've got beyond the break you can marvel at a new coral floor.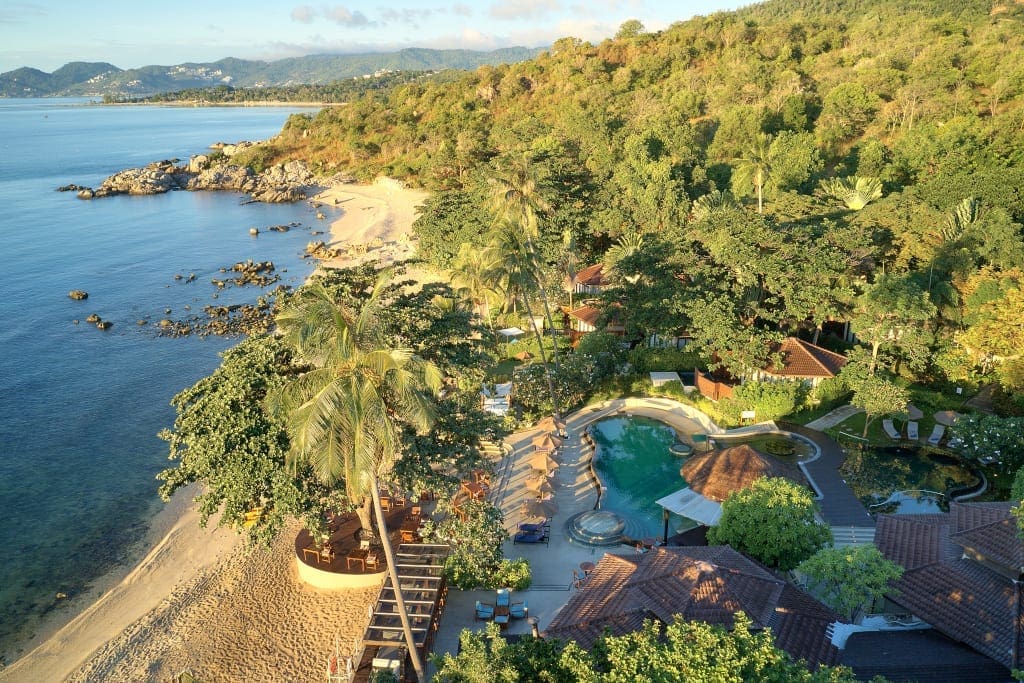 We left from Samui Airport, which holds the crown as one of the world's coolest and best-looking airports. I usually hate the 'last day feeling' but somehow even the airport managed to keep me in tune with its beautiful surroundings all the way through to boarding.
---
All the travel Thailand photos were taken by James Hardy, or supplied by Outrigger.
James Hardy
James lives in east London with his partner Miriam and four-year-old daughter, Nova. After being a street magician in his early twenties, he's spent the last 15 or so years leading on climate change issues. James has a passion for world music, playing guitar, cooking, wine (which he stores in a converted WW2 bunker), modern architecture and astronomy.