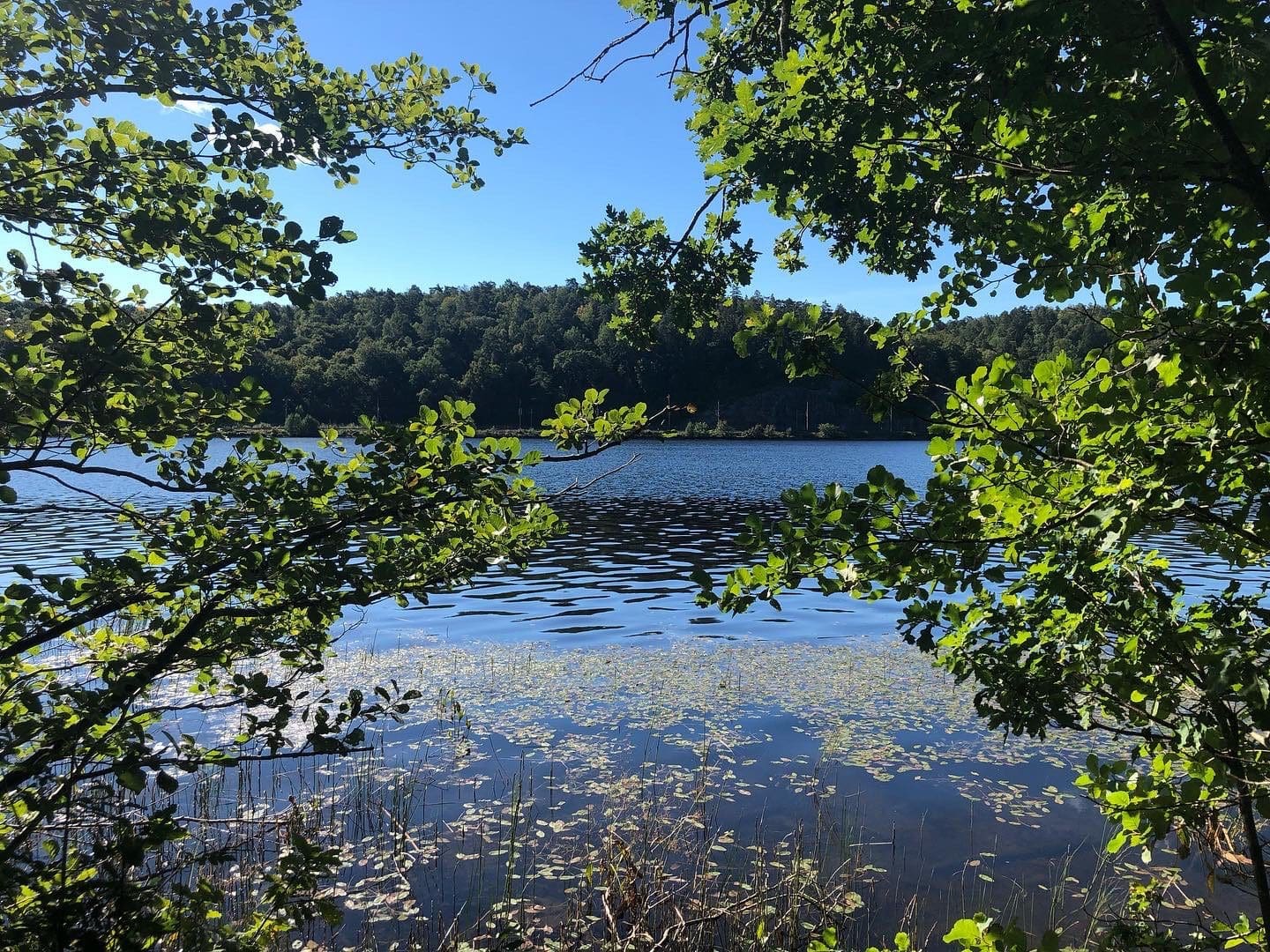 Hiking the Gotaleden Trail West Sweden
James Clark
Posted on 30th Oct 2022
James Clark discovers west Sweden's industrial past intwined with its sustainable future on a recent hike on the Gotaleden Trail.
It's not every day that I get the opportunity to start a hike in a city centre, but the Gotaleden Trail in West Sweden starts in the country's second city, Gothenborg. Normally I'd spend my time frantically buying supplies, but during a previous conversation with Nicke Sundström from Pathfinder Travels he assured me that the hike was split between nature and development, and bottles of water etc were easy to come by. I felt at ease while I sat back and enjoyed my morning coffee in the reception area of the Scandic Europe hotel waiting for Nicke to arrive.
Gotaleden Trail : Jonsered to Lerum
I was keen to get into nature, so we decided to bypass the city part of the Gotaleden Trail and catch a train from Gothenborg's main train station to Jonsered. The journey to the former mill town by the Säve river took less than twenty minutes.
Working conditions were bleak across the world during the 19th century, but not in Jonsered. To encourage factory workers to stay in the town they were housed in good standard accommodation, both sexes were educated, and the town was set up with everything they could need. Jonsered was at the forefront of reform, and workers were happy.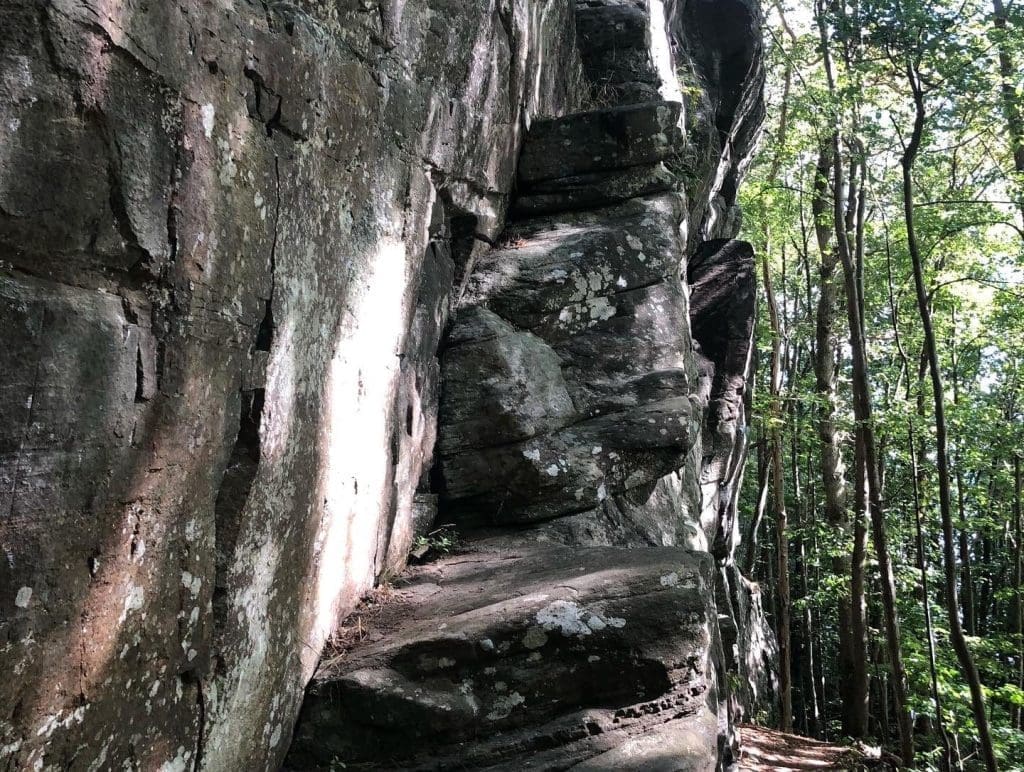 As industrial decline took hold the factories closed their doors for good in the 1970s, but the bricked buildings dating back to 1832 were built to last. After years of abandonment, they were transformed into businesses such as Poppels which is the largest eco brewery in Sweden, and Icebug that is raising the standards for sustainable shoes. These are among the town's most well-known and successful residents.
As we left the buildings behind, we wandered into Jonsered Gardens and passed the mansion that once belonged to the owners of the factory. The building stood magnificently, but it was the gardens and views of Lake Aspen sparkling in the morning sunshine that grabbed my attention.
Lake Apsen
In 2014 a decision was made to recreate the 19th century manor house gardens into the formal garden, the kitchen garden with every edible herb growable in the region, the English rose garden that was buzzing with life even as summer was ending, and the show garden and its dramatic looking ruins that transported me back in time, and left me wondering what the building was like before nature started to reclaim it.
From Jonsered we followed the well-marked Gotaleden towards the Humlebadet public swimming area on Lake Aspen. It was inviting as the temperature was rising, but I wanted to continue along the winding path and several ridges to Goråsbergen for even more exceptional views of Lake Aspen.
At this point the trail became stepper. Nicke explained that it was the most difficult part of the Gotaleden, but the hike over the Gorås mountains was manageable. I would go as far as to say that most people should be able to complete it without breaking into too much of a sweat.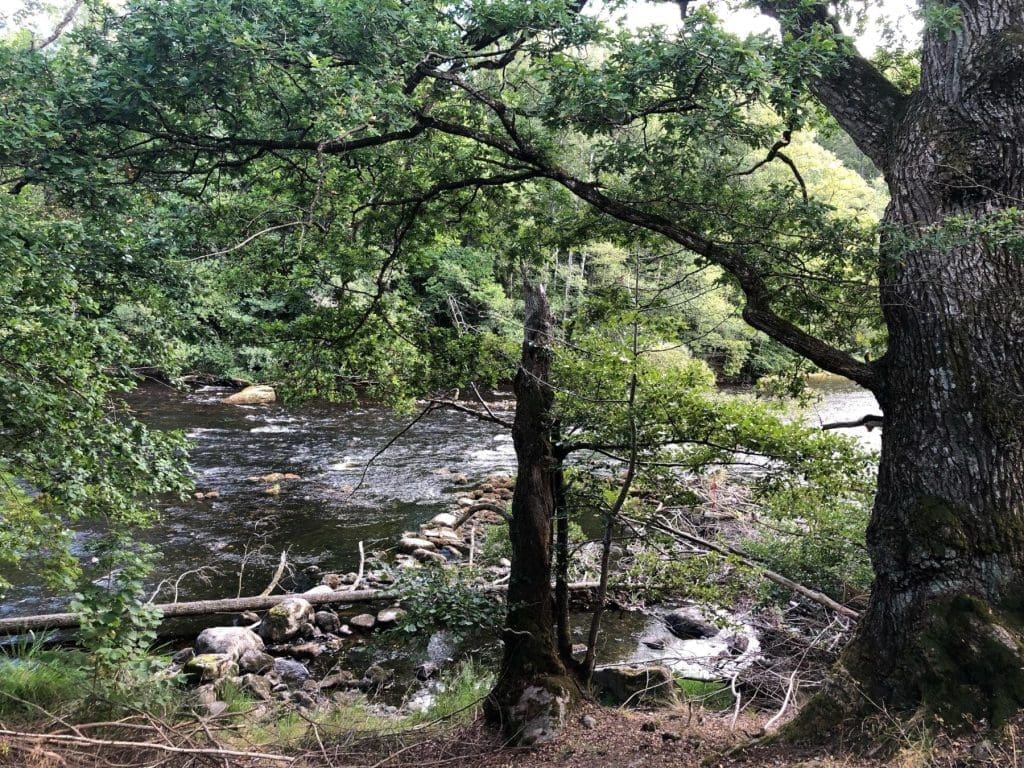 I couldn't help to notice a giant rock to the right of the trail as it looked like it had stone steps running up part of it. They led nowhere, but I could see that they were natural and not created by human hands. Nicke explained that it was called the Aspen climbing crag.
He also pointed out the climbing direction that the steps weren't even part of. I couldn't get my head around how it was possible to reach the top, but he had completed it many times, and was doing it again later that day with a friend. I was happy to take his word for it.
We continued along the path and stopped for lunch at the Aspenäs Herrgård hotel where we took a table outside on the bank of Lake Aspen to consume a jug or two of icy water before tucking into a typical Swedish lunch of fresh potatoes and salmon covered in chives and sour cream. It tasted delicious, and the gentle ambience began to influence my decision-making abilities. I was tempted to stop for the day and enjoy the sun's rays, green lawn and views of the water, but after some inner wrestling with my conscience, I decided to continue as I was enjoying the hike so much.
We entered the town of Lerum half an hour later and stopped for an espresso at Un Limone e Due Dolci – 'one lemon and two sweet ones'. The delicatessen opened in summer of 2021 and was proving to be a hit with coffee drinkers and the hungry in need of a traditional Italian lunch.
Nicke had a meeting to attend so we said our goodbyes until the following day, and I continued to walk in the direction of Tollered which was another former mill town, and Nääs Fabriker where I was staying that night.
Nääs Fabriker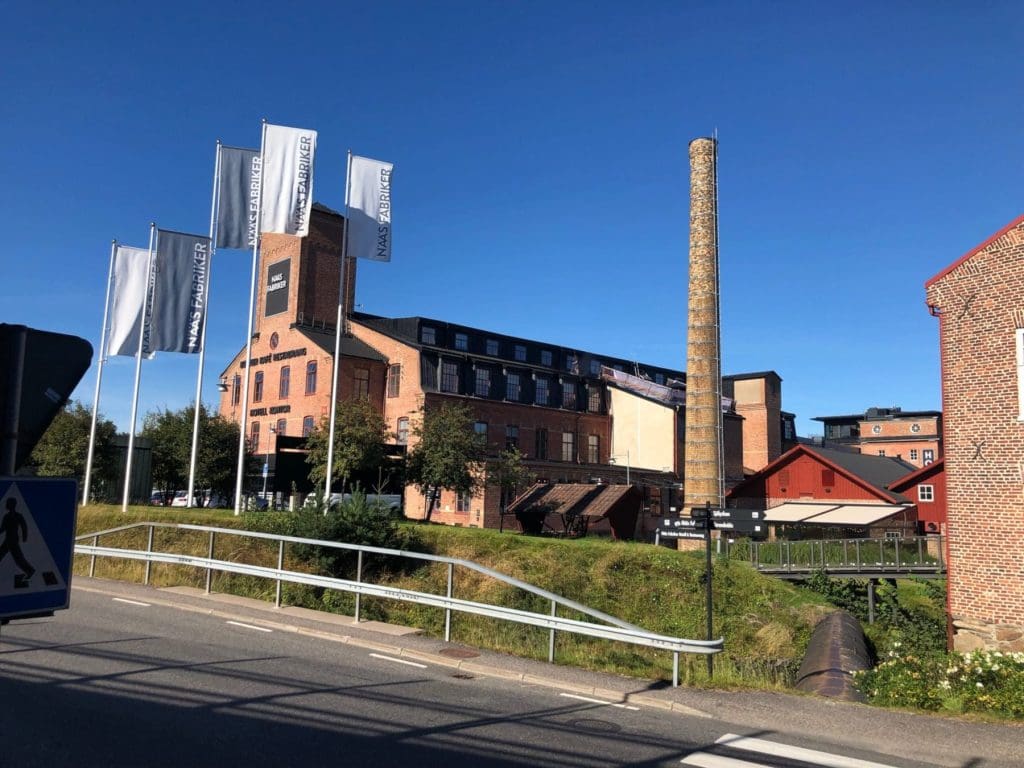 Today the factory buildings are offices, shops, hotels, restaurants and cafés that provide a generous number of activities for both guests and visitors. The long history of Tollered revealed that constant development was necessary for the area to attract people from outside the town which residents and workers were embracing.
A drop in wedding event proved to be a massive success and the Bröd & Malt brewery and bakery continues to share ingredients. They use leftover bread in the beer brewing process and left-over malt to bake bread. The beer is only available to businesses that are part of Nääs Fabriker.
Every business contributes to the others in some way. It's a genuinely inspiring environment to be, and I could have stayed in my room with its round spinning bed and views of Lake Sävelången for days, but I had plans to continue in the direction of Floda and try out (probably) the world's first plastic and rubber free climbing wall. More about that later.
Tollered to Floda
This stage of the hike took me through the forest where I spent time looking at various species of trees while walking quietly to catch glimpses of the birds whose calls were unfamiliar to me. I didn't see one other person along this part of the trail, which completed the natural and serene scene. I spent so much time stopping and enjoying the forest that I didn't have time to head into Nääs Castle or Nääs factories on the other side of Lake Sävelången.
The castle is considered to have the best-preserved 19th century interior in Scandinavia, and Nääs factories house one of Sweden's largest organisers of courses in handicrafts. So, I'm guessing that they're well worth a look.
As I turned into Floda, I followed the sign for The Tannery, a former run-down factory transformed into businesses with a strong focus on sustainability, social connection and excellent quality food.
I stopped for lunch at Garveriet, a restaurant known for inspiring visitors to eat and live more sustainably. I was curious to know more and chatted with various members of the team. I was excited to discover that the ingredients served come from producers within a 125 miles radius, and the business aims to become self-sufficient on vegetables and fish. The greens, lentils, grains, fresh fish, homemade bread and butter, and coffee were all excellent. Lunch even came with a couple of flowers. I ate those first! Unfortunately, I didn't have time to join the team in the kitchen to learn how to cook a meal according to the "zero waste" principle, but if I'm fortunate enough to return one day I will sign up.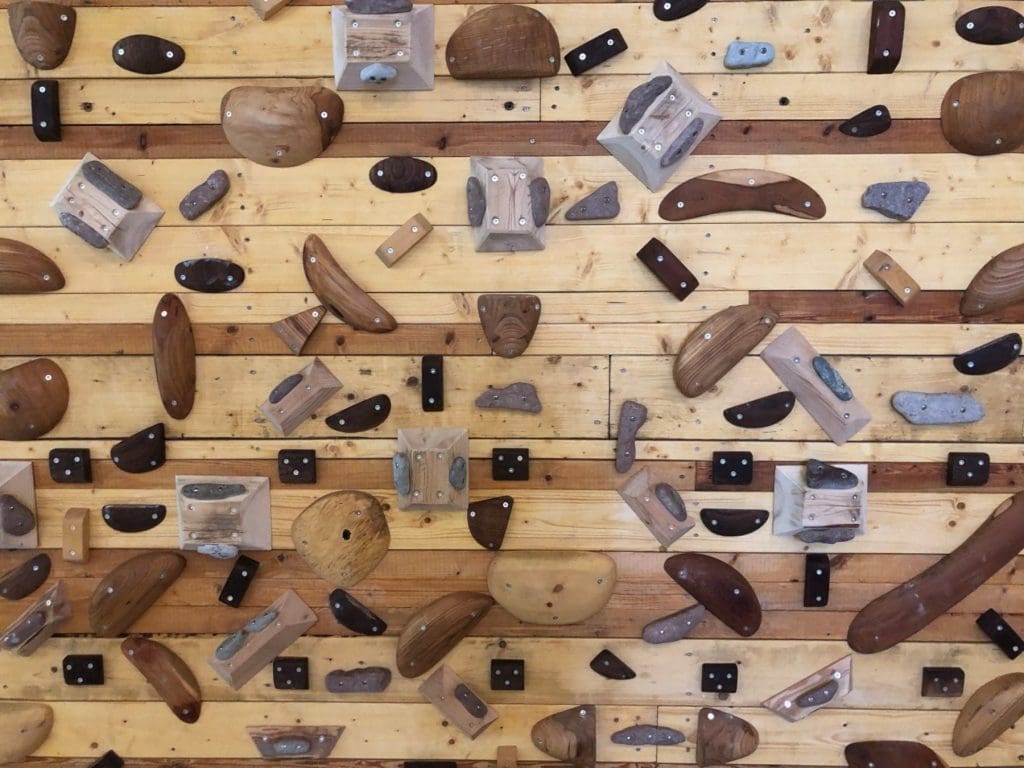 The Tannery Club was less than a minute's walk from the restaurant, which was perfect as I was feeling quite full. The business offers loads of indoor and outdoor activities, including glamping tents, but I was there to meet my friend from the day before Nicke Sundström.
Nicke recently set up the Pathfinder Travels office in The Tannery Club and, passionate about sustainability, he built the plastic and rubber free climbing wall I mentioned earlier. I didn't know what to expect, but the wooden wall and holds made of diverse types of wood, stone and other natural materials was really inspiring. Literally nothing would have to go to waste if Nicke decided to dismantle it in the future. Hopefully, the word gets out and more businesses try out this new and innovative idea.
Floda to Stenkullen
Once I left the community of Floda behind me, I followed the Säveån river along winding footpaths through the valley and lush forest into the Säveåns Dalgång and the Säveån – Hedefors nature reserves. These natural wonders were connected by valleys, woodlands and open pastures surrounded by old oak, elm and Norway maple trees. I stopped at various points along the route to watch kingfishers, a beaver, and a group of healthy looking and curious sheep. I was unable to locate a fence perimeter around them. It looked like they were just out for a walk and a spot of grass munching. This part of the hike was an explosion in every single one of my senses, and as I inhaled substantial amounts of fresh air a wonderful way to end my hike along the Gotaleden hiking trail.
Instead of taking Nicke's advice to continue on foot back to Lerum I decided to catch the train at Stenkullen station into Gothenborg. What would have normally taken less than half an hour took two hours due to some sort of issue on the line. Next time, I think I may listen to the advice given!
---
Gotaleden Trail
The Gotaleden is a 45-mile moderate walking trail between Gothenburg and Alingsås in West Sweden. Beautiful nature, towns and proximity to train stations make this trail a great option for lovers of the outdoors that like to be rewarded with a comfortable bed, great cup of coffee and excellent cuisine on route.
---
Gotaleden Trail – Pathfinder Travels
For more information, visit: Gotaleden trail Sweden Hiking weekend – Pathfinder Travels.
James Clark
James Clark is a UK-based travel writer specialising in adventure and the great outdoors.