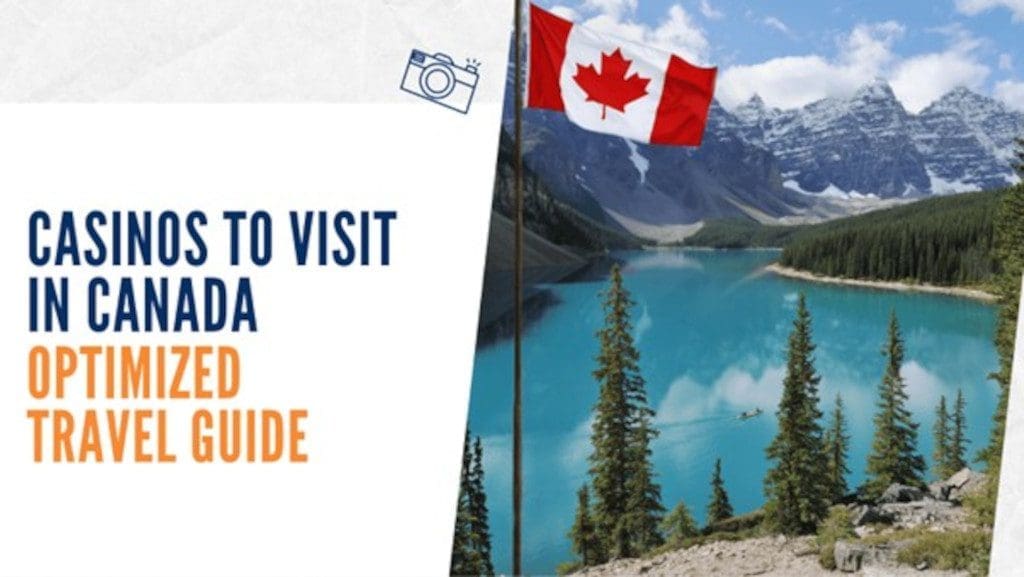 Casinos to Visit in Canada: Optimized Travel Guide
Travel Begins at 40 Editor
Posted on 27th Oct 2023
Choose Canada for your next trip if you've always dreamed of intertwining endless fun and good fortune. This North American paradise beckons both beginners and experienced players, promising unforgettable emotions. And we're here to help you get there!
This guide is for those visiting Canada not only for the natural scenery and historical sights but also for the excitement. Let's look at the places you should visit and what they got. 
British Columbia: A Western Gem
British Columbia is all about landscapes but also luxury casinos. One of them is River Rock Casino Resort, which you'll find in Richmond. If gambling tables aren't enough, you can stay at the hotel and try meals from around the world in the restaurant. 
Hard Rock Casino Vancouver is another diamond in the rough in British Columbia. Located in Coalville, it is a place where rock and roll and excitement come together. The casino is famous for its extensive game library and exciting evening shows. There is always an atmosphere of fun; you don't want to miss it.
The area is famous for skiing and snowboarding outside the casino if you want to go in for sports after a good bet. 
Ontario: The Heart of Canadian Gaming
Casino Niagara takes place in the heart of Niagara Falls and has an impressive game selection. There are more than 1400 slots and 40 tables; not every online casino has so many. However, the main advantage is the proximity to the waterfall. Ontario is the leading province when we talk about gambling in Canada. Recently it implemented and launched AGCO licence and there are over 65 Ontario-licensed casinos available on WithcasinoBonus.com which work legally and are regulated by the body.
On the other hand, Caesars Windsor offers sophisticated gaming opportunities, luxurious hotels, and restaurants that will satisfy even the most discerning guests. The casino is also conveniently located near the city of Detroit, USA. You can travel twice as far, so why not? 
Quebec: A Fusion of Modernity and Tradition
Casino de Montréal takes the title of largest casino in Canada and one of the largest in the world. You'll find it in Montreal's heart, along with 3000+ slot machines and 115 gaming tables where you can try your luck. Clients also get regular events and shows, with celebrities stopping by to either perform or play. 
Casino de Charlevoix differs with its French style, which compliments the St Lawrence River nearby. All the classic games are available, and when you get bored, you can enjoy the mountain views and natural beauty of the Charlevoix region.
Alberta: Experience the Rockies and Rolls
River Cree Resort and Casino is close to Edmonton and offers guests a wide game range, including over 1,100 slot machines and 40 tables. It is a hidden gem of Alberta that is available for travellers. However, the main attraction lies in its location in the beautiful Rocky Mountain region, where you can go for nature walks, fishing, or golf.
You'll find Stoney Nakoda Resort & Casino in the same province but with 250 slots. Outdoor enthusiasts can choose from skiing, snowmobile sports, hiking, and camping. Of course, you can also stay in a hotel if you wish. 
Alberta has plenty to see beyond that – for example, Banff National Park, Lake Louise, Royal Tyrell Dynasty Park, and Fort McLean. There's something for everyone. 
Nova Scotia: Maritime Casino Adventure
Nova Scotia in Halifax is a real find, where you can play blackjack, roulette, poker, and various slot machines. The program also includes competitions and tournaments for gaming fans. Customers get additional comfort services, such as restaurants and bars with local specialties. Don't miss the shows and live music, that's our advice. 
Outside of the casino, Nova Scotia offers the ultimate nautical experience. You can go on a scenic coastal cruise, visit historic lighthouses, go fishing, or visit beaches for some tranquillity. The province is also famous for its museums. 
Optimized Travel Tips for Casino Enthusiasts
It is a simple travel guide that shows you the places you can vising traveling around Canada and here are some tips for getting the most out of your trip:
Check out the promotions and offers.

Operators have promos up their sleeves, so checking them out before visiting is essential. Of course, the online format offers more, but land-based ones also have incentives, especially loyalty programs. 

Choose the time of your visit carefully.

If you are looking for peace, it is better to visit out of season. On the other hand, holidays will bring additional entertainment and experiences.

Plan cultural events.

Don't forget about local exhibitions, concerts, and other entertainment in your schedule. No one wants to spend the whole holiday at the table, especially when there is something to see. 

Stick to the budget.

Set a money limit and stick to it. Don't risk more than you can afford.

Use gambling strategies.

It is beneficial for card games. Skills affect the outcome, so prepare yourself, of course, if you hope to win.
Transport and accommodation will not be a problem. The venues are located in the center and have convenient interchanges. Moreover, you can stay right in their apartments. The only drawback is the rooms' high cost. Therefore, we advise you to consider alternative options nearby. 
Conclusion
Canada welcomes gamblers with quality and diversity but also with cultural heritage. Above, we've highlighted the casinos worth checking out and other attractions near them. Pack your bags if you haven't already, and let's go.
Travel Begins at 40 Editor
Travel articles, news, special offers, festivals and events from the Travel Begins at 40 Editorial team and our global network of travel industry contributors.