Carnival in Ecuador 2024
February 12, 2024

-

February 13, 2024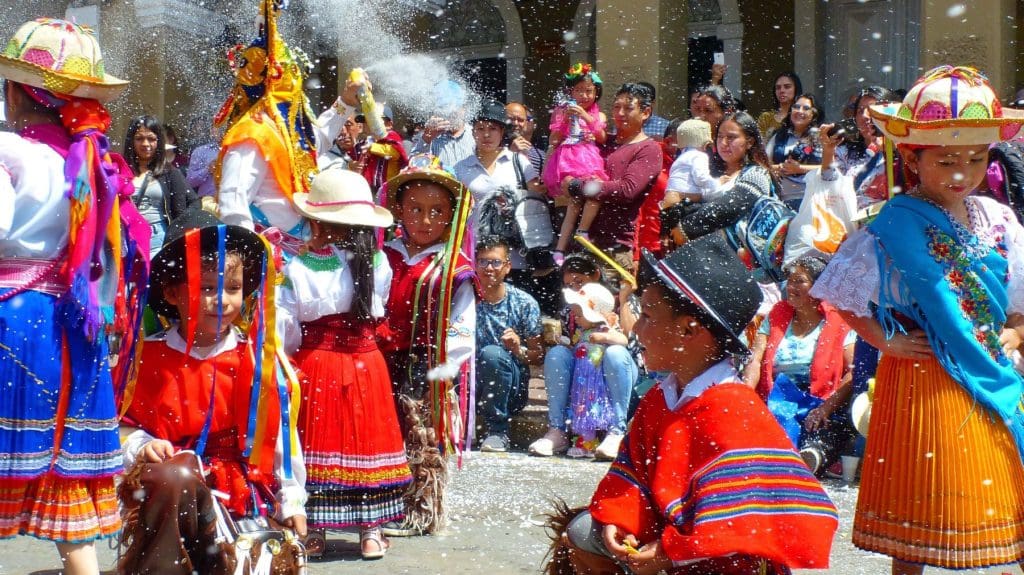 Carnival is celebrated much more widely in Latin America than just in Rio de Janeiro. The carnival in Ecuador is a blend of processions, live music, drinks and food. On its wilder side, good-humoured water fights in the streets are common and invite participation; but they are avoidable too, if it is not your thing.
History of Carnival
Carnival (Carnaval in Spanish), are the final days of revelry, leading up to the Christian festival of lent (Cuaresma in Spanish), which involved fasting and commemorated Jesus' suffering in his final days. In Ecuador Carnival also celebrates a range of indigenous beliefs and practices, such as the appearance of the second moon of the year.
When is the Carnival in Ecuador?
There is a national holiday on 12 and 13 February 2024. Then if you add to that the weekend before and in some places, such as Cuenca, there are processions as early as 8 February then it can spread over almost a week.
What to Expect at a Carnival in Ecuador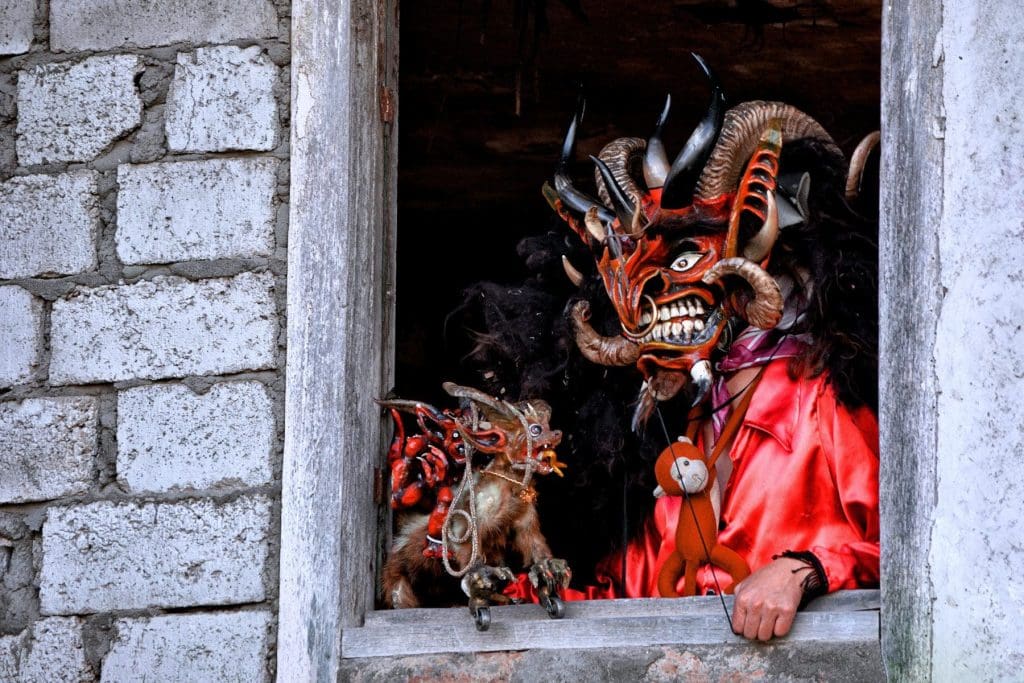 Essentially the Ecuador carnival has two main types of events and what you want will influence where you should go.
The first is that of processions of floats and flat back trucks, often carrying bands of musicians, food stalls, as well as concerts in parks and halls. In smaller towns in the highlands there is a greater indigenous flavour to Carnival, including colourful traditional clothing.
The second is lively water fights. I say water, but think water pistols, hoses and buckets raining down from balconies above, mixed with bags of coloured flour (sticky when wet, of course) and foam spraying guns. Great fun, and there are lots of stalls eager to sell you all the armaments you need to weapon-up and join in the fun.
If the second option is not for you, the Quito Carnival may be the best as the water fights are banned there. They are often (but not always) placed in specific zones in other towns too.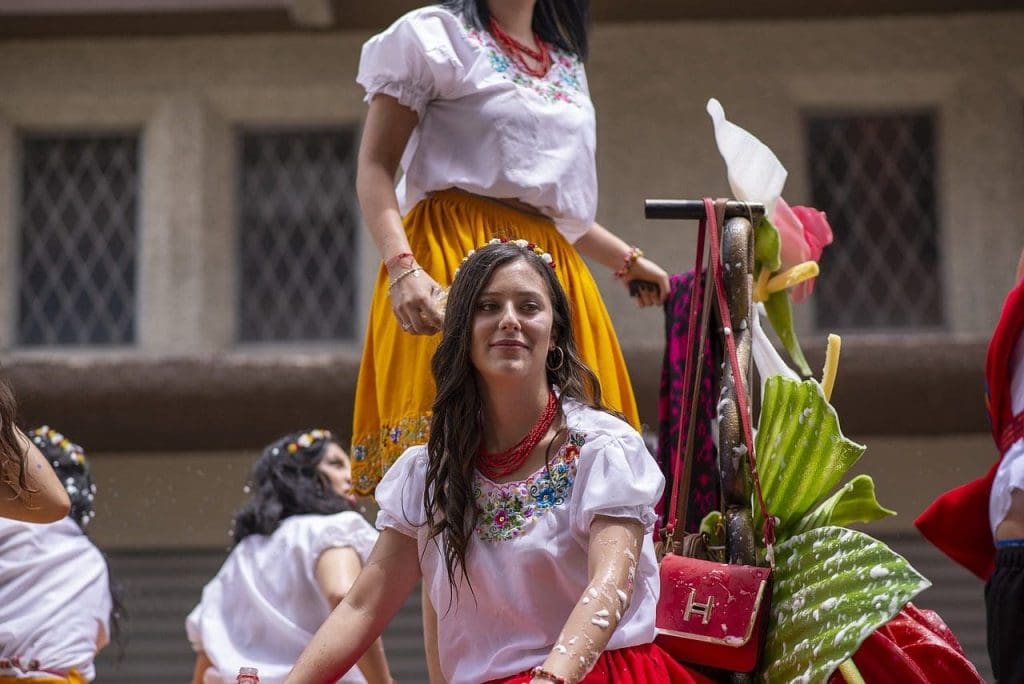 If you go out looking glamorous near a water fight, you are basically putting a target on your back. Take clothes that you do not mind getting dirty and place all delicate and essential items inside a waterproof bag or container.
Try the fermented corn liquor, or chicha and the range of street food. Fancy a roasted guinea pig?
Remember also that for Ecuadoreans this is a four day, or more, holiday, so thousands of people will be travelling, especially to the beaches and to well known attractions.
Where is the Ecuador Carnival?
The best Carnival events tend to be in the highlands. Quito, Cuenca, Guaranda, Ambato, Guamote, Amaguaña. The last four places are small cities or towns, though that certainly does not mean that they do not celebrate Carnival with intensity. Cuenca, on the other hand, is a charming historic city and a UNESCO World Heritage Site.
---
What to Do in Ecuador
Though considerably smaller than its neighbours, Ecuador is incredibly diverse. It has warm water beaches, with some great surf, it has mountains, volcanic lakes and cloud forest with some great walks through them, rich indigenous cultures, as well as rainforest treks in the Amazon. See the link listed at the end of the article for more information.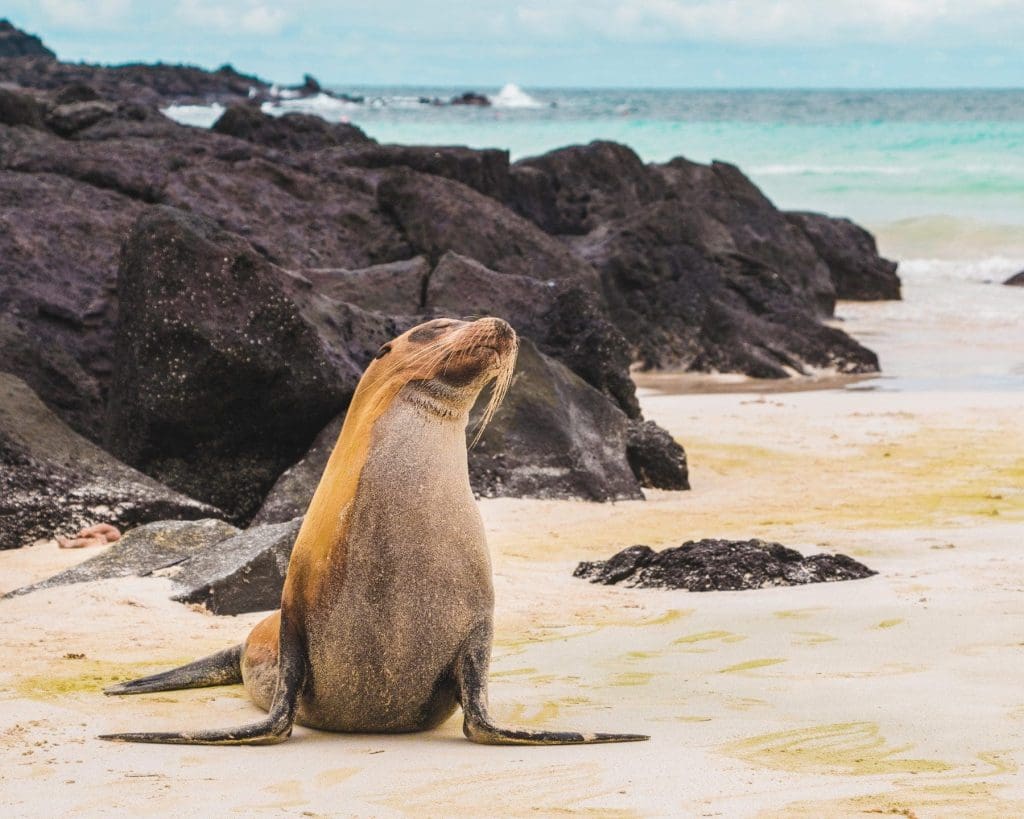 And then there are the incredible Galapagos Islands.
Flights to Ecuador
There are no direct flights from London to Quito, but it is possible to fly with Avianca via Bogota or American via Miami.
From the US, American and Latam fly direct from Miami to Quito, JetBlue from Fort Lauderdale and Latam or Delta from Atlanta.
Domestic flights will link you to some regional cities, as will the bus network.
Accommodation during Carnival
To find the best accommodation in the cities you visit, as well as international flights, please search via our comparison engine, which scans all the major booking sites so you don't have to.
More information on Ecuador
The official Ecuadoran website has a lot of information on what to do in Ecuador, but less specifically on Carnival. Visit https://vivecuador.com/html2/eng/home.htm
Details
Start:

February 12, 2024

End:

February 13, 2024

Event Categories:

Topics:
Mike East
Mike began his career in travel writing by going overseas during his holidays and writing his own guide. He then sent this manuscript off to a range of travel guide companies and got a range of rejection letters — all except one. Getting a contract to write for Roger Lascelles Publications on the Caribbean islands of Trinidad and Tobago and The Bahamas was how his career began. With this opportunity came other pieces for British magazines and The Sunday Telegraph.