Coronavirus: Is It Safe to Travel to Italy?
Ilaria D Cafaro
Posted on 3rd Mar 2020
Italy has seen the biggest outbreak of COVID-19 coronavirus in Europe, however the majority of the cases are confined to the north of the country at the moment. It seems unbelievable that one of the most visited countries in the world has become unreachable for now. Is it safe to travel to Italy?
The answer is yes. At least, according to Public Health England.
Travelling to Italy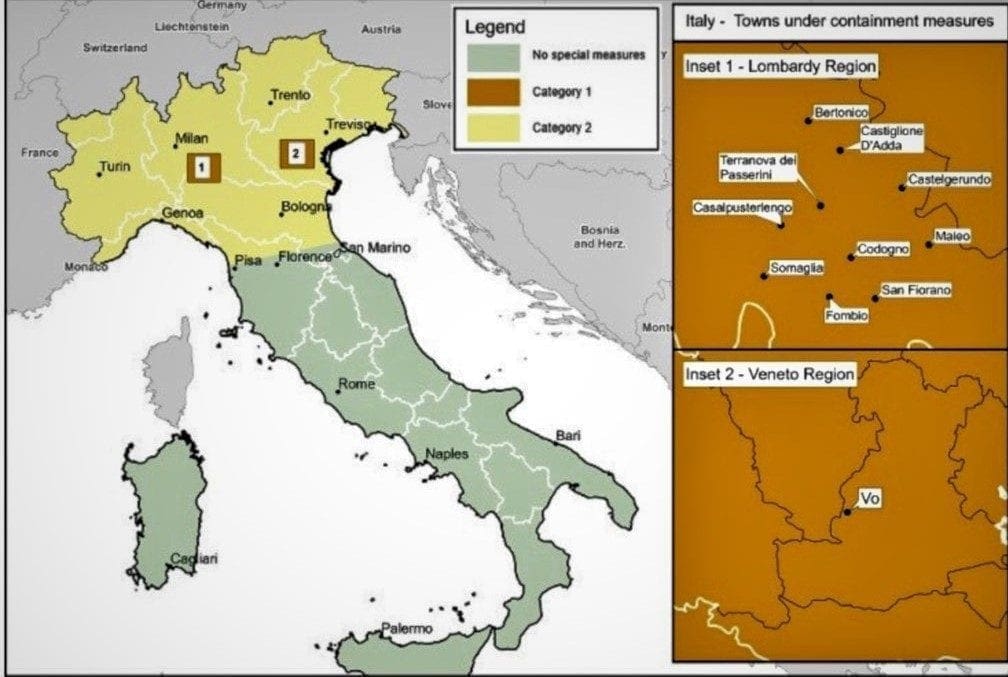 As shown in the picture, the red zone is confined around two areas up in the north, in Lombardy and in Veneto regions. These two areas, which cover 11 small villages in total, are classified as Category 1.
Is it safe to travel to Venice? The rest of the regions are then classified Category 2. This includes Venice. Currently it is safe to travel to Venice, despite the Venice Carnival being cancelled two days early due to the coronavirus.
If coming from Category 1 areas, travellers should self-isolate, even if asymptomatic, and call NHS 111 to inform of recent travel.
If coming from Category 2 areas, travellers do not need to undertake any special measures, but if they develop symptoms they should self-isolate and call NHS 111.
FCO travel advice Italy
This guidance on travelling in Italy is endorsed by the UK Foreign Office, which issued the following Italy travel advisory on 25 February:
"The FCO now advise against all but essential travel to 10 small towns in Lombardy and one in Veneto which have been isolated by the Italian authorities."
Is it safe to travel to Rome?
However, Italy covers a total area of 301,338 km², which goes all the way to the beautiful south and islands of Sicily and Sardinia. What about all the rest of the country then? Rome?
According to the Public Health Office, it's a green area. Safe as other European countries are in this critical moment and no special measures are required.
Although the total number of cases have reached 1,835, all the 52 deaths are reported to be elderly people and/or people with previous conditions.
Some positive numbers are also rising: 149 people have recovered, 66 more in 24 hours.
Italy Coronoavirus : signs of recovery
As a sign that the situation is improving, Milan Cathedral has reopened and so did St Louis Church in Rome, after a priest tested negative for the virus.
What could be really be affected now is the Italian economy.
President Sergio Mattarella has signed today a plan to help and sustain families, workers and companies who are suffering major losses due to the outbreak of Covid-2019.
The next few days will be crucial to understant to what extent the safety measures are being effective in Italy, according to Prof. Brusaferro, President of the Superior Institute of Health. The aim is to stop the spreading as fast as possible.
But as for now – to answer the question – is it safe to travel to Italy? – the answer is a resounding yes, so long as you are not planning to visit the 11 quarantined villages in the north.
Ilaria D Cafaro
Ilaria D. Cafaro is a broadcast journalist specialised in travel and lifestyle. A food lover, she enjoys trying out all types of world cuisine. Originally from Italy, she had an unconventional upbringing touring the world on a sailing boat as a child.