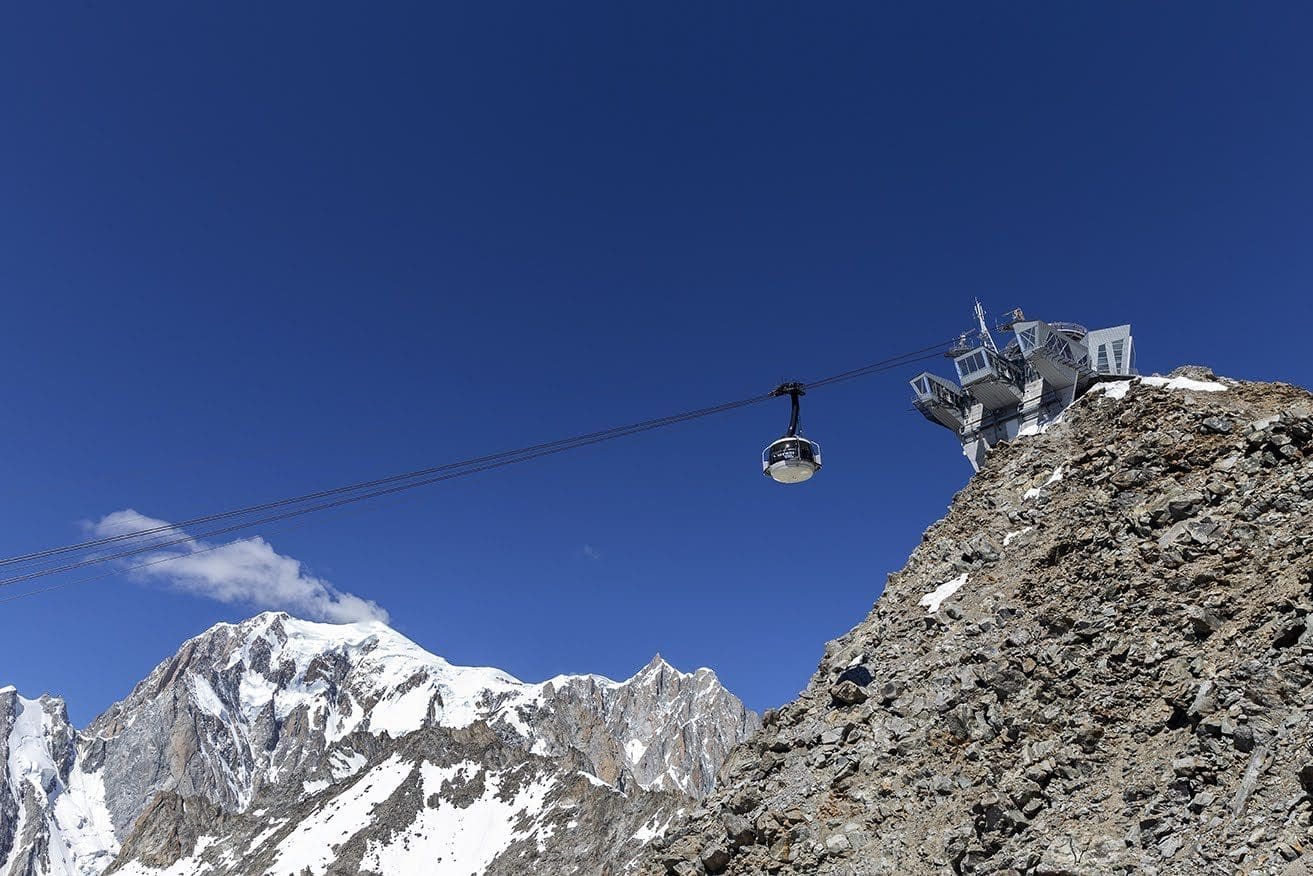 Skyway Monte Bianco Sustainability Initiative
Travel Begins at 40 Editor
Posted on 31st May 2022
Courmayeur Mont Blanc's Skyway Monte Bianco Experience, which offers the unique thrill of reaching the roof of Europe at 3,446 metres, has just announced a brand-new sustainability strategy. Skyway is the first company to propose an environmentally sustainable research project to preserve the Mont Blanc glacier.
A state-of-the-art cableway connecting the Italian Alps to the French, Skyway intends to analyse recent activity results in order to implement an achievable action plan with a clear social and environmental focus.
The Skyway Sustainability Initiative
Skyway is the first company in its sector to propose an environmental sustainability report, curated from the study of three years' activity results and forming the foundation of the Save the Glacier project. The first step on this path was to clean up an area of ​​the Gran Flambeau glacier where there were many signs of human damage left behind. In a joint project with the technicians' operation and the Grivel, twenty tons of scrap and iron materials were unearthed and transported downstream to be properly disposed of. Following this and through the study of suffering millennial glaciers, Skyway now intends to undertake concrete action in the form of green-certified supplies, reducing waste volume, eco energy sources and emissions, water and eventually, a green consortium.
"Glaciers are the most immediate evidence of climate change. The highest glaciers in Europe are those of Mont Blanc and the forecasts, if confirmed, say that they will be among the last to die out. To preserve them we need to work together and act sustainably, so that we can all continue to treasure and enjoy these mountains for centuries to come" President of Skyway Mont Blanc, Federica Bieller.
Energy sources – Today, the windows that cover the buildings of the cable car collect the heat and avoid its dispersion. The three stations are heated with radiant floor and the wall panels are managed by electric heat pumps. No fossil fuels are burned, thus reducing CO2 emissions and energy that is not self-produced by Skyway is purchased from a network, with a guarantee of energy produced 100% from renewable sources.
Water – Free water distribution points have now been installed and thermal bottles are given to employees to avoid the use of plastic bottles. The bottles are a tribute to the Ferrino company, which has always paid attention to sustainability issues, and the same will also be available for purchase at the Skyway Boutique at Pavillon. Glass bottles with microfiltered water were also placed on the alpine buffet.
A green consortium – Valeria Ghezzi, President of Anef, National Association of Cableway Operators and of the Assessors of the Aosta Valley Region Luigi Bertschy and Albert Chatrian are all in support of this new initiative. Through this research, Skyway is hopeful that companies, suppliers and institutions, will want to join in sharing projects such as this.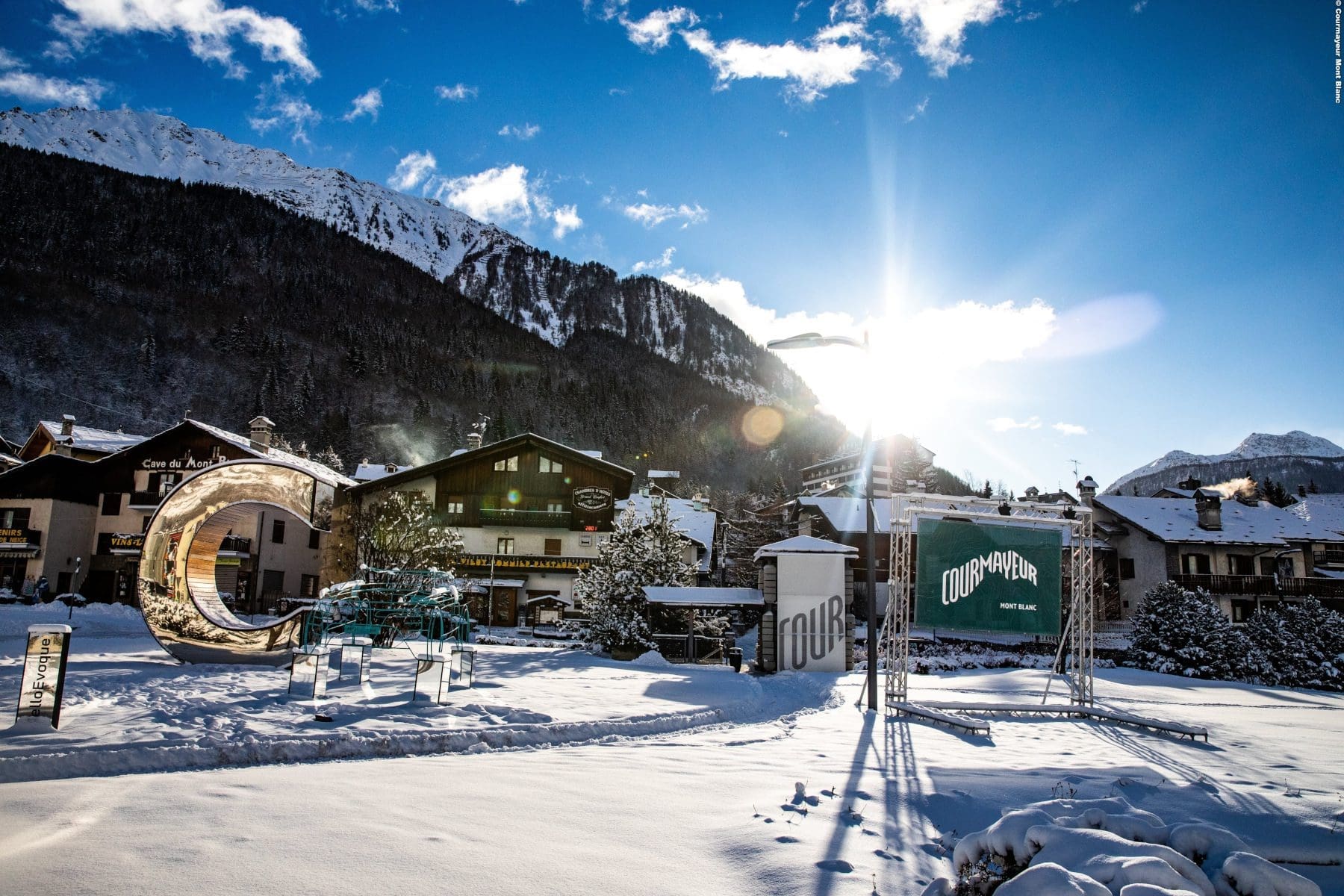 The Skyway Monte Bianco Experience
Skyway Monte Bianco is much more than a cableway to look beyond the clouds. It's an idea: drawing man closer to the mountain and sky. Today's system is only one part of a story that began in the 1930s, thanks to the genius of Count Dino Lora Totino, from a family of Biella-area wool industrialists. Totino's passion for the mountains brought him to the Valle d'Aosta region to take on the high-altitude trails, and during these excursions he developed the visionary idea of creating a border-spanning connection up in the sky, via cableway. His forward-looking vision was to connect two neighbouring countries, Italy and France, through the creation of a cableway between Courmayeur and Chamonix. After being interrupted by the Second World War it was able to continue construction and opened in 1947 allowing everyone, not just the most expert mountaineers, to admire Mont Blanc up close.
In 2015, the Monc Blanc cable car was modernised to enhance the customer experience whilst ensuring the highest safety and technology standards, designed to fit with the natural surroundings. Boasting four spherical cabins, the crystal-clear spaceships hang in the air gently rotating to offer 360° panoramic views of the peaks and the summits of Valle d'Aosta, Cervino, Gran Paradiso, Monte Ros and Combin. Bringing man and mountain closer than ever before, the newest Punta Helbronner station, set at 3,400 metres, can drop beneath -40°C and the ideal starting point for extreme off-piste skiing.
Skyway is now not only host to the most unforgettable views but also offers a wide variety of experiences for the whole family to enjoy including a historical museum, a sun terrace, mountain delicacies, wine tasting in the Cave Mont Blanc and a traditional bookshop. Skyway also plays host to exceptional events including 'New Moon' parties and cinema screenings at the auditorium with 150 seats.
---
For more information visit: https://www.courmayeurmontblanc.it/en, call +39 0165 841612 or email [email protected]. Adult tickets at Skyway Monte Bianco (https://www.montebianco.com/en/rates-skyway-monte-bianco; +39 016589196) start from £25 / €28 on a return basis.
Travel Begins at 40 Editor
Travel articles, news, special offers, festivals and events from the Travel Begins at 40 Editorial team and our global network of travel industry contributors.
Upcoming Events
November 10, 2022

-

January 4, 2023
Subscribe to our newsletter