Luxury Travel Now More Meaningful
Travel Begins at 40 Editor
Posted on 26th Mar 2021
Luxury travellers are demanding a more meaningful experience from overseas holidays once restrictions lift according to new research from Asia travel specialists Experience Travel Group (ETG). 
The findings have revealed that having been starved of adventure, being immersed in the culture and community of their destination is now a 'must' for travellers.
The survey based on ETG customer feedback, an in-depth survey of 20,000 travellers conducted in partnership with AITO (The Specialist Travel Association) and an additional 1,200 ETG respondents has revealed major trends into the future of the luxury travel scene and what travellers want to savour the most when on holiday.
The top three sought after activities revealed by the survey are cultural exploration, encounters with wildlife and trying local cuisine, while walking and wellness activities including yoga, spa treatments and meditation are now also high on the luxury travellers' agenda.
There is also a greater desire to ease back on trying to 'cram in' every possible tourist experience by constantly being on the road and changing location. Travellers now want to be selective and opt for a 'slower' paced holiday enabling them to 'soak up' the experiences.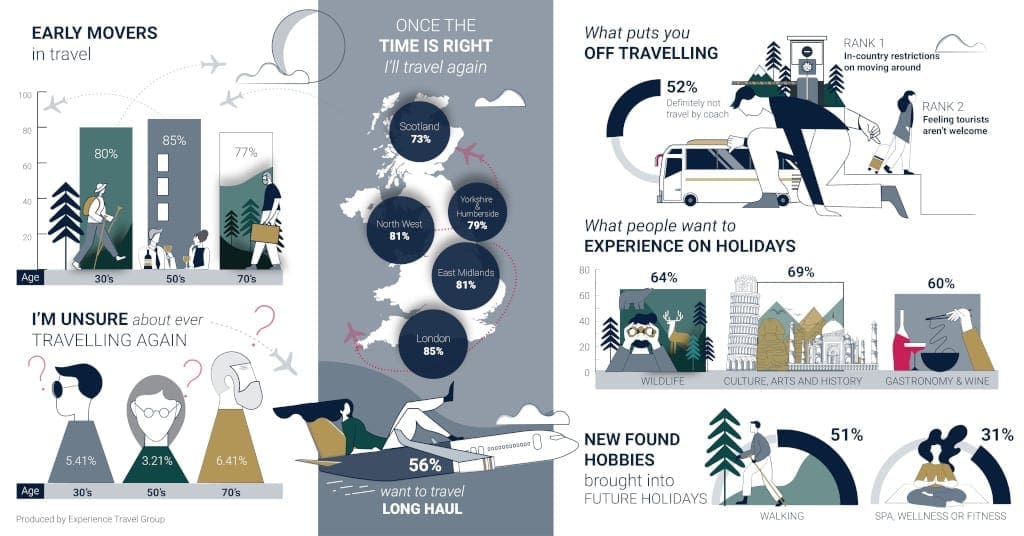 The vast majority of luxury travellers surveyed were willing to spend more for a better experience and also planned to spend more on their overseas holidays with 'bucket list' locations very much the flavour for 2021/22.
ETG managing director Sam Clark said, "People have missed taking holidays. But more than that: what our research has shown is that they've missed the travel experience itself – discovering and exploring a destination.
"This has demonstrated the value of travel to our customers and, as we come through this, they will be even more focused on immersive experiences. Added to this we've got lockdown inspired activities including yoga and walking which people want to experience as part of their holidays now."
ETG has envisaged this new slower paced and experience rich vision of travel with its prestigious Revitalise Collection, which was launched at the start of the year. The collection comprises 18 distinct holidays across six themes. Destinations include Laos, Cambodia, Thailand, Indonesia, India and Sri Lanka.
---
ETG's detailed report on immersive travel can be read here. 
Travel Begins at 40 Editor
Travel articles, news, special offers, festivals and events from the Travel Begins at 40 Editorial team and our global network of travel industry contributors.
Upcoming Events

Subscribe to our newsletter