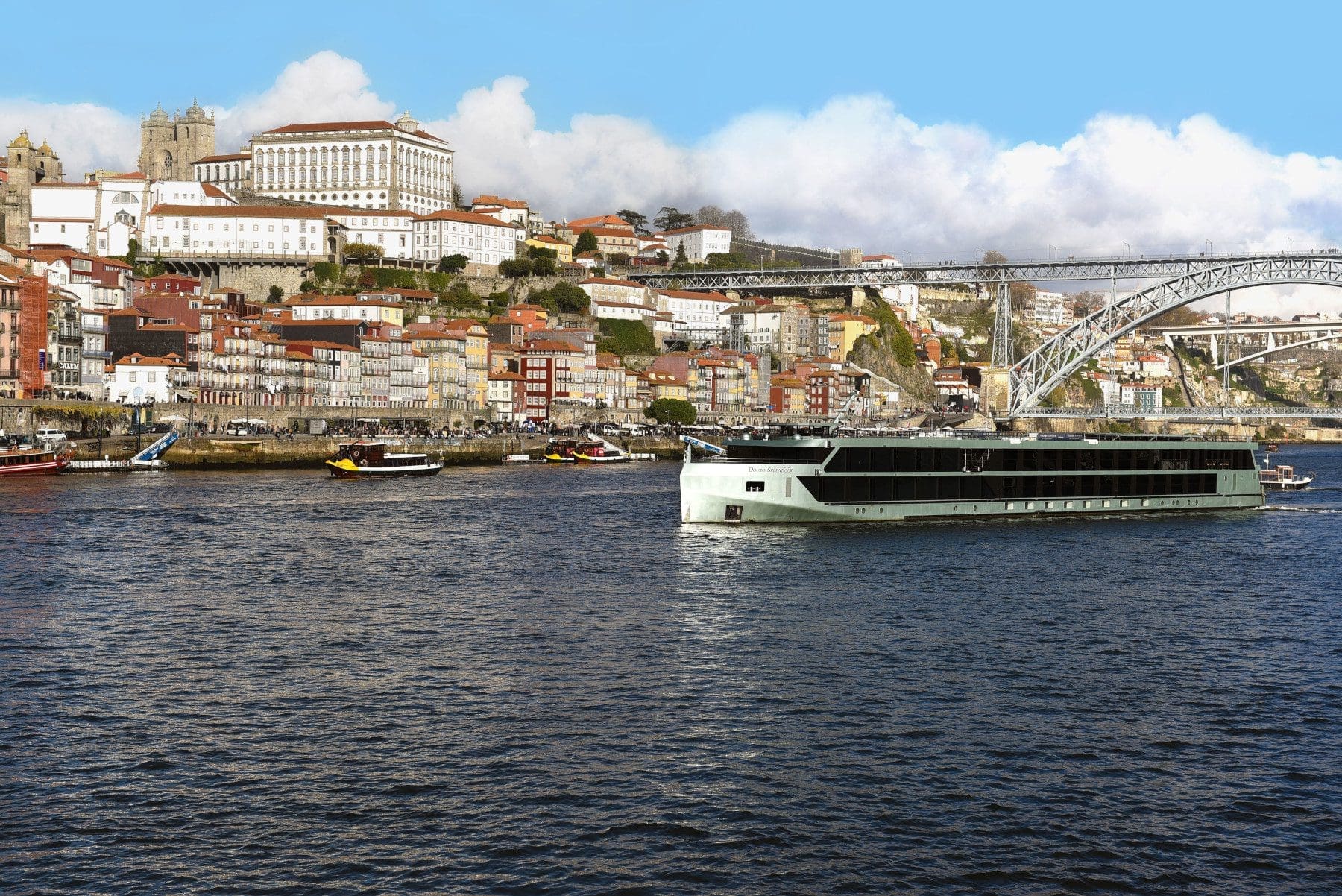 Transported to Porto for the Delights of the Douro River
Marion Ainge
Posted on 13th Jul 2023
Marion Ainge acquires a taste for white port and finds herself lost for words on a Douro River cruise.
Bathed in sunlight and looking beautiful, there she is waiting for us. Riviera Travel's gleaming, streamlined, five-star Douro Splendour river boat rests in Porto's stunning harbour ready to sail serenely along Portugal's main river for eight days,
We have time to walk along the waterside to see historic boats bobbing along the quayside, the double decked, metal-arched Dom Luis bridge and the high, sloping banks covered with a jigsaw of red-roofed houses and cream-painted hotels, listening to lively chatter from classy al fresco restaurants and ballads from a busker. Stallholders in colourful mini-markets showcase bags, wallets, shoes, hats, jewellery and other goods made from sustainable, indigenous cork plus trinkets, crafts and souvenirs.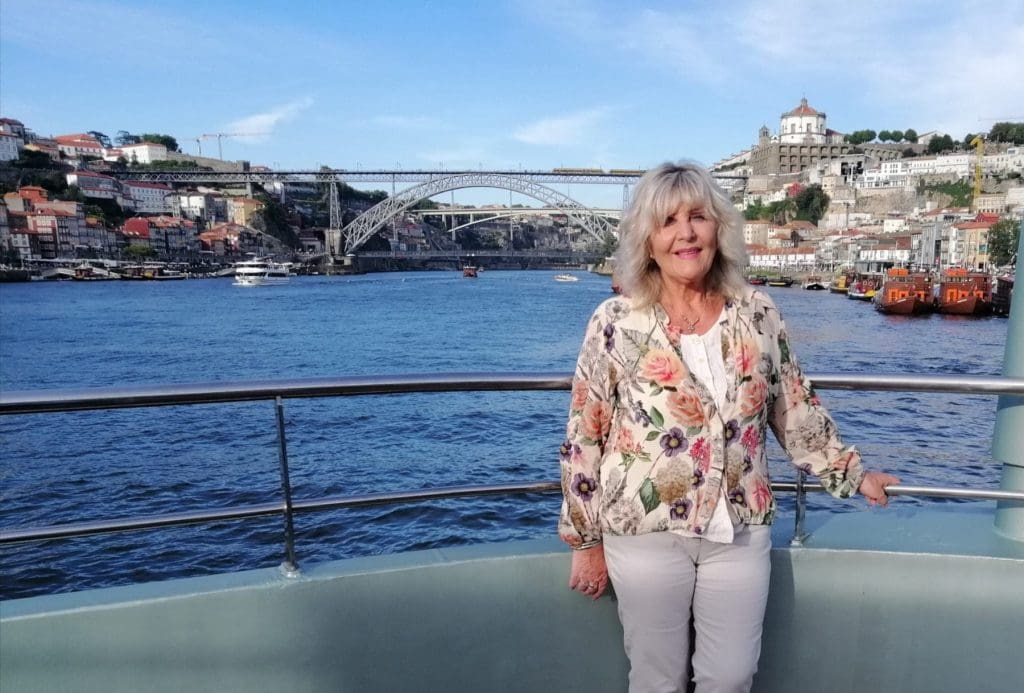 Onboard, a warm welcome awaits from members of the smiling, friendly crew, who do everything they can to ensure each passenger has a wonderful experience. We look around and settle in before dinner. There's a spacious, elegant, comfortable lounge and bar, as well as a spa/wellness area with fitness room and boutique shop. The sun deck with pool, shaded area and loungers, is a delightful spot to watch the ever-changing views as the Douro Splendour glides along.
My upper deck standard cabin features a full-width, sliding window, plenty of storage space, bathroom with surprisingly spacious shower cubicle and a very comfortable double bed. In the elegant restaurant, guests enjoy a buffet breakfast, lunch (various options, and do try the delectable Pastel de Nata Portuguese tarts!) and four-course dinners. It's easy to get around and you don't need a map! On this Douro Porto and Salamanca River cruise, all 121 cabins are occupied. The average age is 60-70, but there are some sprightly 80+ year-old passengers.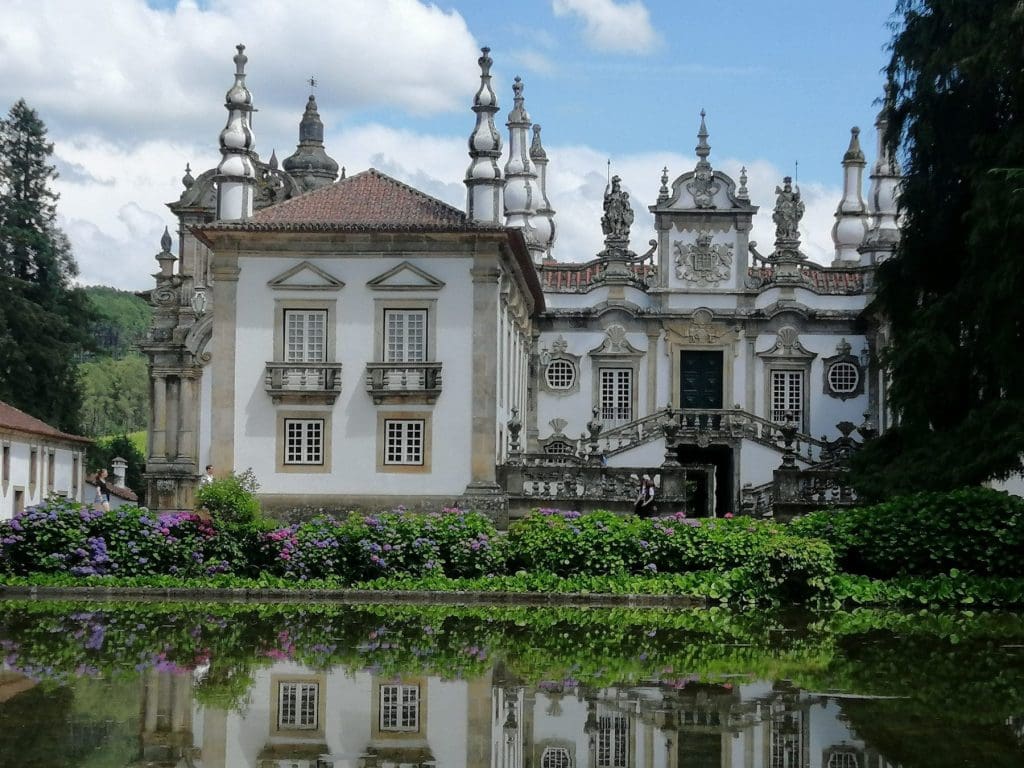 The Douro Splendour drifts along, the river shimmering in the sunlight as we take in enchanting views of lush, stepped vineyards, olive and almond groves, family farms and picturesque villages. Along the Douro, one of the oldest wine regions and a World Heritage Site, five locks are encountered. These include the highest in Europe, the Carrapatelo, where the water level is about 35 metres and the walls are so high we're almost in darkness for around 20 minutes.
Exciting excursions are planned every day. From the small town of Peso de Regua, we visit the 18th century Baroque Mateus Palace and gardens. However, the Mateus Rosé wine some of us remember as the most popular wine of the 1970s and loved by our late Queen Elizabeth 11, has regained its popularity and is produced in the north of Portugal. That evening at the Quinta da Pacheca, an impressive 18th century property and former convent, overlooking the Douro and surrounded by landscaped, French-style gardens, we taste the estate-produced white port before enjoying a splendid dinner.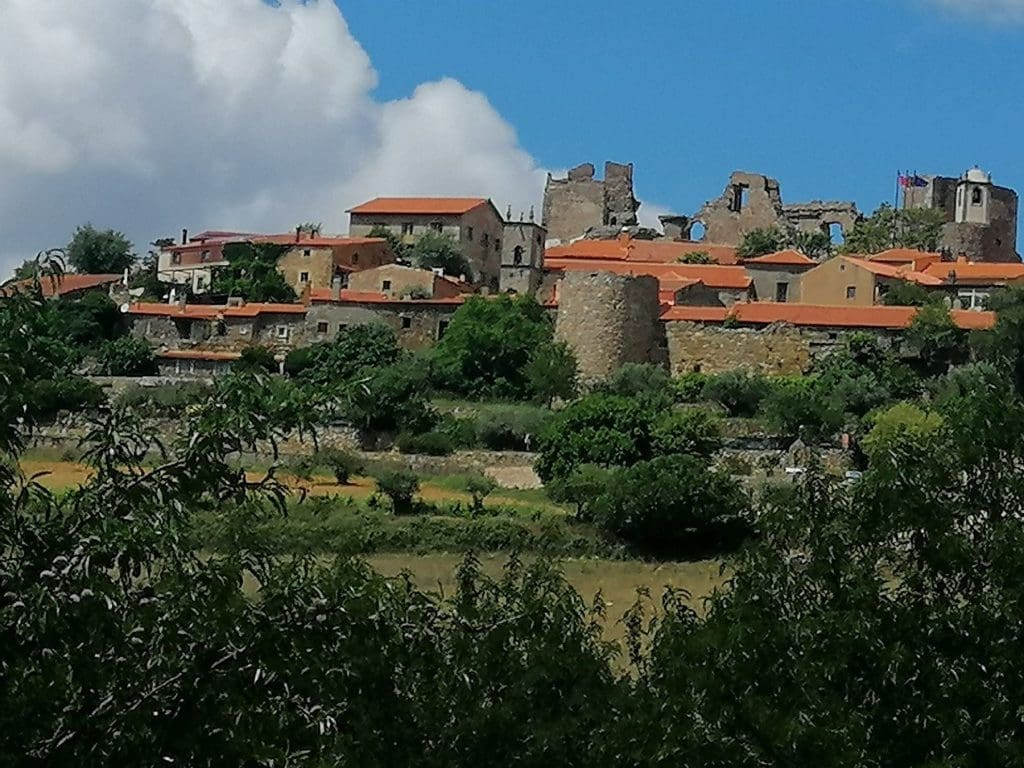 Within the narrow, cobbled, winding alleyways of the walled, medieval, hilltop village of Castelo Rodrigo, one-bedroom, thick stone-walled cottages are valued at around 500,000 euros, the same value as a stylish, three-bedroom apartment in central Porto. Many members of the former Jewish community were expelled or converted to Christianity following the Spanish Inquisition in 1492. The old carved stone pillory stands alongside the 'walk of shame' path where the guilty were mocked and jeered on their way to prison. With only around 60 inhabitants, Castelo Rodrigo is peaceful with dramatic views and only a couple of tiny tourist shops and cafés.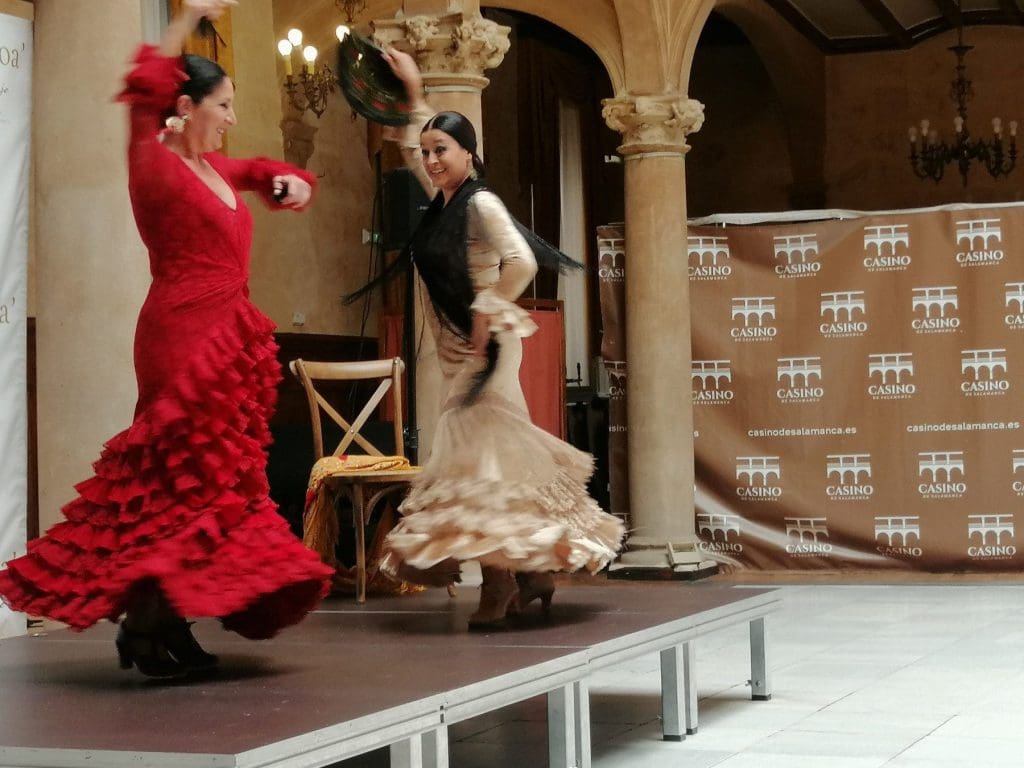 The highlight of this river cruise is a day in the Spanish city of Salamanca, known as the 'Golden City' because of its honey-coloured, ornate, stone architecture. It has the third, oldest existing university in the world, and one of the 10 top cathedrals in Spain. I sit with a coffee under a cream canopy at a table in Salamanca's plaza, one of the most beautiful in Spain. During lunch at a local hostelry, a fiery flamenco show from Spanish dance school Figueroa el Monje stirs the blood.
When in Portugal, you must taste port, no persuasion necessary, and we did, at the stunning vineyards of Quinta St Luiz (Kopke) in Tabuaco, the world's oldest port wine house and later during our cruise at Calem, an iconic wine lodge in Porto. The Douro Valley is the only place in the world where Porto's best kept secret, white port (my favourite) plus ruby and tawny 'port wine (still trodden by foot) is produced, legally.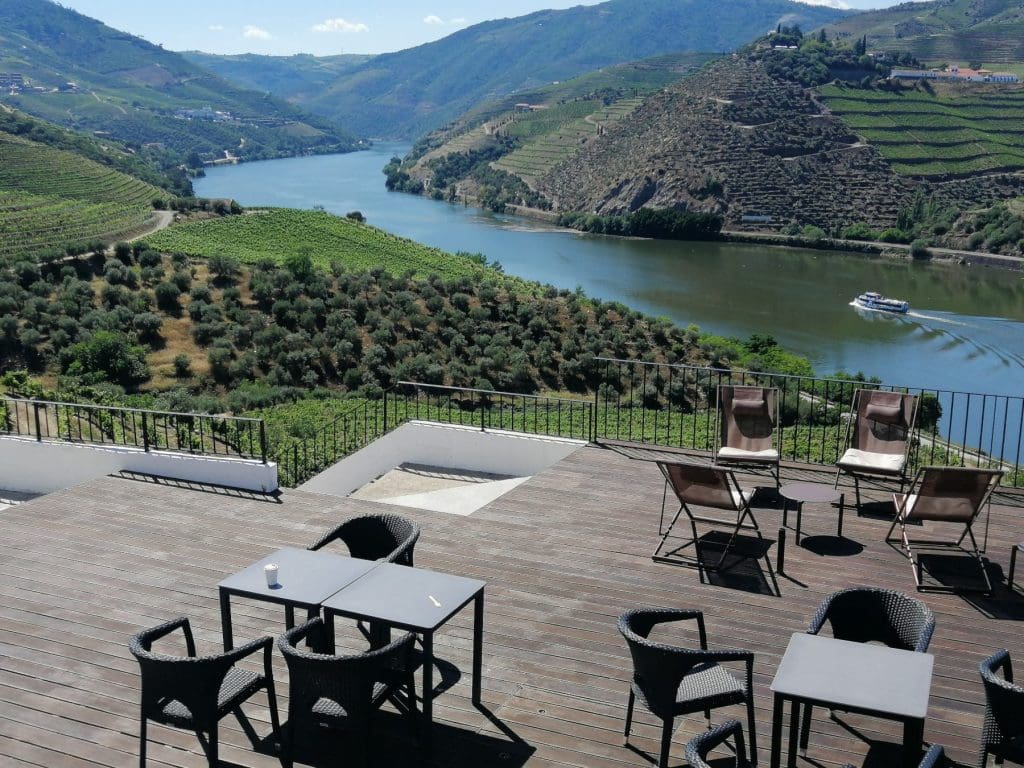 Historic Lamego is the home of Portugal's sparkling wine, Raposeira. In the summer heat, it's a bit too much of a challenge to climb the 686 steps up to the lovely, hilltop church (my excuse, anyway) with stairways adorned with azuilejos, Portugal's. characteristic, blue-painted, ceramic tiles. Porto's railway station features around 22,000 of these tiles, depicting some of the most relevant episodes of Portuguese history.
Our Captain's evening signals we're nearing the end of our cruise. Following cocktails, we enjoy an exquisite five-course dinner – the salmon is sublime, the beef tenderloin, juicy and flavoursome. A local folk group entertain and include haunting fado (destiny or fate) solos. On other nights, dynamic cruise director Lale's energy and sense of fun gets everyone going. The dancing starts, The Eagles' track Hotel California comes on and Lale puts a microphone in my hand. I do my best. Later, a fellow passenger says with a smile 'It's a pity you didn't know all the words!'
I loved this river cruise. Thank you Riviera Travel.
---
Factfile:
June 9, 2024 Riviera Travel 8-day Porto, Douro and Salamanca cruise. Flights from Gatwick, Heathrow or Manchester. Upper deck cabin from £3,499pp; lower deck cabin from £2,449pp.
Marion Ainge
Independent and ready to go! North West UK-based travel journalist (former newspaper women's editor/columnist) loves life and new adventures.