Luxury Urban Resort in Hamburg
Johan Smits
Posted on 8th Mar 2018
Germany's beautiful waterfront city of Hamburg will gain a new architectural landmark on 19 March with the debut of The Fontenay. Designed as an urban resort on the leafy banks of Lake Alster, within a ten-minute walk of Hamburg's cosmopolitan city centre, The Fontenay is set to become a true modern classic, redefining luxury and reflecting contemporary, cosmopolitan Hamburg in its collaborations with local luxury partners.
Hamburg-based architect, Jan Störmer, who was inspired by the park landscape and the waterline of Lake Alster, has designed this visionary architectural project. The organic shape of The Fontenay consists of three intertwining circles, designed to make one think of large treetops. The entire hotel is bathed in light – 14,000 m² of glass blurs the lines between indoors and out, achieving the perfect balance between nature and urban living. The circular, flowing shape of the building's architecture repeats itself throughout the hotel, meaning that, aside from the partitions dividing each guest room, there are no straight walls within The Fontenay and no wall is parallel to another.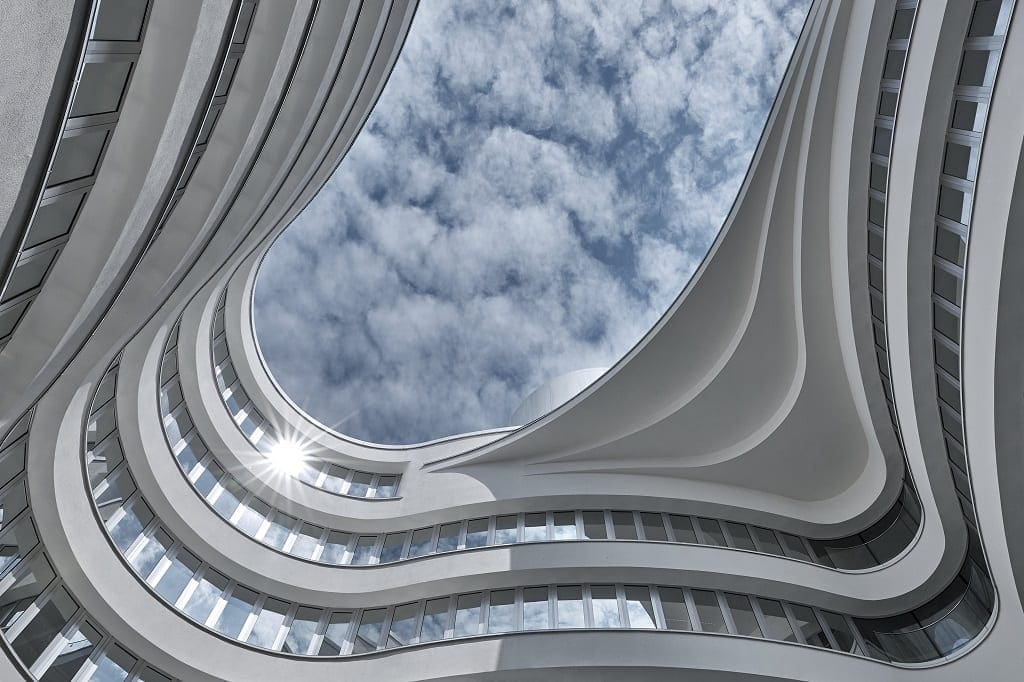 Light, spacious and with a timeless elegance: almost all of the 130 rooms and suites at The Fontenay have a balcony, some facing towards Lake Alster, some looking out over the green surroundings. The trapezoid layout, semi-circular walls and large panoramic floor-to-ceiling windows, provide a spacious and comfortable feeling. Other details include bespoke parquet wood flooring from the forests of the Abbey of Fontenay in France, extra-long beds from Schramm Werkstätten and custom-made furniture.
---
Travelling in Germany? Check out the exciting things happening in the Frankfurt Rhine-Main region.
---
The Fontenay has two restaurants; a ground floor all-day garden restaurant, which is bathed in light flooding in through a large wall of windows that opens out onto a dining terrace and directly onto the green banks of Lake Alster. Here, cuisine is modern, regional and cosmopolitan. The hotel's gourmet restaurant, Lakeside, on the seventh floor offers a contemporary fine-dining experience in a light and airy atmosphere. Head chef Cornelius Speinle, an alumnus of The Fat Duck in Bray, is an ambassador for gourmet cuisine that draws on both international and modern influences without losing its classic roots.
At the heart of the hotel is the Atrium Lounge with an impressive 27-metre ceiling that boasts a modern yet homely look with 200 satin glass windows and a seven-metre-high light installation by Brand Van Egmond. Here, guests can sit in cosy surroundings and enjoy conversations over afternoon tea, coffee or a light snack.
The Fontenay Bar on the sixth floor has an impressive 320° view of Hamburg and a 500 m² panoramic outdoor terrace. The bar team takes guests on a journey back in time through the centuries-old history of cocktails and bartending, even introducing their own Wormwood Wagon, but always with an eye on the latest trends.
High above the rooftops of Hamburg is a 1,000m2 spa, where a 20-metre indoor/outdoor infinity pool is designed to give the illusion that you're taking a dip in the famous lake. The Fontenay spa will offer therapies by La Mer and the 100% vegan brand, Ebenholz Natural Skin Care. The Fontenay also has four function rooms ranging in size from 48 m² to 220 m², with plenty of natural light.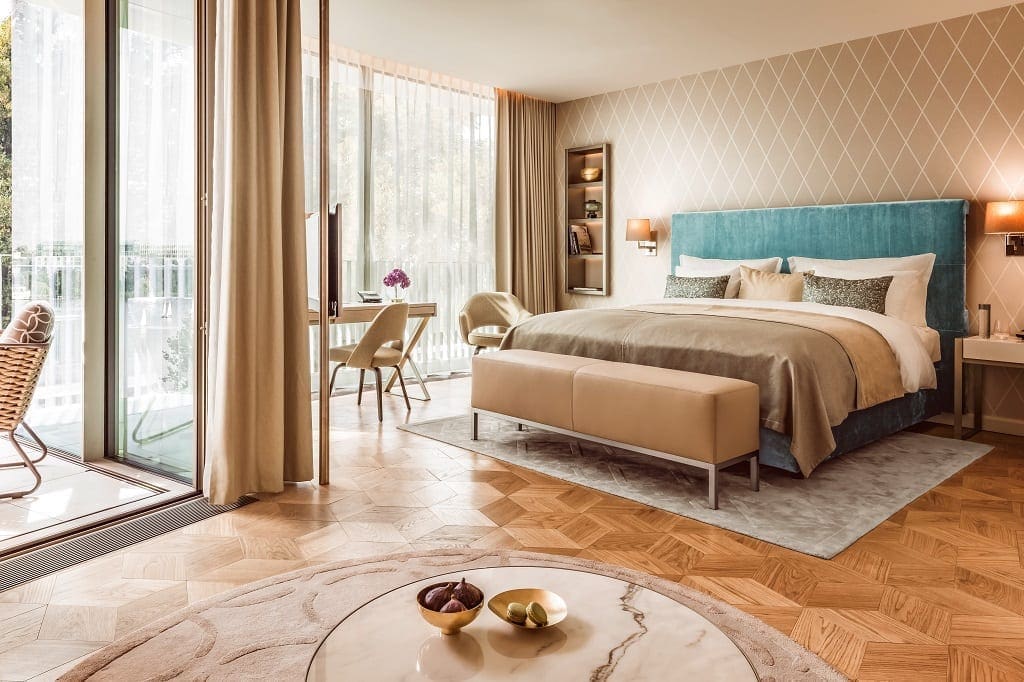 The hotel is named after the American shipbroker, John Fontenay, who came from Pennsylvania to Hamburg in the 19th century and fell in love with the idea of residing on the beautiful banks of the Alster. In 1816, he bought several parcels of real estate and it is on this land that, 200 years later, The Fontenay will soon open its doors.
Germany's largest waterfront city, Hamburg is an elegant and vibrant city representative of modern, dynamic Germany. It has one of the world's largest cruise ship ports and regularly plays host to ocean liners such as MS Europa 2 and Europa as well as Cunard's Queen Mary 2 and Queen Elizabeth. It is also renowned for world-class art collections such as that found at the Hamburger Kunsthalle, and architecture such as the historic Speicherstadt, or warehouse district, which was added to the UNESCO World Heritage List in July 2015 and is home to the recently opened Elbphilharmonie concert hall.
---
The 43m² Fontenay Deluxe Rooms are priced from Euro 355 per room (from GBP 318) per night on a room only basis and includes WIFI, non-alcoholic beverages from the mini-bar, tax and service. Reservations for The Fontenay can be made online at www.thefontenay.de or by email [email protected], through your preferred travel professional, or by calling +49 40 605 6605 850. The Fontenay is a member of The Leading Hotels of the World.
Johan Smits
Freelance writer, translator, web content developer, author of the novel Phnom Penh Express and Tommy, a short story. Loves trying out local brews, avoids noise. Chronically indecisive about where to lay down his hat. Shortlisted AITO Travel Writer of the Year 2018.