Looking for things to do in Kuala Lumpur without the twin towers, Johan Smits spends 48 hours in Malaysia's capital discovering its Malay, Chinese and Indian cultures.
The Petronas Twin Towers in Kuala Lumpur are like the Eiffel Tower in Paris – iconic, but overrated and hard to avoid. Having succumbed before to the temptation of visiting them, this time I was determined to ignore the towers pushed to visitors on every tourist brochure promoting the Malaysian capital. Instead I wanted to experience the trinity of cultures "KL" is famous for – Malay, Chinese and Indian – as if visiting three countries in 48 hours.
Things to do in Kuala Lumpur: Kampung Baru
Fenced in by sleek, high-rise condominiums and glass-panelled office towers, Kampung Baru is an unlikely ethnic Malay village that seems as if dropped out of the sky smack into downtown Kuala Lumpur. This 100-hectare area was established in 1900 by the then British colonisers as an agrarian community to attract rural Malays to the capital, and to this day ethnic Malays are the only ones allowed to own or lease land here. So, I visited it late Monday morning with no other purpose than to wander around and absorb the atmosphere of what is in essence still a traditional Malay lifestyle.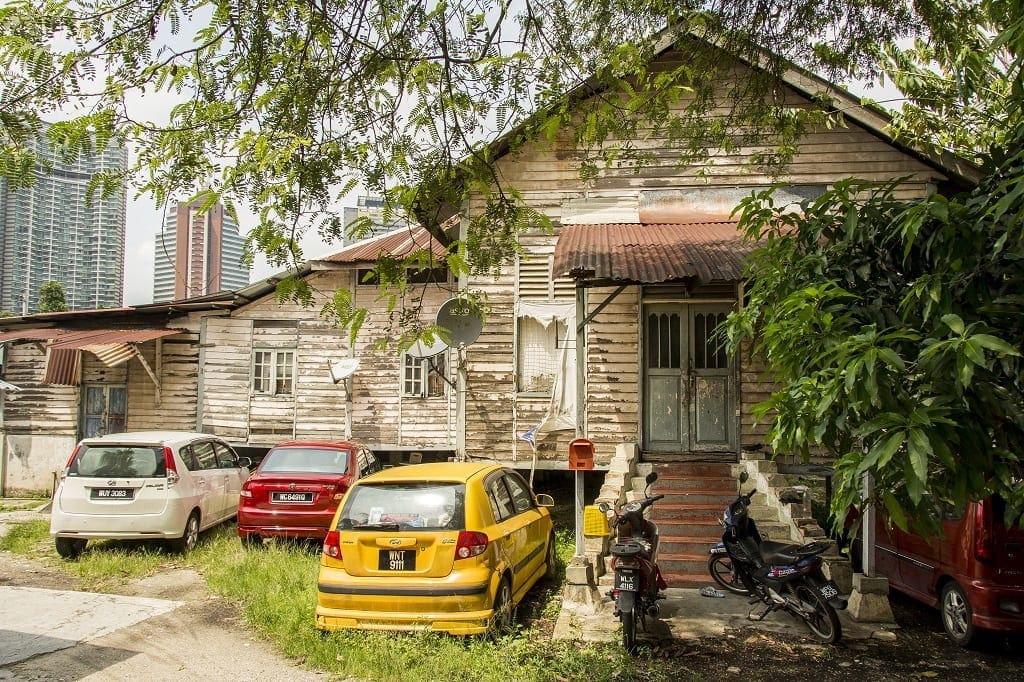 There's something surreal about this place – timber houses on stilts stand amongst frangipani, coconut and banana trees with free-range chickens running about in courtyards, while 900 metres down the road the tallest twin towers in the world, in all their modern glittery glory, loom large over this quiet anomaly. Malay families have lived here for generations with a simple kampung – meaning "village" – lifestyle and wandering through Kampung Baru is like browsing a local history picture book. Some of the wooden houses are well maintained and sport beautiful wood carvings, others are dilapidated. This is a modest neighbourhood but large building projects are already encroaching on its prime development land.
---
---
Kampung Baru reminded me of Bang Kachao in Bangkok, yet the Malay enclave felt much more vulnerable as, unlike its Thai equivalent, it lacks the natural boundary of a river, and I wondered how much longer it would be able to prevent real estate development steam-waltzing over its fragile heritage. I happily spent lunchtime and part of the afternoon here. This must be the best place in KL to try nasi lemak, Malaysia's national rice dish, at one of the many local street restaurants – and if you want to experience a bit more buzz, then join the locals after evening prayers at the food stalls for a culinary moment full of Malay delicacies.
My next stop was a bit of a gamble – without bothering to check its programme I wanted to see if I could pick up an event for the night at the Kuala Lumpur Performing Art Centre (KLPAC) , one of the most established performing arts centres in Malaysia. Located 20 minutes north of Kampung Baru by Grab taxi, the non-profit centre is housed in an old, remodelled railway warehouse and features two theatres, a film screening room, nine studios for rehearsing, exhibition spaces and restaurants and cafes.
More bobo than boho now, this is a perfect place to relax on one of the front yard terraces while reflecting on its nostalgic past.
I ended up enjoying a local painting exhibition on the ground floor and catching fresh air in the park outside – a large, green space home to several faded colonial buildings – as nothing was on that night. The site in itself is worth a visit on its own but if, unlike me, you plan ahead, this is the best bet to pick up a local theatre, dance or music event.
Luckily I had plan B lined up for the evening, after an early dinner. Only a 15-minute walk from Kampung Baru, The Row consists of 1940's shophouses – over 20 of them. Formerly known as The Heritage Row and once infamous for its violent nightlife, in 2016 the old buildings were converted into sleek restaurants, cafés, concept stores and co-working spaces.
---
If you find yourself in Kuala Lumpur in February then watch the spectacular Thaipusam Festival.
---
More bobo than boho now, this is a perfect place to relax on one of the front yard terraces while reflecting on its nostalgic past. My teppanyaki chicken at Mojo restaurant was as excellent as its cocktail menu was impressive, and if it wasn't for plan B, I would have checked out the craft beers on offer at the promising bistro Gavel around the corner in Jalan Yap Ah Shak.
Being a sucker for live jazz, No Black Tie is where I naturally ended up that night. Its strapline "KL's premier jazz club", is no lie. Fifteen minutes by taxi from The Row, this small, unpretentious but ruthlessly authentic music-hole is a real gem. The compact but cosy bar area at the entrance with pictures of jazz legends adorning its walls is inviting enough to settle down with a glass of wine, but the real magic happens at the back, one doorway away.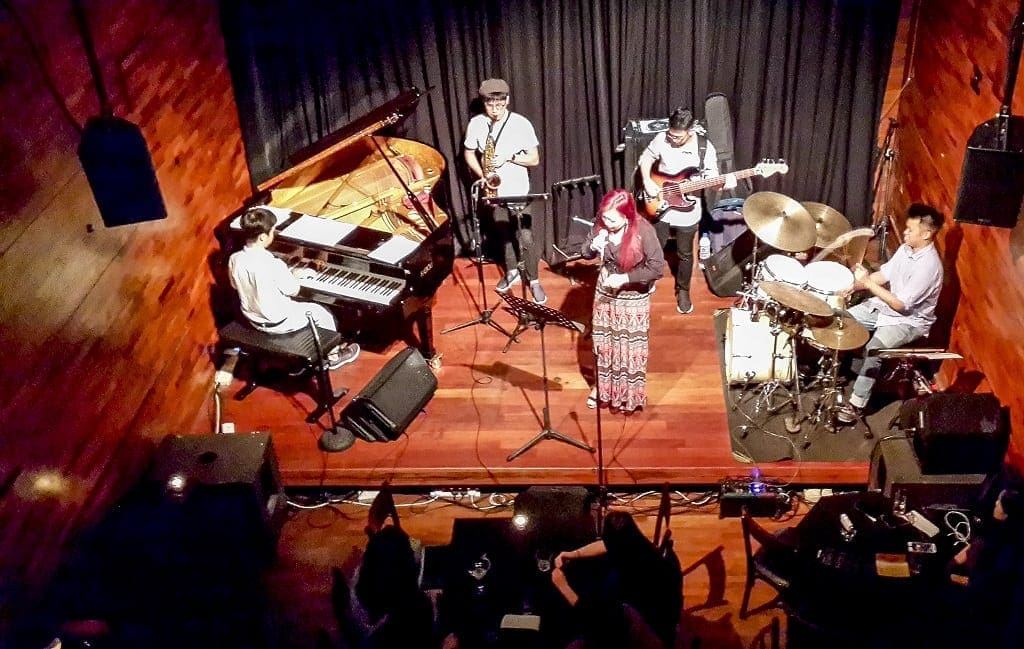 That night, a very young Malaysian jazz ensemble called Kangkung Belacan – named after a spicy stir-fry with morning glory – were dishing out their excellent jazz tunes to a full house in the hugely atmospheric inner sanctum featuring creaking, wooden floorboards and an intimate front stage; a definite winner.
Things to do: Brickfields
I woke up late again the next morning and by the time I arrived in Brickfields – KL's "little India" – breakfast became brunch. This suited me fine as this is the place to try out the famous southern Indian banana leaf curry, a dish where you eat a mishmash of rice, dal, vegetables, gravy, pickles and exotic condiments off a banana leaf by hand. The one I had for USD2.80 at the unpretentious Ayanar Curry House at 25 Jalan Scott, was second to none and kept me full for hours to come.
---
If you're enjoying Johan's tour of Kuala Lumpur then read his Bangkok Attractions – A Nostalgic Journey.
---
If your senses need a boost, go to Brickfields. Indian markets, fabric boutiques and curry houses make for a hodgepodge of colours and scents to be outdone only by the buzz and sounds of Tamil music shops and Hindu temples.
The huge 1902 Sri Kandaswamy temple on Jalan Scott with its detailed Sri Lankan Tamil architecture is definitely worth a visit, while the understated beauty of 1904 Vivekananda Ashram that celebrates Ramakrishna, stands in cold contrast with the enormous steel-and-glass office towers that overshadow it from across the road.
Although this is no India with hundreds of rickshaws, honking motorcycles, rickety buses, yellow taxis and the occasional elephant clogging up the street, Brickfields comes close enough and makes for a more relaxed way of soaking up the local colour.
Things to do: Chinatown
By the time I made the 10-minute taxi ride from Brickfields to Chinatown – my next stop – it was too early for dinner but not too late to try out the best egg tarts in KL. Finding the little hole in the wall that is Bunn Choon Bakery in Jalan Balai Polis wasn't too difficult – the little crowd of locals jostling for a box of fresh-out-of-the-oven egg tarts gave it away. Plying their trade since 1893, this is a fourth-generation family who know what they're doing – the black sesame version is more like black magic with its warm, creamy egg filling and flaky pastry leaving you spellbound.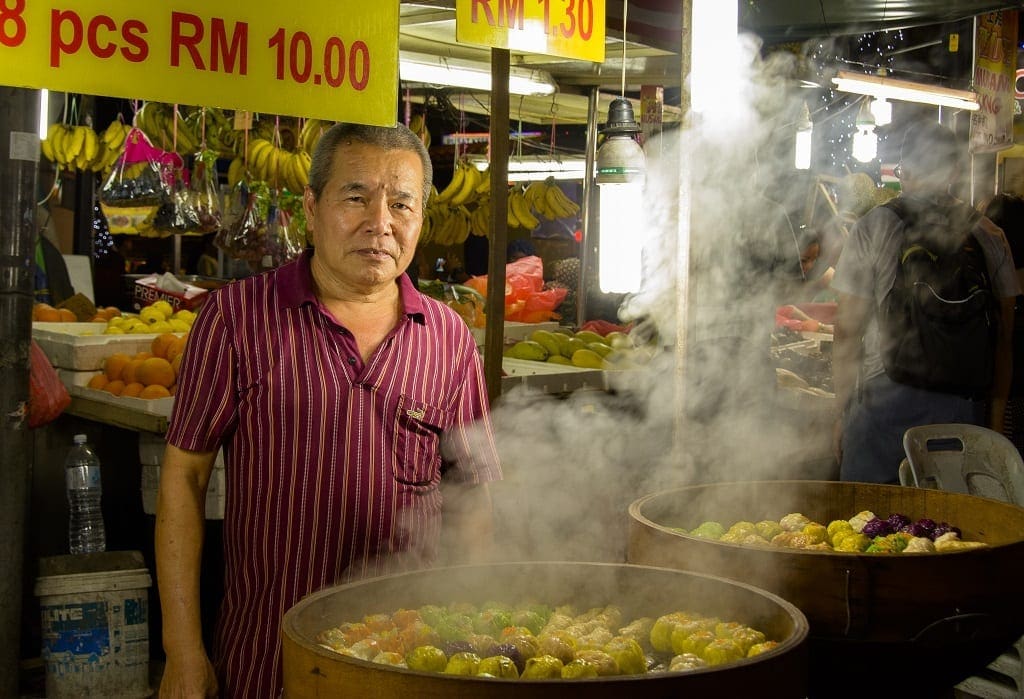 Further down the same street is the famous Old China Café, one of the oldest coffee houses in the city where marble-topped tables and walls decorated with old photos and large mirrors are de rigueur. Although a firm fixture on the tourist trail, this busy but historical café is certainly worth a pit stop for coffee or lunch.
While many visitors flock to Jalan Petaling and especially its covered market – a colourful but very touristy affair lined with food stalls and selling the usual fake-branded accessories – I was quite happy to skip the market and instead explore the quiet backstreets. This is a Chinatown where you'll find old Chinese shophouses, interesting murals, paper lanterns, the occasional temple and local residents going about their daily business.
On my last night, I was going to have dinner somewhere I had been looking forward to for a while: a 10-minute walk from the previous night's No Black Tie is Jalan Alor, one of KL's most famous food roads. Think of a long stretch of fashion-unconscious restaurants, messy hawker food stalls, red plastic tables and chairs, and in the middle of it all a continuous stream of human mass.
Grimy picture menus, charcoal fumes, clanging woks, bright neon lights and the best seafood in town – Jalan Alor satisfies all of human's senses. Here you find Chinese roast pig on spit next to halal Malay satay stalls next to Indian curry houses – with other cuisines such as Thai, Vietnamese and Japanese thrown in for good measure. I walked down this road stopping now and then to sample yet another delicacy, and when I came out the other end I felt I'd eaten enough for the rest of the week.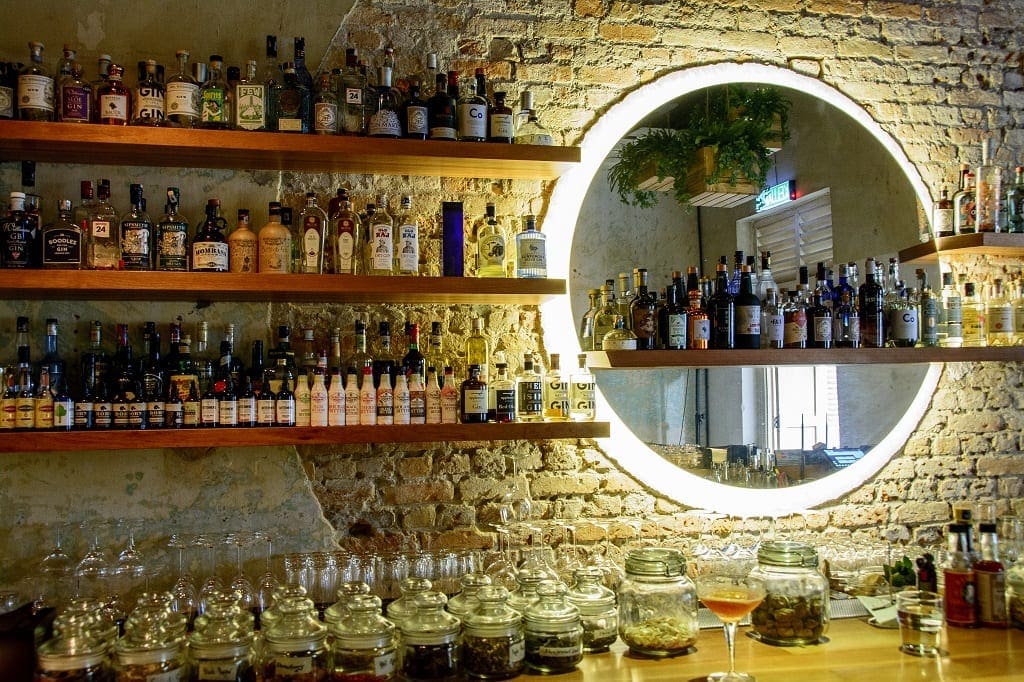 One block parallel to Jalan Alor is Tengkat Tong Shin, a street with a mix of some hip western and local street restaurants, boutique guest houses and a couple of bars. Hidden a 10-minute-walk away at 3 Jalan Sin Chew Kee in a 1920s house, Pahit (Malay for "bitter") is an atmospheric and tasteful bar offering gins from twenty different countries; a little paradise for lovers of the juniper berry drink. Its signature Gin Prahit cocktail made for an impeccable conclusion to my 48 hours in Kuala Lumpur that already seemed far too short.
---
Going out at night: Top Tip
To enjoy one of Pahit 's excellent gin-based cocktails during the weekend, go early, at around 7pm, as later it tends to get packed.
---
Kuala Lumpur weather
Most of the year Kuala Lumpur is hot and humid with very little seasonal variety. There are two monsoon seasons every year: October to January and March to April, with the latter bringing most of the rain. May to July is dry, but also very hot. Rain and thunderstorms usually happen in the evening. Bring light clothing, sun protection and an umbrella – and enjoy discovering new places if you have to duck inside to avoid an unexpected downpour.
Kuala Lumpur airport
Kuala Lumpur International Airport (KLIA) is located about 55km from the city. It has two terminals, KLIA and KLIA2, so on your return make sure you know which one you're flying from – most low-cost airlines fly from KLIA2. The terminals are connected by a three-minute train journey. The KLIA Ekspres takes you to "KL Sentral" in 30 minutes from where you can hop onto any of KL's transport network lines – or take a taxi. The KLIA Transit Airport Train follows the same route as the KLIA Ekspres but takes 40 minutes. It's priced the same, so if you're heading to central KL, take the KLIA Ekspres. Taxis from the airport are either metered, or operate via a coupon system – the so-called "limousine system". The service is efficient but beware of traffic. Time: 40 – 50 minutes. Finally, there's the Airport Bus Shuttle – the cheapest option – taking about an hour to reach "KL Sentral".
Flights to Kuala Lumpur
British Airways and Malaysia Airlines both operate direct flights to Kuala Lumpur from the UK, while there are direct flights from Amsterdam via KLM and Istanbul via Turkish Airlines. Air Asia has an excellent network of cheap flights across the region as well as to Australia from KLIA2.
Use our flights and hotel comparison search engine which compares all major booking sites to find you the best deal:
Kuala Lumpur photo gallery:
---
---
Further information:
Kampung Baru: nearest LRT station: "Kampung Baru" (Line 5). The Row (formerly called The Heritage Row) is at 22 to 64 Jalan Doraisamy with nearest LRT "Dang Wangi" (Line 5, one stop from "Kampung Baru") and nearest Monorail "Medan Tuanku" station (Line 8).
Brickfields: nearest LRT (Line 5) and Monorail (Line 8) station is "KL Sentral". The Vivekananda Ashram is at 220, Jalan Tun Sambanthan.
Jalan Alor: nearest MRT (Line 9) and Monorail (Line 8) station is "Air Asia – Bukit Bintang".
Download the app Grab for KL's main taxi booking service and MAPS.ME to help you navigate.