Bangladesh Rickshaw Art : Photo Journey
Johan Smits
Posted on 6th Nov 2019
Travel Begins at 40's Johan Smits shares his love of the brilliant rickshaw art in Bangladesh with a series of colourful photos.
To foreign visitors in Bangladesh, the ubiquitous and beautifully painted cycle rickshaws are undoubtedly one of the country's most defining features, with many of them decorated with oil paintings by local street artists. While most of these paintings are rooted in popular culture, religion and history, others depict aspirations of the rickshaw owners or the personal experiences of the painter.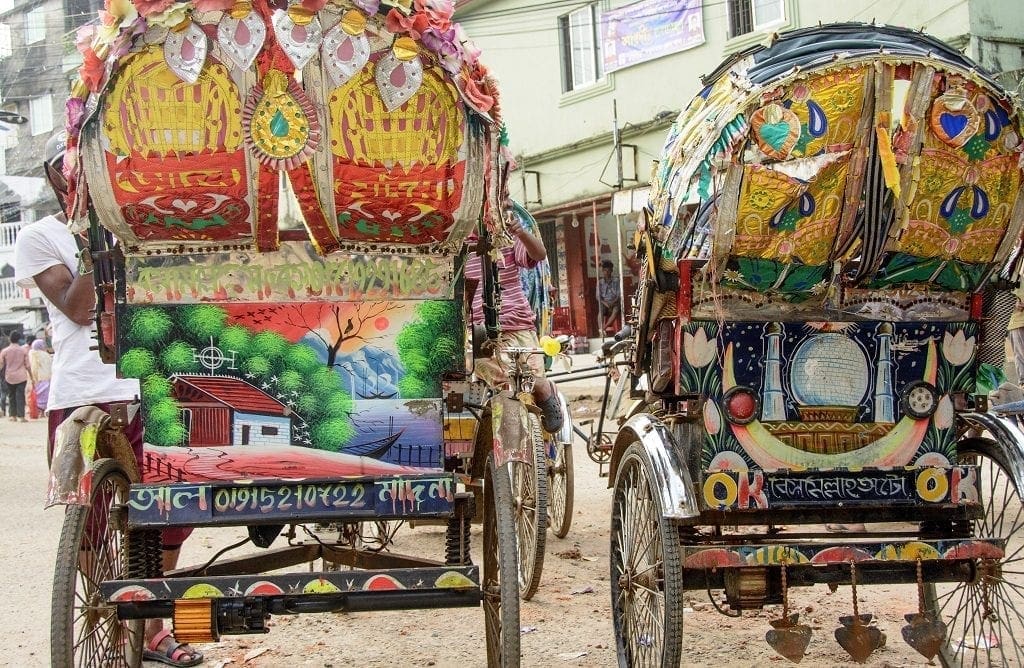 Bangladesh's unique rickshaw art started to appear in the 1950s with depictions of popular folklore and movie heroes while in more religiously conservative parts of the country the paintings focused on mosques and floral designs. Hindu artists would paint figures of goddesses such as Durga and Kali.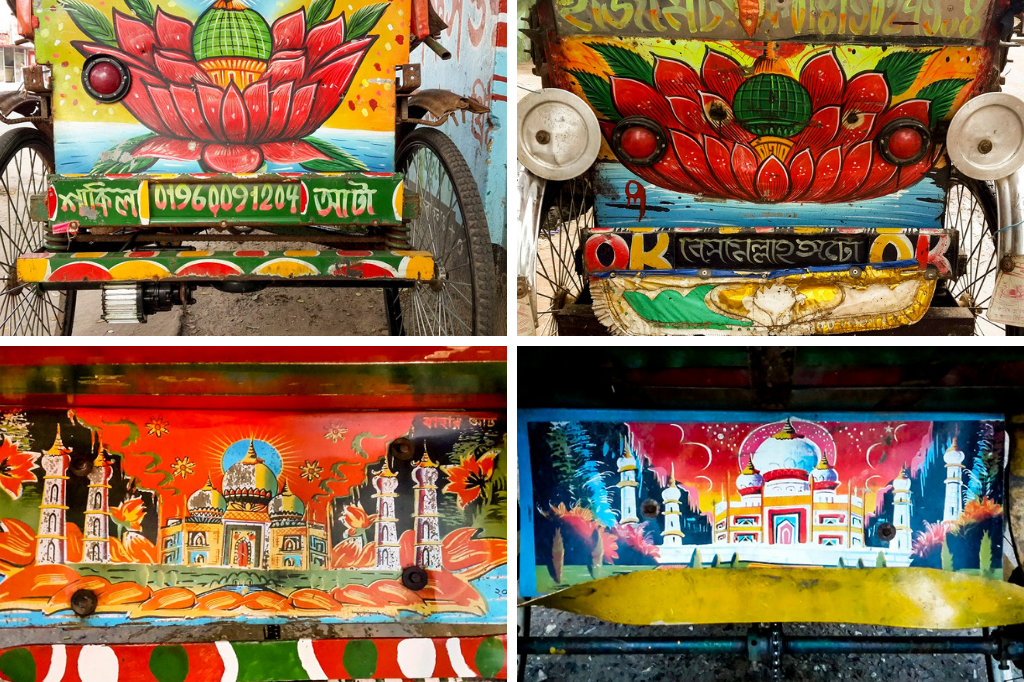 During the 1971 liberation war against Pakistan, the paintings started to depict explicit scenes of war atrocities by Pakistani forces as well as patriotic images such as a Bangladeshi astronaut planting the national flag on the moon. After the local government began banning the too graphic war images in the early seventies, the subject matter evolved back towards popular culture and rural scenes including animal fables. The latter were sometimes seen as a veiled satirical commentary on social and political topics that were otherwise considered taboo.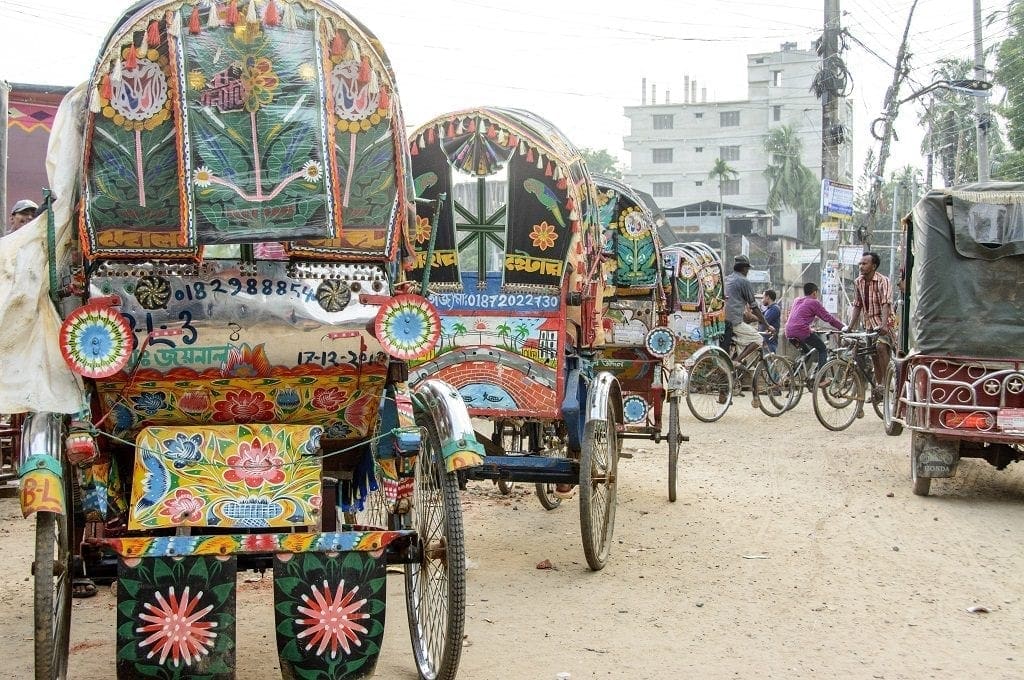 While the local elite tend to look down on this form of street art, many art scholars recognise it as aesthetic expressions borne from a unique blend of Bengali, rural and Islamic traditions, often infused with the personal aspirations of the artists driven mainly by extreme poverty.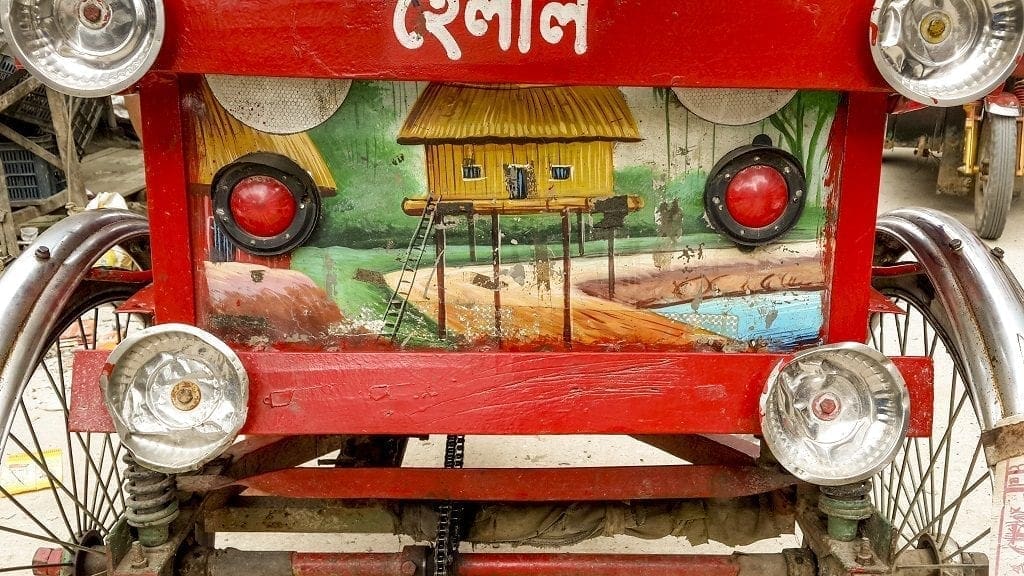 Although the artworks are sometimes signed, the mostly illiterate artists are not bothered by being copied while they themselves often base their themes on posters and advertising images. Still, many artworks spring entirely from the imagination of their creators with some of them greatly admired in the industry. All of this results in a free-for-all artistic market.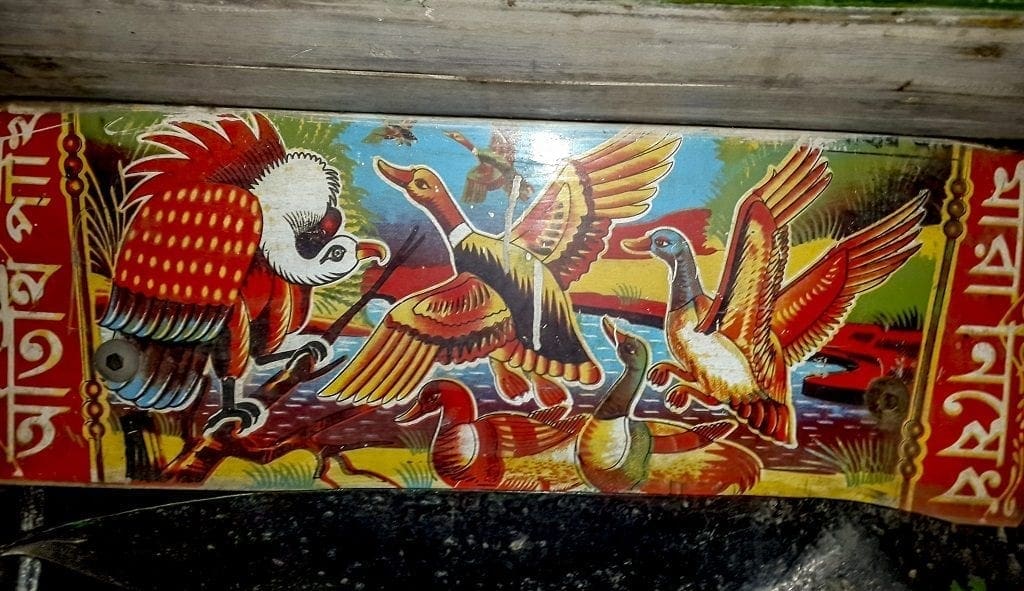 Rickshaw art in Bangladesh not only consists of oil paintings but covers the entire vehicle. It often includes little brass vases on the handlebars with bright plastic flowers in them, and shiny tinsels, tassels and cut-outs in primary, raw colours attached to the frame and canopy. No part of the rickshaw is left untouched.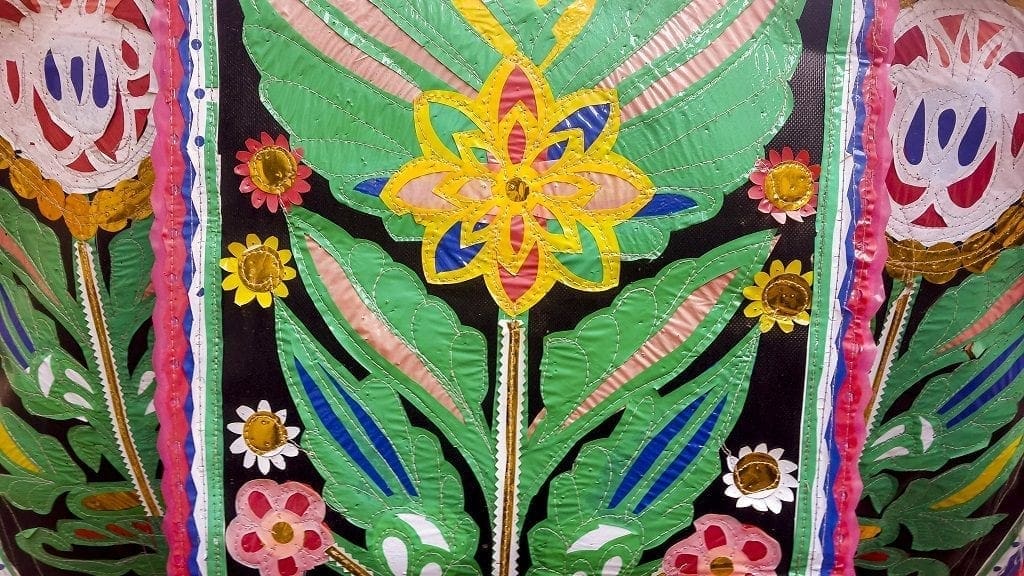 It is believed that the rickshaw originated in 1867 from the Japanese jinrikisha or 'man-powered vehicle', and spread from there throughout Asia. While they disappeared in Japan they became popular elsewhere, with those of Bangladesh the most brightly coloured and intricately adorned. By 1962 there were reportedly 4,025 rickshaws in Dhaka. Nowadays they are estimated to number over one million, the vast majority of them unlicensed. With 60% of Dhaka's residents using rickshaws, it's become the capital's most widely used means of transport.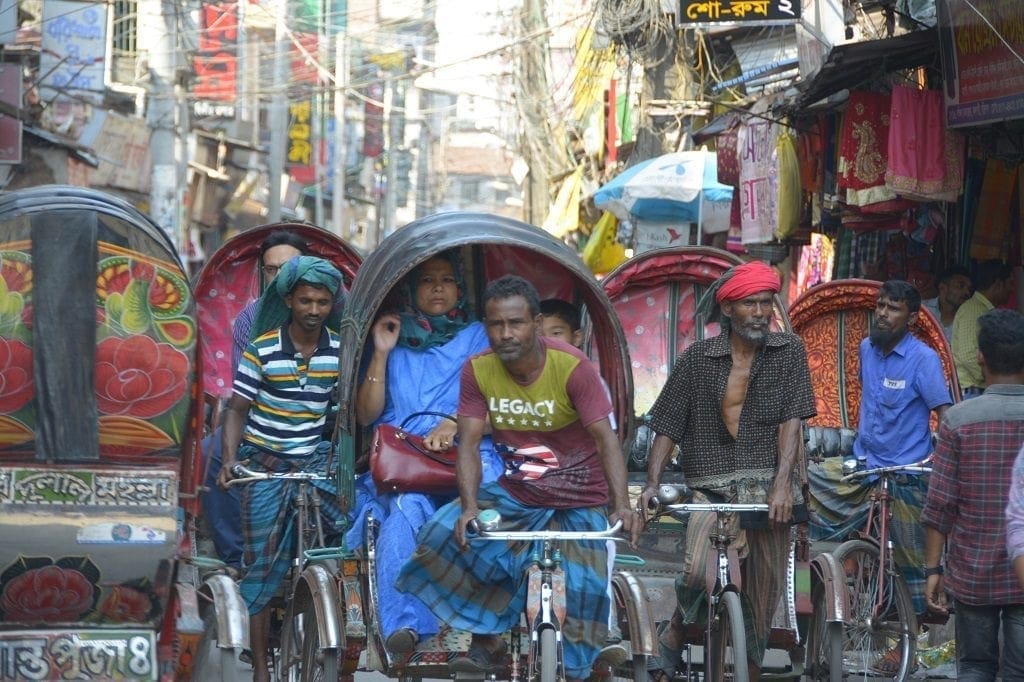 Millions of people in Dhaka depend on rickshaws for their income. They include not only the rickshaw pullers or wallahs and their families, but also the local mechanics, painters and artists. Nearly all of the capital's rickshaw wallahs are poor, unskilled migrants from rural parts of Bangladesh. Their average age is 37 and their average daily net income is 372 taka or less than five dollars. An average daily shift is nine hours. Almost all of them do not own their rickshaw and hire it from garage owners.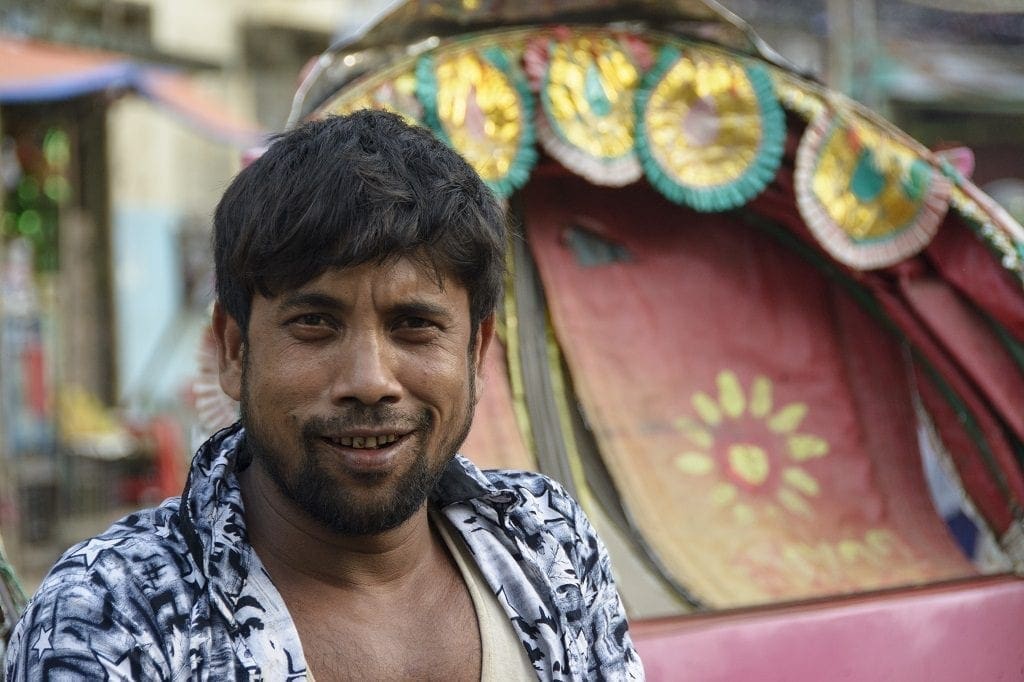 While the rickshaw used to be the preferred mode of transport for elite families, nowadays it's the middle classes who use it most. Often blamed by officials for Dhaka's notorious traffic jams, they are nonetheless pollution-free, eco-friendly, affordable, lighter and much more manoeuverable than cars. They also rarely cause fatal accidents. One thing is certain: when you're stuck in Dhaka's eternal bumper-to-bumper traffic, the colourful and interesting paintings and decorations in front of you are bound to brighten up your day.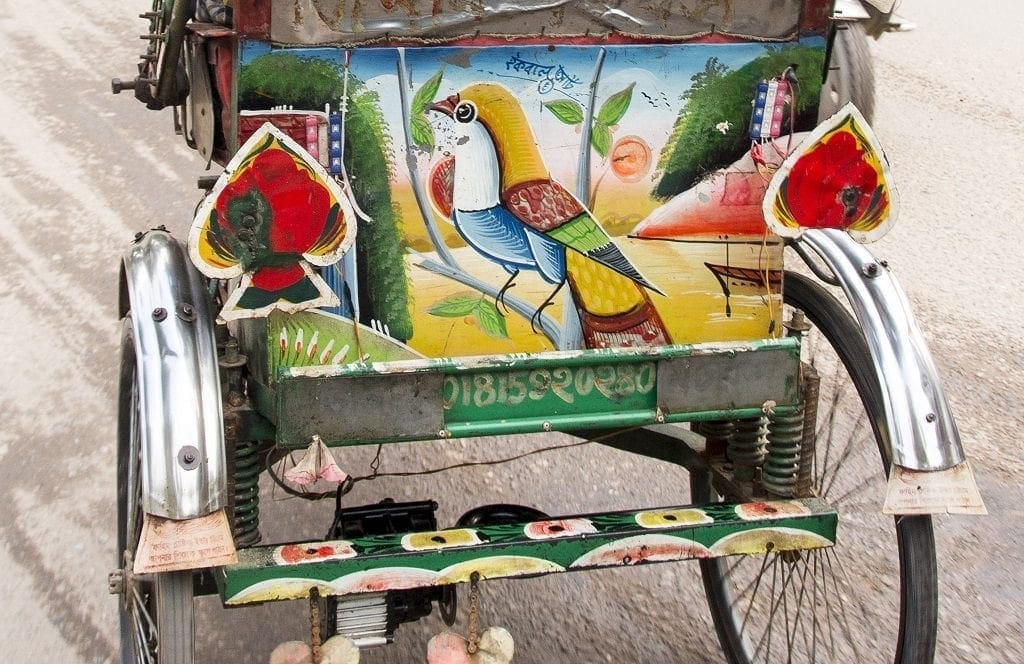 The future of rickshaw art in Bangladesh
While the period of 1975 to 1999 is generally seen as Bangladesh's golden age for rickshaw art, some experts fear its future is bleak. With the appearance of computerised painting, the current third and fourth generations of street painters in Bangladesh find it increasingly hard to compete. In addition, the local Dhaka government is pushing hard to ban the humble three-wheeler from major streets to narrower lanes. The resulting decline of business is already having a negative effect on the standards of decoration.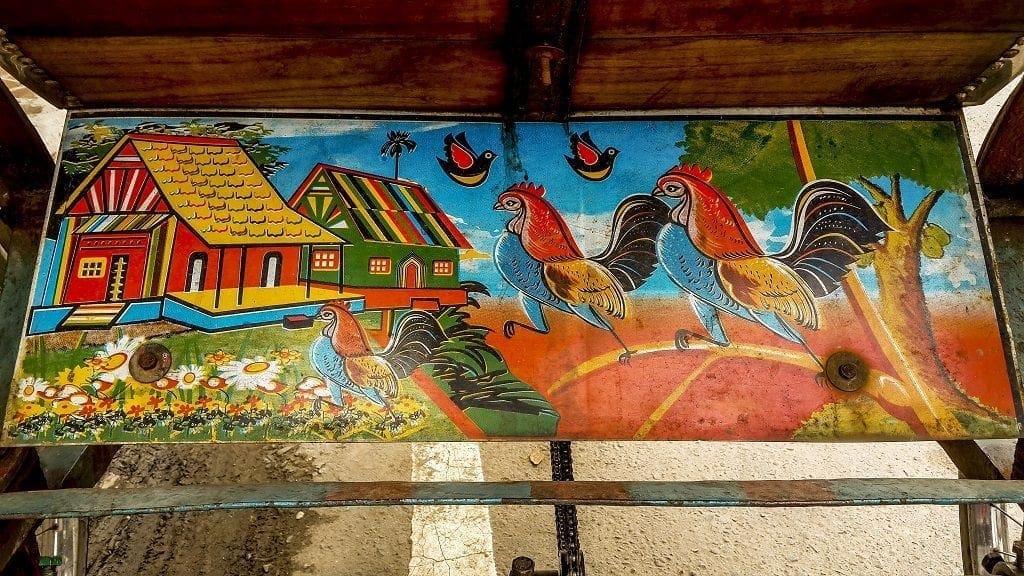 As Kuntala Lahiri-Dutt and David Williams state in their publication Moving Pictures. Rickshaw Art of Bangladesh, "The rickshaws and their artists make a claim to their right to the city, offering their art as a valuable and necessary part of its social and cultural life. Rickshaw art represents a powerful desire of the artists to speak to the elites and others in new terms and from different perspectives."
Rickshaw art in Bangladesh photo gallery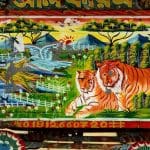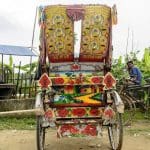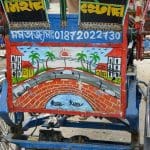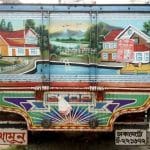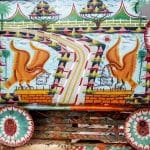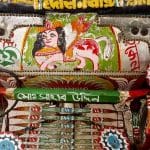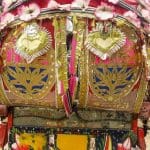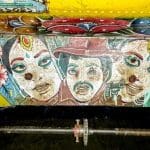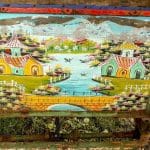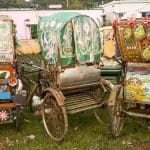 More on Bangladesh travel:
Read our features "Voyage to the Sundarbans Mangrove Forest" and "Bangladesh Travel: Rivers, Relics and Wrecks".
---
Further recommended reading and photography on Rickshaw Art in Bangladesh:
Moving Pictures. Rickshaw Art of Bangladesh by Kuntala Lahiri-Dutt and David Williams; and Bangladeshi Arts of the Ricksha by Joanna Kirkpatrick.
---
The statistics and figures quoted in this article are taken from 'Organising the Informal Economy Workers: A Study of Rickshaw Pullers in Dhaka City' written by Prof. Md. Rezaul Karim, Ph.D. and Khandoker Abdus Salam; published by the Bangladesh Institute of Labour Studies (BILS), March 2019.
Johan Smits
Freelance writer, translator, web content developer, author of the novel Phnom Penh Express and Tommy, a short story. Loves trying out local brews, avoids noise. Chronically indecisive about where to lay down his hat. Shortlisted AITO Travel Writer of the Year 2018.