MonteRosola: Sustainable Wine Growing in the Volterra
James Clark
Posted on 13th Feb 2022
James Clark discovers that MonteRosola Tuscany winery is making a name for itself in one of Italy's top wine regions, with sustainability at its heart.
Volterra is the oldest town in Tuscany. It can be traced back to the Bronze Age. If walls could talk, the Etruscan walls around the town would have many tales to tell. Scenes of rivalry have taken place throughout Volterra's history with neighbouring Siena. Today, such antagonism can at times rear its head at football matches.
The wine of Tuscany is famous for its high quality, satisfying both thirsty visitors and discerning locals alike. There have been vineyards in and around Volterra for around 3,000 years, but the village has been overshadowed by the neighbouring and world-famous Tuscany wine regions of Chianti, Bolgheri and Montalcino. That is until the Thomaeus family from Sweden purchased La Rosola in 2013.
MonteRosola Winery : Sustainable Building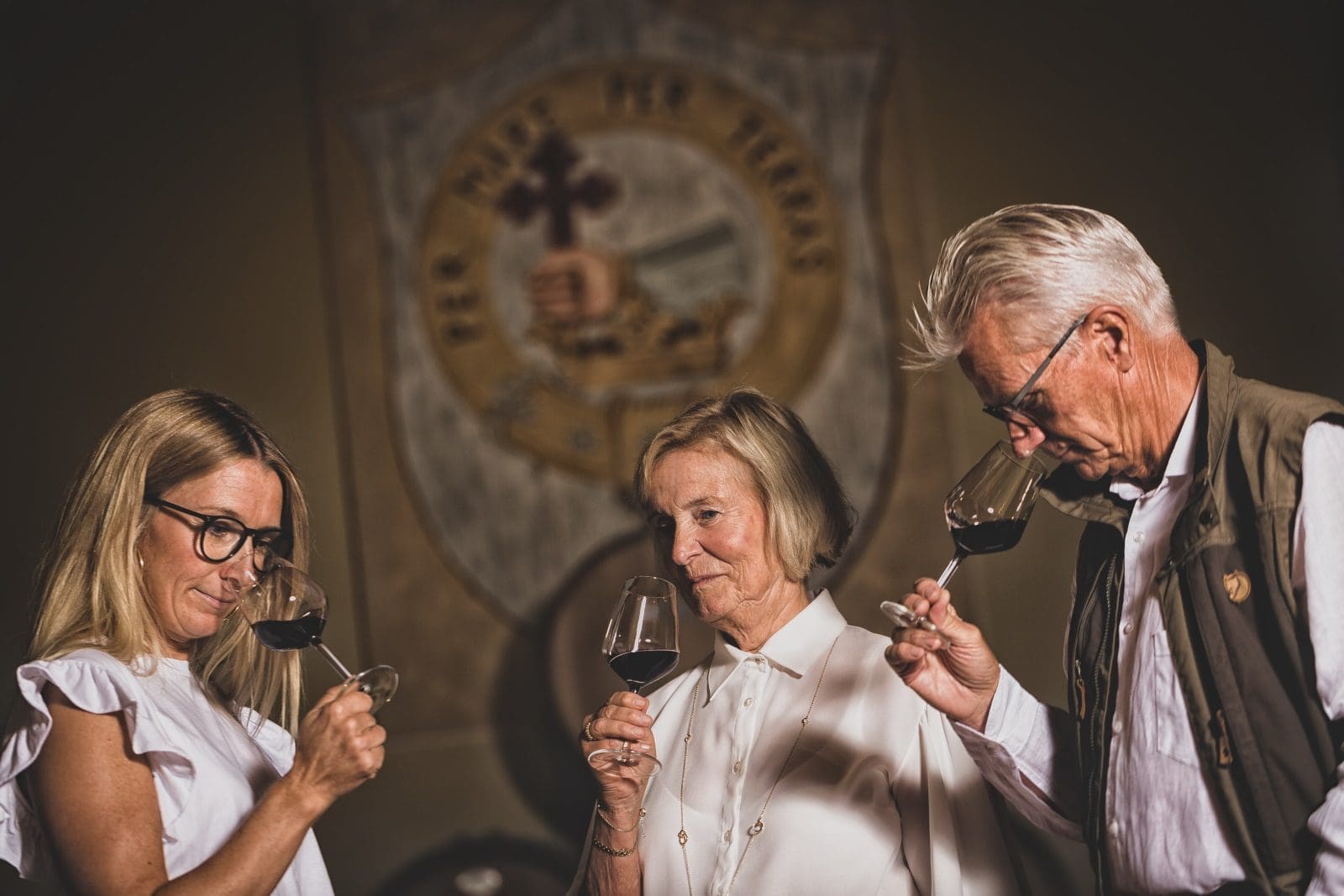 The family has made vast changes to put MonteRosola and neighbouring Volterra on the Italian wine trail. A good place to start is the brand-new cantina. Built by locals and using materials sourced nearby, it represents an attempt to create a circular economy.
The innovative structure contains a building within a building. The cellar is sheltered within another space, yet with double floors, high ceilings, and a corridor surrounding the cantina it avoids any sense of claustrophobia.
Rainwater Irrigated Tuscany Vineyard
The clever design doesn't end there. The team has created a system whereby self-circulating air maximises the use of natural energy, all year-round. In addition, to the generation of sustainable energy, MonteRosola also collects rainwater in giant tanks. The water passes through a purification plant.
Volterra locals raised concerns over the amount of water the winery would need to use during the dry summer months, so the Thomaeus family came up with this idea which seems to please everyone. On average, MonteRosola uses 70% less energy than other cantinas in the region.
Tuscany Wine Tours: from Vineyard to Bottle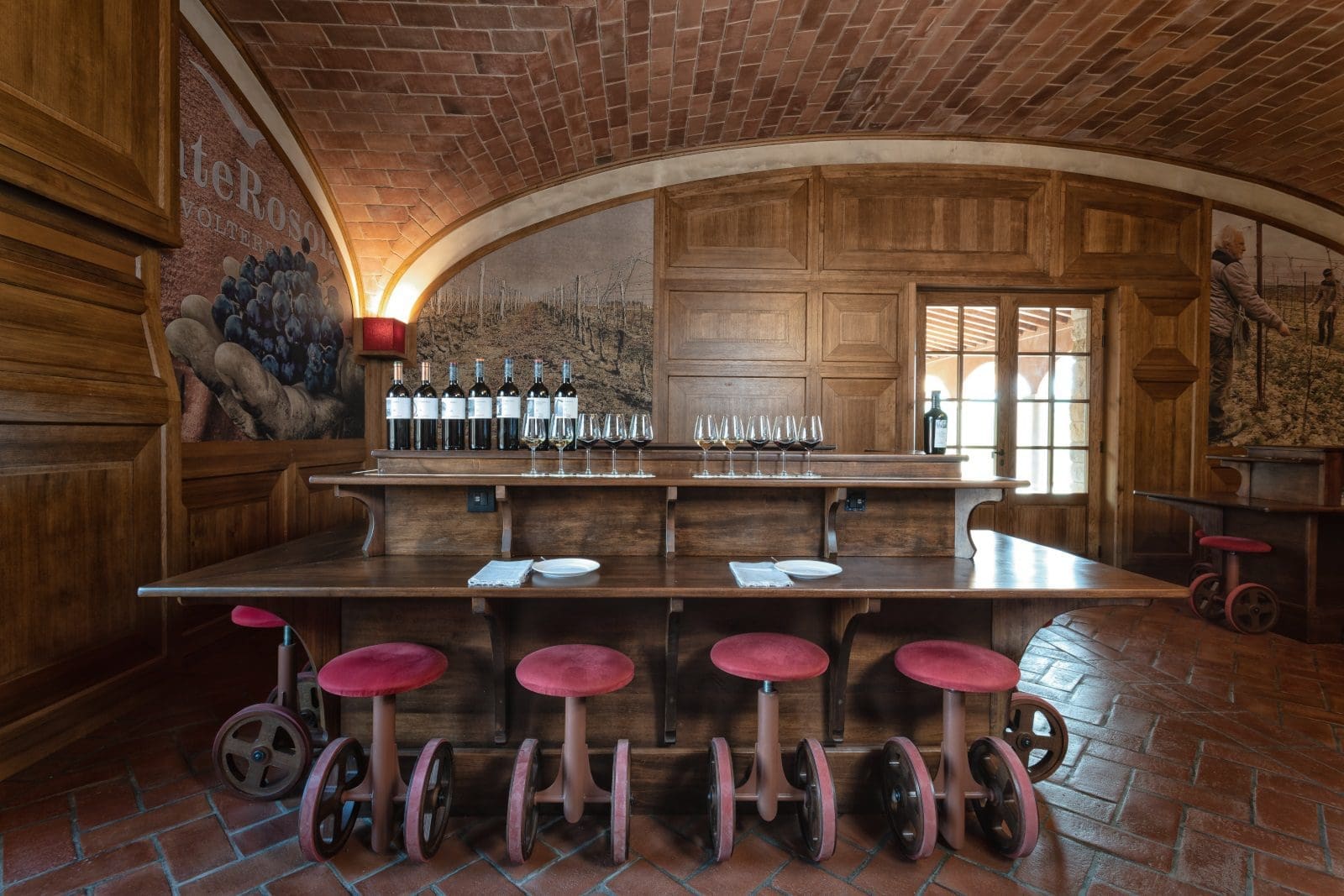 Within the cantina there is a visitors' centre with many spaces suitable for Tuscany wine tastings paired with food and other events. If you are looking for a Tuscany wine tour, a visit to MonteRosola also includes a tour showcasing all aspects of the wine making process; from vineyard to bottle.
The spacious and classy interiors can host weddings and other social gatherings for up to 200 guests. The tremendous views of the rolling hills, woodlands and Volterra make this the perfect location for such an occasion.
Organic MonteRosola Wines
All of the above worthiness counts for little if the wine doesn't please the palate. But don't worry MonteRosola winery does not disappoint. Thanks to mother nature it produces both red and green grapes. The high altitude and winds, encourage slower and longer grape ripening, and the clay-based soil retains moisture due to a high mineral content from soft rock forming a hard layer over the soil in summer. No chemicals or pesticides go anywhere near this or any other process.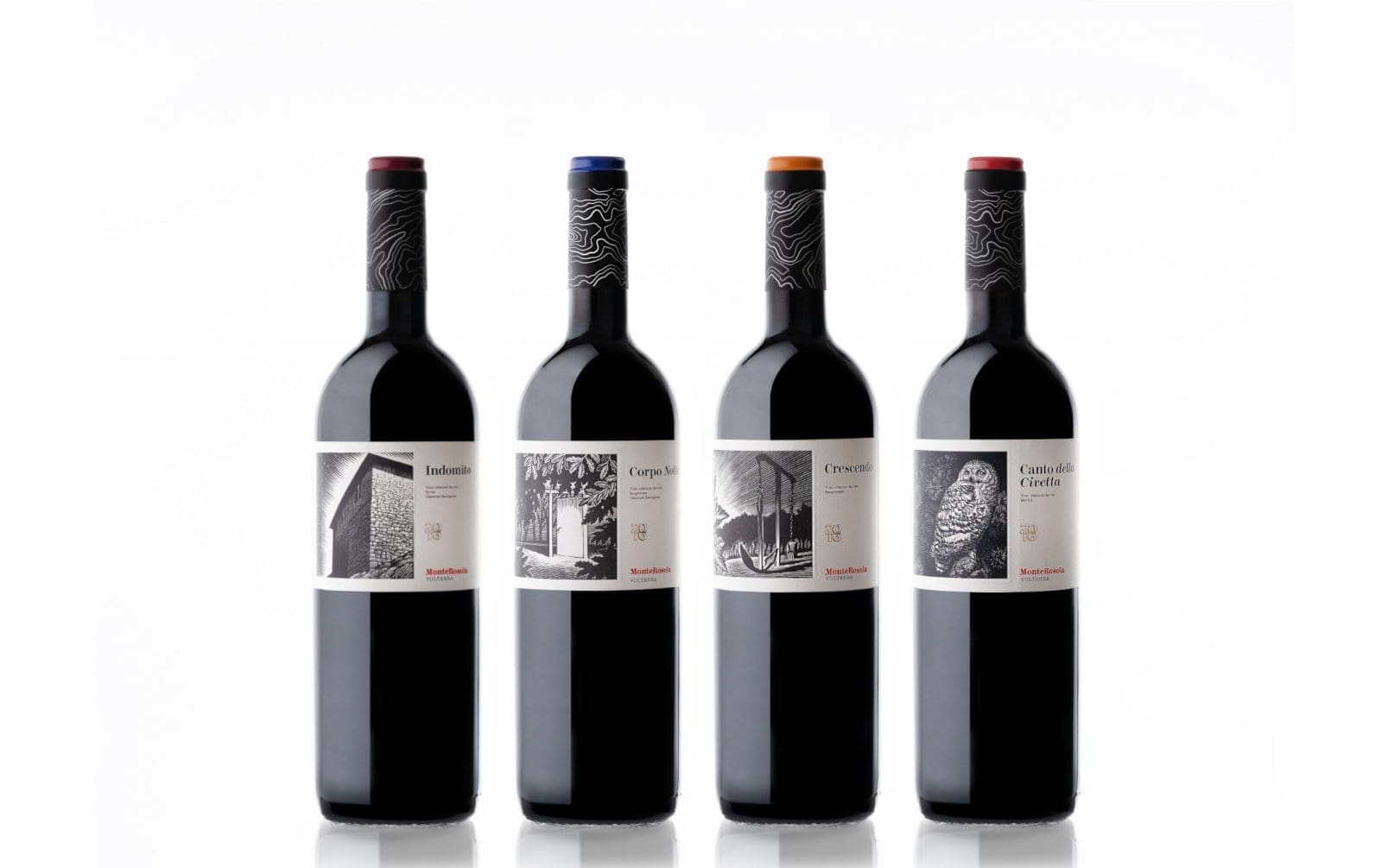 The vineyards are managed by hand, and only the best grapes are selected in the vineyard and again later in the winery.
The wines are made in tulip-shaped concrete tanks with a capacity of 9,600 litres. The wine is matured in either concrete tanks or French oak casks under the direction of Italian oenologist, grower-producer, and wine consultant Alberto Antonini. He is well known and respected across many of the major wine producing countries around the world.
The Reds
The deeply-coloured Per Terras is a full-bodied wine with blackcurrant, herbs, blackberry, and oak-sourced spice aromas, while the rich ruby coloured Mastio comes with a hint of red cherry, strawberries, almonds and green herbs.
The Corpo Notte is also ruby red with hints of ripe red fruit, cassis, and blackberries, with the unexpected and delicious taste of chocolate which is a real treat. The intense and complex Crescendo has a deep garnet colour with flavours of rich cherries, dried herbs, sweet oak, spices, black tea, and toasted almonds. Merlot lovers won't be able to get enough of the Canto della Civetta, it has deeply intense blackberries and black plum flavours, with sweet oak spices and roses.
Finally, the Indomito is a single variety Syrah with notes of fruit, spicy white pepper, and liquorice.
The Whites
Primo Passo is a light golden coloured wine with ripe apricot, peach, citrus zest and a hint of sweet spice. The single variety Vermentino, 'Cassero' has hints of white flowers, grapefruit, pear, and white peach. The Viognier, 'Per Mare' is rich and complex, with aromas of ripe citrus, yellow stone fruit, and floral notes.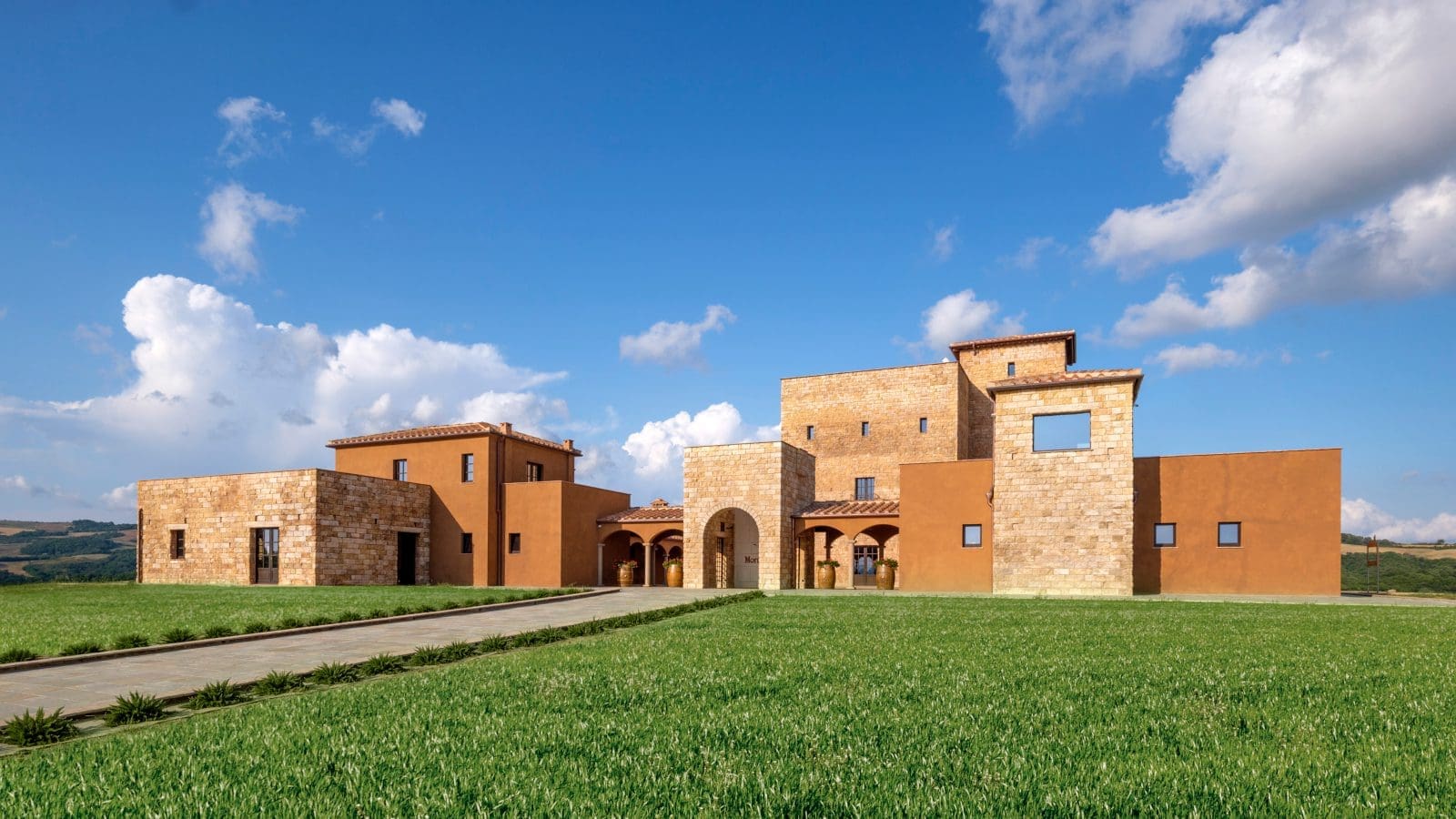 Traditional Tuscan Wine Growing
At the time of my visit MonteRosola produced 70,000 bottles per average year. This number is set to increase. The wines aren't cheap (ranging anywhere between £12.50 and £80) per bottle, but then you wouldn't expect them to be. The traditional hands on wine making processes, organic wines, excellent quality and outstanding setting all come at a cost.
Other MonteRosola Products
MonteRosola also offers organically grown olive oil pressed at a traditional mill in Volterra (you can expect to try this with the food paired with the wines), grappa distilled from the skins of the grapes after they've been pressed, and toiletries made from salt. Salt has been mined in the area for more than 1,000 years.
---
MonteRosola Winery
Keep an eye on the MonteRosola website for further details, as well as how you can ourchase some wines.
James Clark
James Clark is a UK-based travel writer specialising in adventure and the great outdoors.