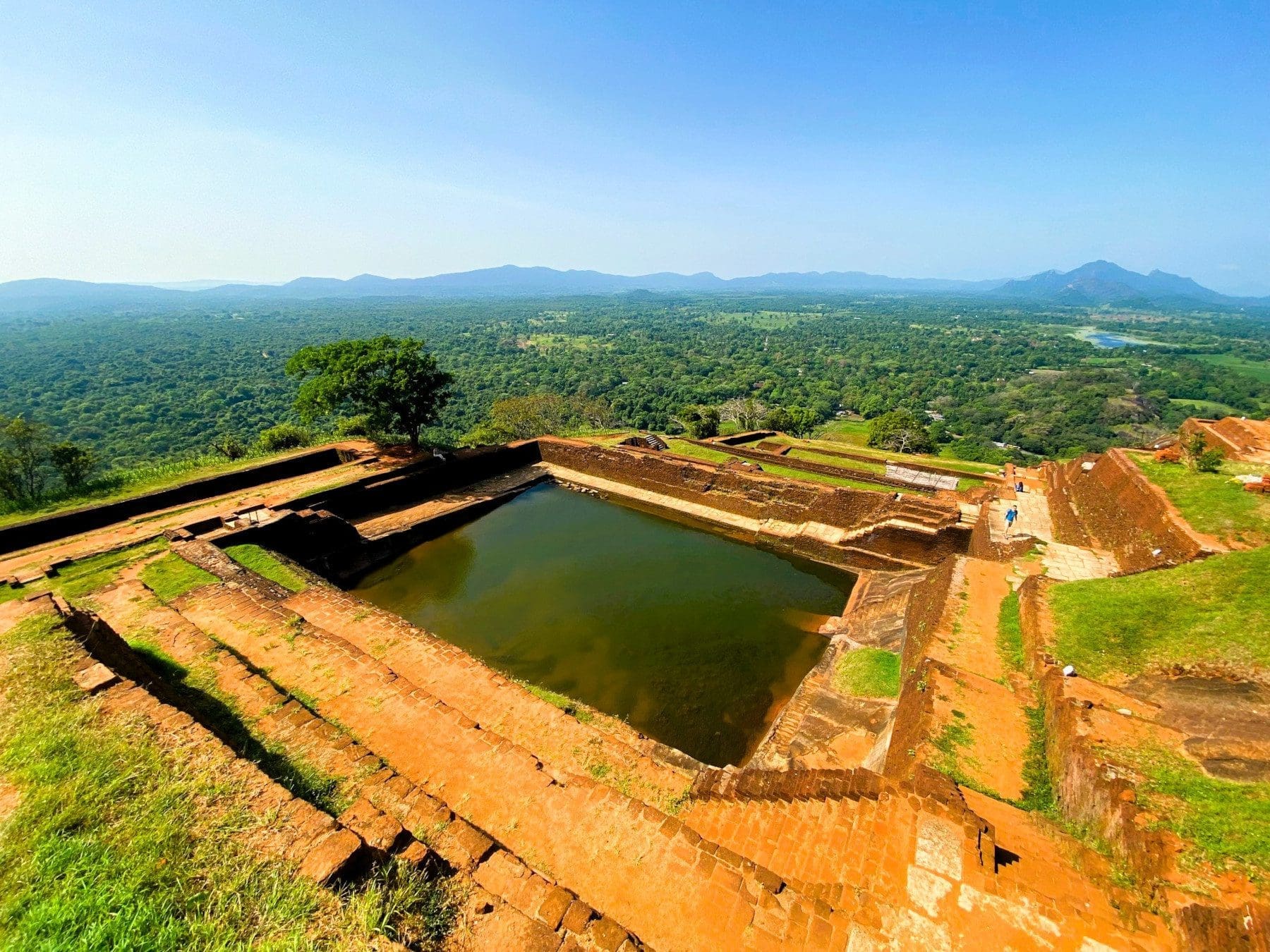 Sigiriya Rock, Dambulla and Elephant Safari in Sri Lanka
Mark Bibby Jackson
Posted on 30th Aug 2023
In the first of a series of articles covering his trip to Sri Lanka, Mark Bibby Jackson goes on an elephant safari, sees the wonderful cave paintings at Dambulla and climbs the amazing Sigiriya Rock.
Elephants are everywhere in Sri Lanka. You pass them walking idly along the street. The initial adrenaline rush of seeing the enormous beast trundling along the side of the road never really fades. One of our group cries out elephant, but sadly it turns out to be a cow munching away in the fields – such mistakes are easy to make when adrenaline is mixed with jetlag.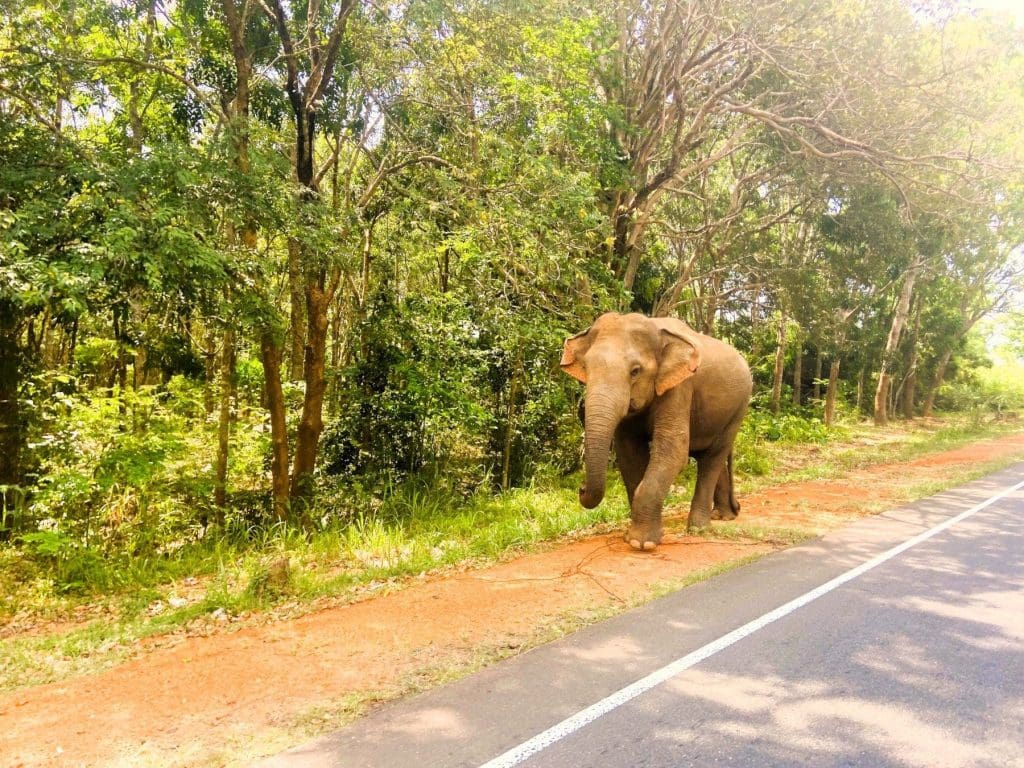 Everywhere it seems, apart from in the Minneriya national park in the north centre of the country, where hundreds of elephants gather to feed beside the waters of the Minneriya tank, a reservoir built by King Mahasen in the third century. We are standing in our open jeep cameras at the ready just to catch a glimpse of the noble beast, but so far, no luck.
Still, patience is a virtue so they say, especially when travelling.
Jetwing Blue Negombo
The previous day we flew from London, or perhaps it was the day before. Time blurs when you are flying overnight in a plane.
Our recompense for the long flight was to check in at the magnificent Jetwing Blue in Negombo, just along the coast from the capital Colombo.
Palm trees and swathes of beautiful golden sands lure us like the sirens of Sri Lanka. I manage to grab just enough time for a stroll in the warm tropical waters before being called for a most pleasant dinner on the beach.
Apart from being the most wonderful antidote for long haul travel, Jetwing Blue has a fantastic environmental and sustainability policy. This I was to discover the following morning as Nuwan, the hotel's engineer, guides us on a tour of the luxury resort's sewage treatment and bottling plant.
I have a go at stoking the biomass boiler with some cinnamon bark. Nuwan explains how the hotel is planning to increase the number of their photovoltaic panels to meet all their energy needs. The biomass boiler fuels the resort's kitchen. Then, Nuwan shows us the sewage treatment and water bottling plants. Not many resorts are so transparent. We even have a go at cleaning our own bottles and then filling them with the treated water. Nothing at Jetwing goes to waste. Rainwater is collected. Treated waste is used on their own garden. This is a totally circular economy.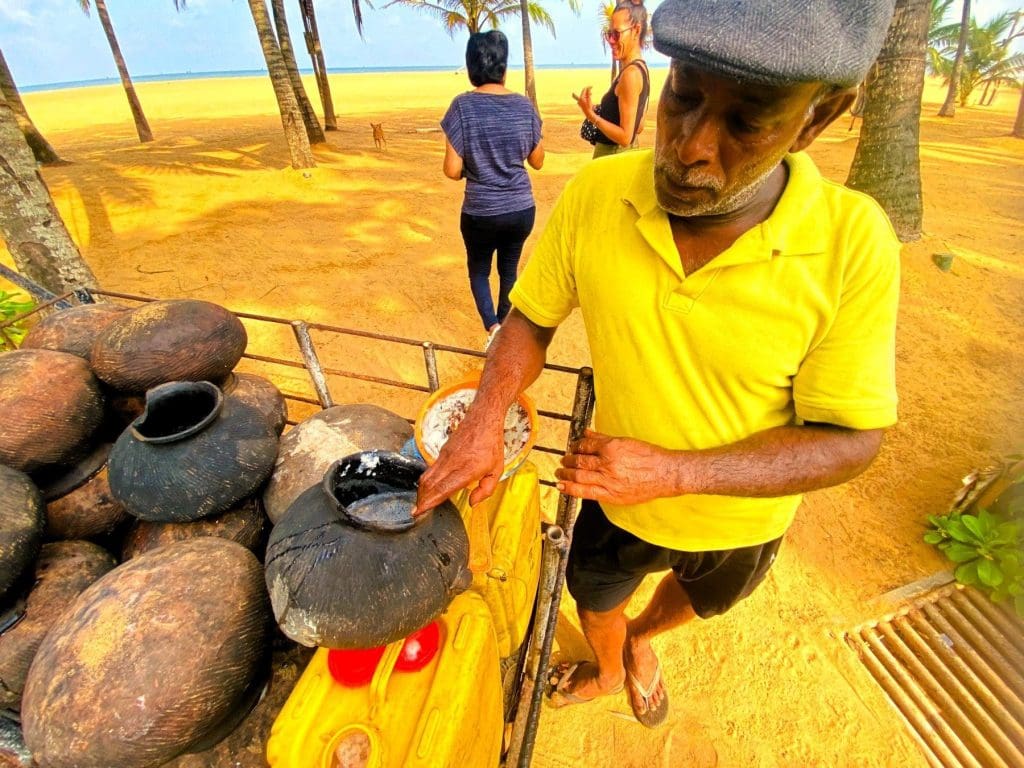 Jetwing Blue also produces its own honey from the treacle they tap from the coconut trees around the resort. Before we leave, we chat with Imal and Sumanasari, two tappers who are collecting the syrup in their toddies, before we try some of the sweet substance. They collect some 70 bottles per day. Leaving Nuwan behind, we head further north in search of elephants.
Elephant Watching at Minneriya National Park
Along the way from Negombo we pause at Kurumelaga, a town with a pleasant lake where we have a quick juice under the shade of a banyan tree – the national tree of Sri Lanka – to break up our journey. A couple of hours later we check in at Aliya Resort & Spa in Sigiriya, before departing for our elephant safari.
Peacocks, eagles, deer, a pelican, monitor lizard, jackal, toucan, heron and even a mongoose are spotted, but no elephants. I begin to despair. At last, our driver Thenne spots a posse of vehicles on the opposite side of the tank; a sure sign that something interesting lingers there.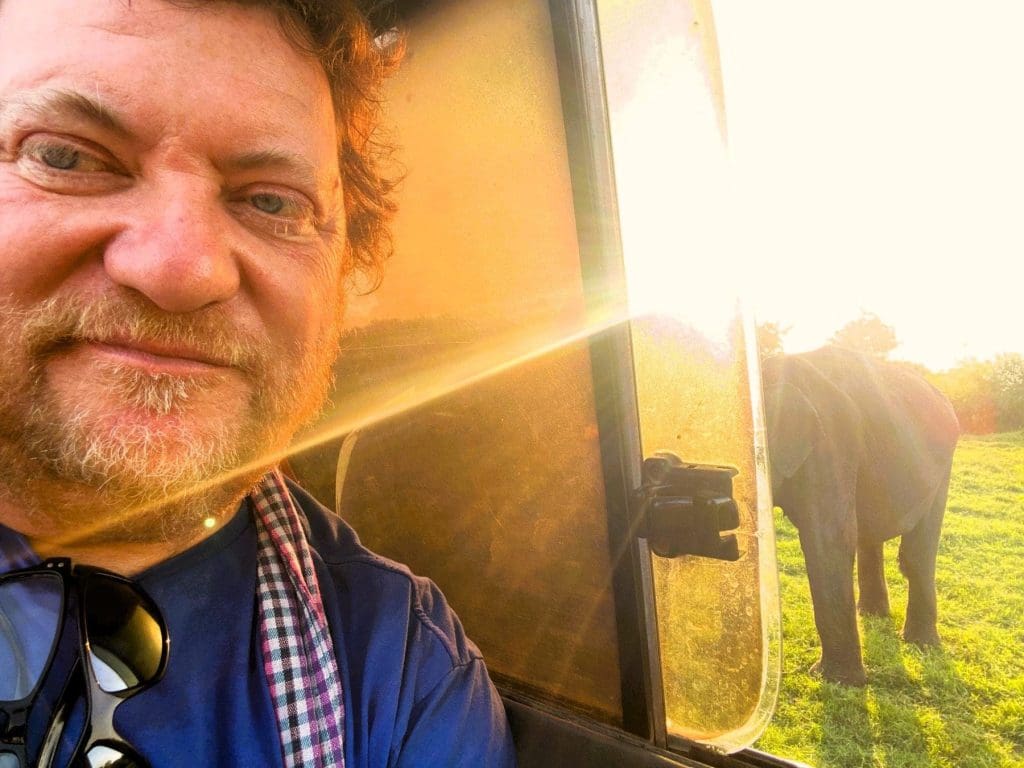 And so, it proves. Approaching carefully, we see some thirty or so elephants including the cutest little calf elephant you would ever see, just ambling aimlessly as elephants are wont to do. They continue munching away on the grass impervious to our – and the other vehicles – presence. It is a wonderful experience. Our patience is royally rewarded.
Appropriately, Aliya means elephant. After our safari, we relax at the resort. Enjoying the infinity pool before becoming introduced to kothu at dinner. Along with the hoppers I had discovered over breakfast, these are a great Sri Lankan delicacy.
Climbing Sigiriya Rock
The views from Aliya are spectacular. In the distance lies Sigiriya Rock (Lion Rock), the 5th century fortress built for King Kashyapa, which we are to climb after breakfast – extra helping of string hoppers and muffins for this.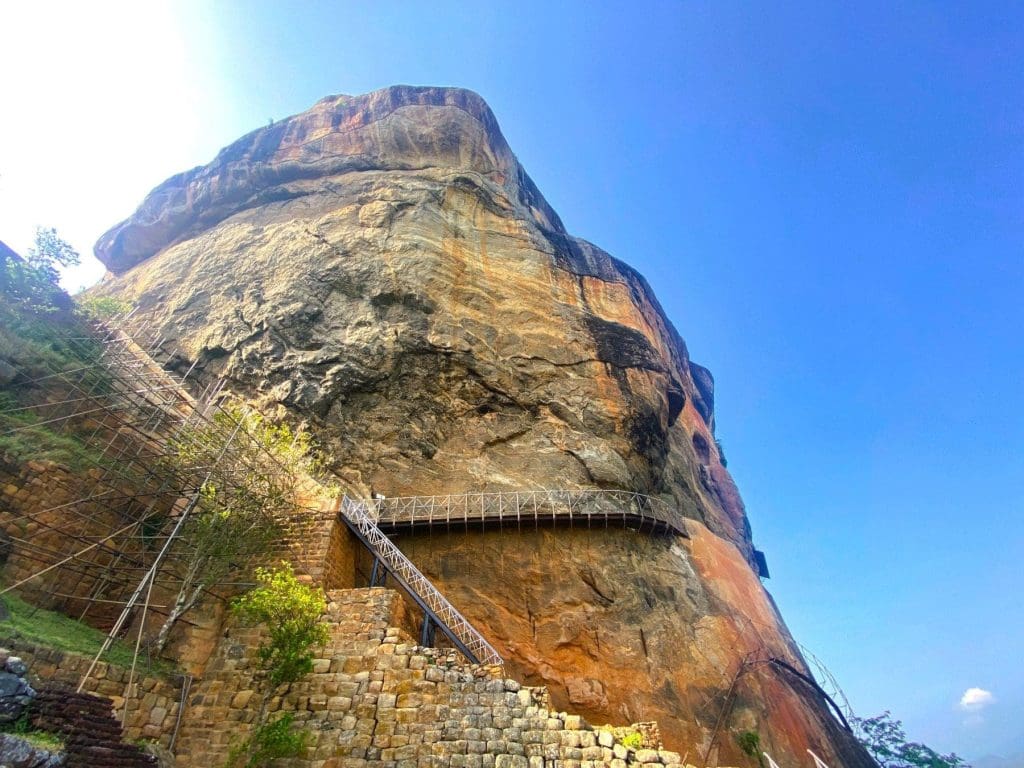 The Rock is a 6km-drive from Aliya. It is easy to hire a tuk tuk to take you there. Although it is not compulsory to hire a guide, I really would recommend it. Sena, our guide, was a mine of information. It also provides much needed tourism revenue for locals.
Sigiriya Rock fortress was declared a UNESCO world heritage site in 1982, and it is easy to see why. This is much more than an amazing huge granite rock perched on top of a mountain with mesmerising views at the summit – although it is all that to boot.
First, we walk across the 1,500-year-old inner moat. Apparently, there are crocodiles here – unless this is Sena's sense of humour – so swimming is not recommended. Then we follow the path through a series of gardens and swimming pools, until we reach some of the 32 caves beneath the rock. From here the climb commences.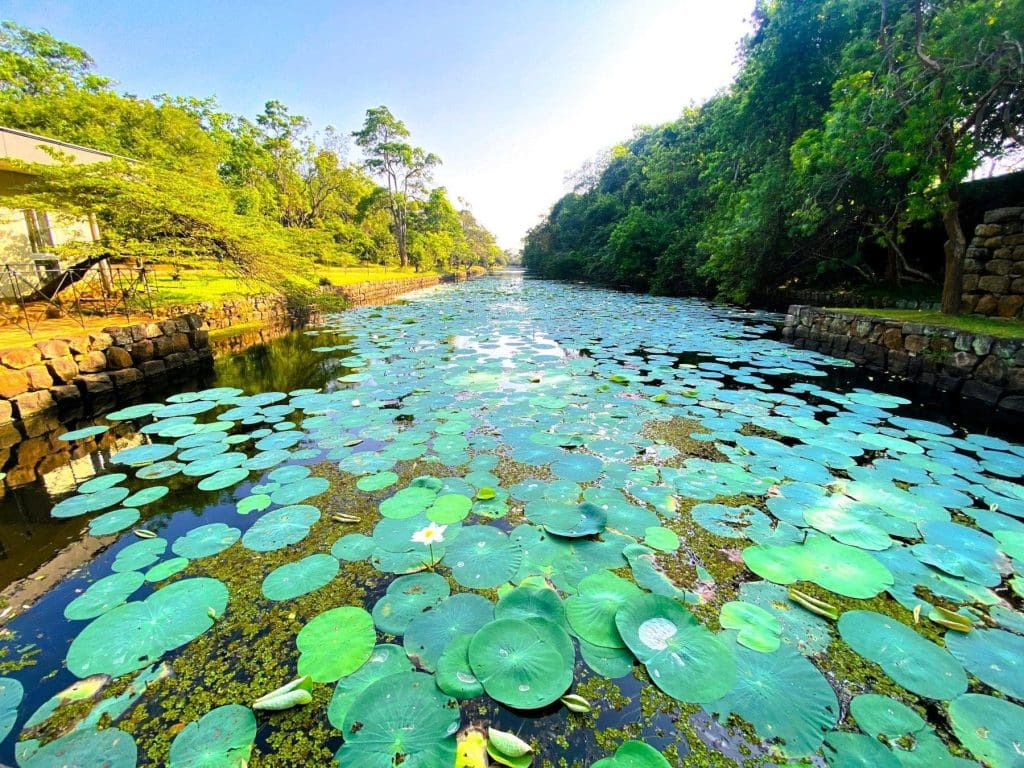 The original Buddhist monastery was built in the 3rd century but this was turned into a fortress by King Kashyapa in the 5th century. There were two palaces, one at the top of the rock and another further down. It is to the top palace that we climb some 200 metres or 1,202 steps.
Many people died in the seven years it took to construct the temple, and halfway up I fear I might join them. This, I discover, is not a climb for the unfit.
Sigiriya means 'throat of a lion' and towards the top on a most welcome plateau I realise why. The rock is carved in the shape of a lion although only the feet have been preserved. In the 5th century, you would walk through the lion's head to reach the summit.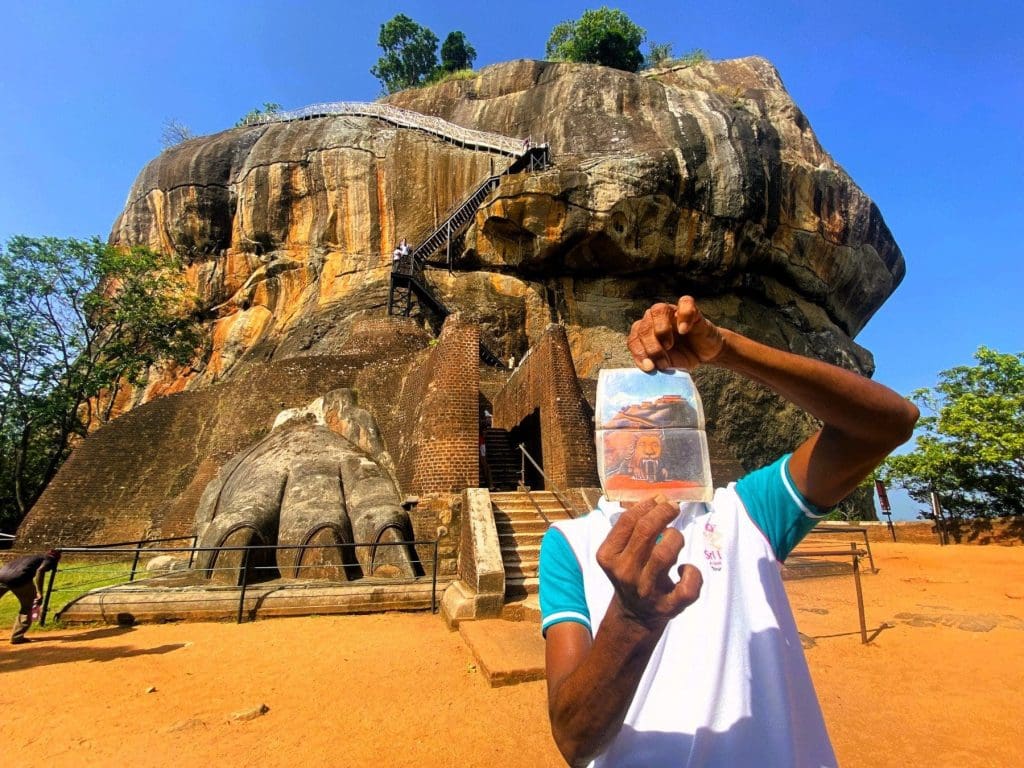 Now, there is just a series of steps to ascend before I reach the summit. The exertion is worth it. The views are quite astonishing, and I take some time chilling and relaxing – or perhaps recovering from the climb.
Descending, Sena takes us to a cave filled with 1,600-year-old paintings. These feature topless concubines and clothed servants. Some 22 of the original 500 paintings remain. One has Mona Lisa's eyes that follow me as I walk to and fro just like da Vinci's masterpiece.
Sigiriya: Sustainable Tourism Destination
Like Jetwing Blue, the Aliya has a strong community and sustainability ethos. After our trek up Sigiriya Rock and a final swim in the infinity pool, I am taken on the tour of the resort's organic garden by Rohana, its assistant operation manager.
Guests who stay at the Aruyedic spa receive their treatment and organic vegetarian food here, served by Nirosha and her team. They can also have cookery lessons. The setting in the paddy fields is spectacular. The refreshing breeze at the open-air restaurant negates any need for air-con. You can also practice yoga or have a pottery lesson with Jayatunga, who produces all the ceramics for the resort.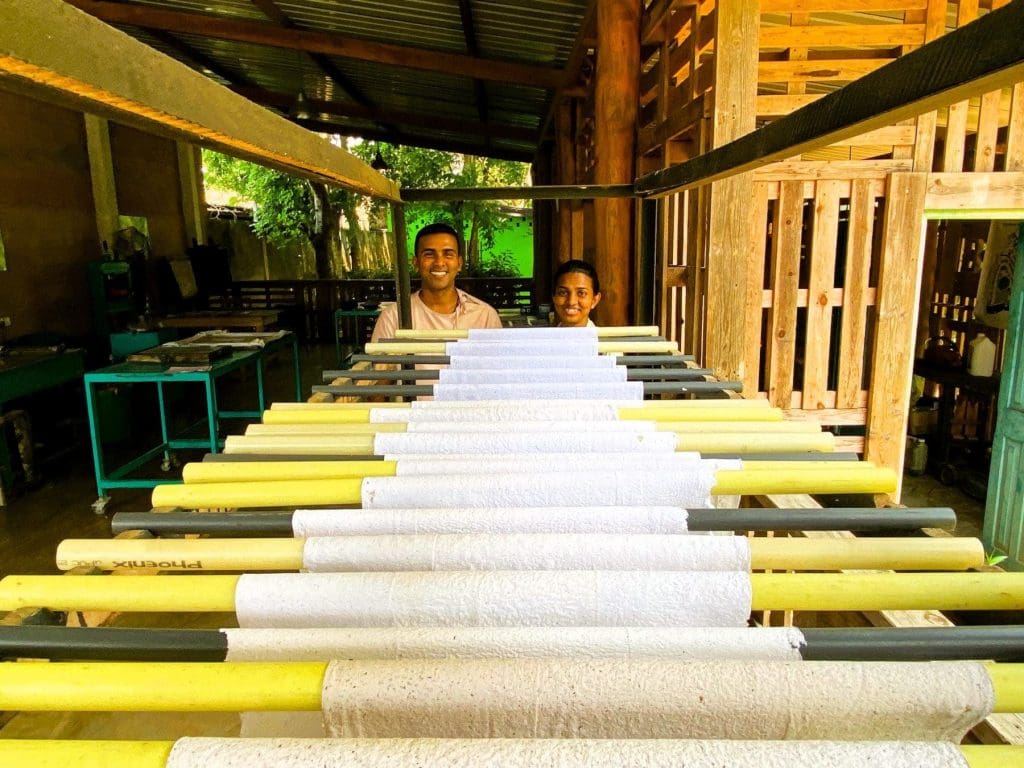 Finally, I am shown the paper recycling centre. Here Yadira and Lathmi holds classes demonstrating how paper can be made from waste products. I have a quick go before being handed a paper elephant to take back for my nephew to paint. The plant produces paper for the resort. Lathmi also provides birdwatching sessions. She is one of the 192 staff, some 80% are local, employed here. It really does feel, albeit from my fleeting visit, like one huge family.
It comes as no surprise to discover that Sigiriya is aiming to be a sustainable destination.
Hiriwadunna Village Tour near Habarana
Part of the attraction of Sigiriya is the way the local community is involved in sustainable tourism initiatives.
Leaving Aliya, we drive to Habarana for a nature trail trek arranged by the Cinnamon hotel.
A short tuk tuk ride – unfortunately unlike in Thailand I did not drive – takes us to Lake Hiriwadunna for a ride in a twin-paddle catamaran. We pause briefly to chat to Ratne, an old guy who is fishing for tilapia on an old tyre.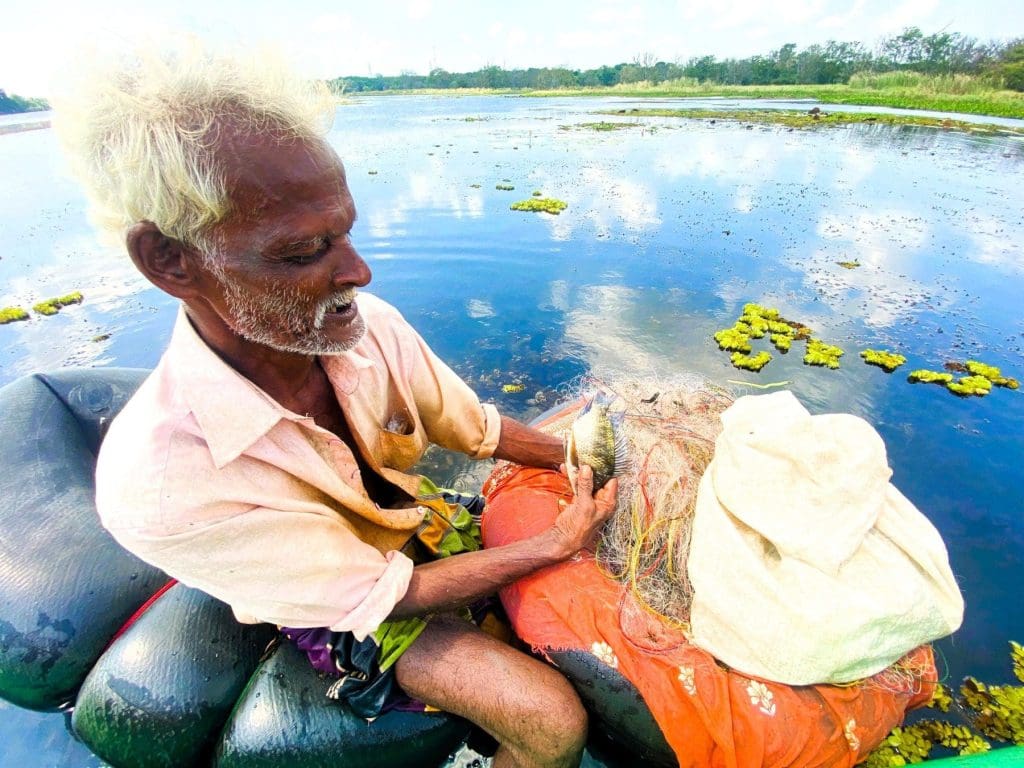 The village of Hiriwadunna consists of 270 families. Chandra shows us how to make the local dal cooked in coconut milk with loads of spices. Sri Lankan cuisine is quite amazing, but dal is my clear favourite – devouring it with every meal.
I give Chandra an unhelping hand stirring the pot occasionally, but I prefer to watch and wait for the feast to arrive. Dishes are presented in abundance. A fish curry, small fried fish, pumpkin curry, beans, cassava leaves, popadom and of course dal appear, as if we are expecting a further dozen guests. Of all the meals during my visit to Sri Lanka, this is the one that stands out the most. Authentic, local and devastatingly tasty, it really is an amazing feast.
Dambulla Golden Cave Temple
Our day does not conclude here. On the previous day, we planned to visit Dambulla Cave Temple, but in Sri Lanka time tends to slip away like grains of sand.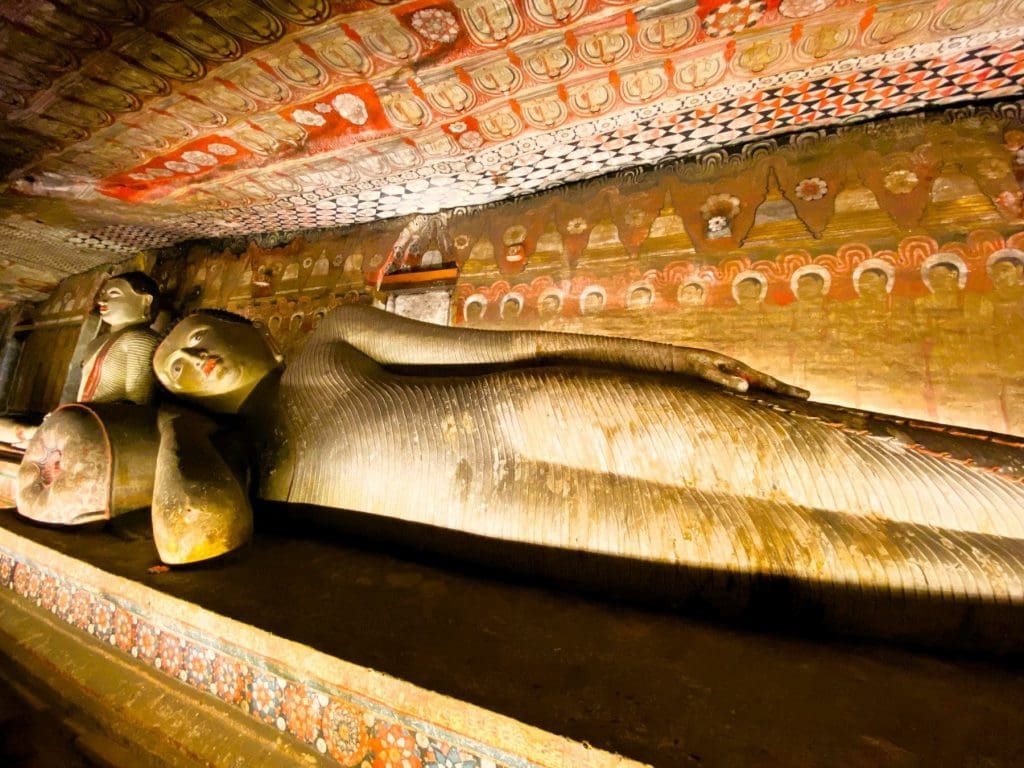 So, leaving Chandra we drive on to Dambulla, or the Golden Temple.
Frankly, after my morning's experience at Sigiriya I fear this temple will prove an anti-climax. However, what Sigiriya Rock fortress has in scale, Dambulla matches in detail.
Built in the first century, the temple complex consists of a series of five caves. In the first is an astonishing statue of a Reclining Buddha covered in gold leaf. I believe it is the oldest remaining statue in Sri Lanka.
Amazing as this is, the second cave is even more impressive. The largest at Dambulla, it contains more than 149 statues.
I would willing have stayed here for hours, transfixed by the beautiful colours and the texture of the paintings as they unfold from the roof of the cave, but we have to continue our awe-inspiring journey through Sri Lanka to the country's tea region and the former capital of Kandy.
---
Photo Gallery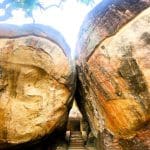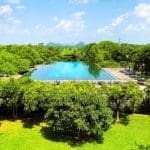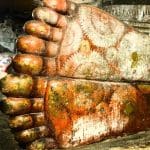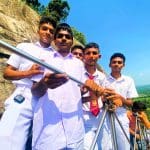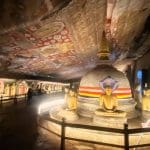 ---
Mark was hosted on the trip by Visit Sri Lanka. He flew from London Heathrow with Sri Lanka Airlines.
You can continue following Mark's journey through Sri Lanka as he takes a train ride through the country's tea region.
All images by Mark Bibby Jackson.
Mark Bibby Jackson
Before setting up Travel Begins at 40, Mark was the publisher of AsiaLIFE Cambodia and a freelance travel writer. When he is not packing and unpacking his travelling bag, Mark writes novels, including To Cook A Spider and Peppered Justice. He loves walking, eating, beer, isolation and arthouse movies, as well as talking to strangers on planes, buses and trains.