Feria de las Flores 2021, Medellin Colombia
August 12, 2021

-

August 22, 2021
Event Navigation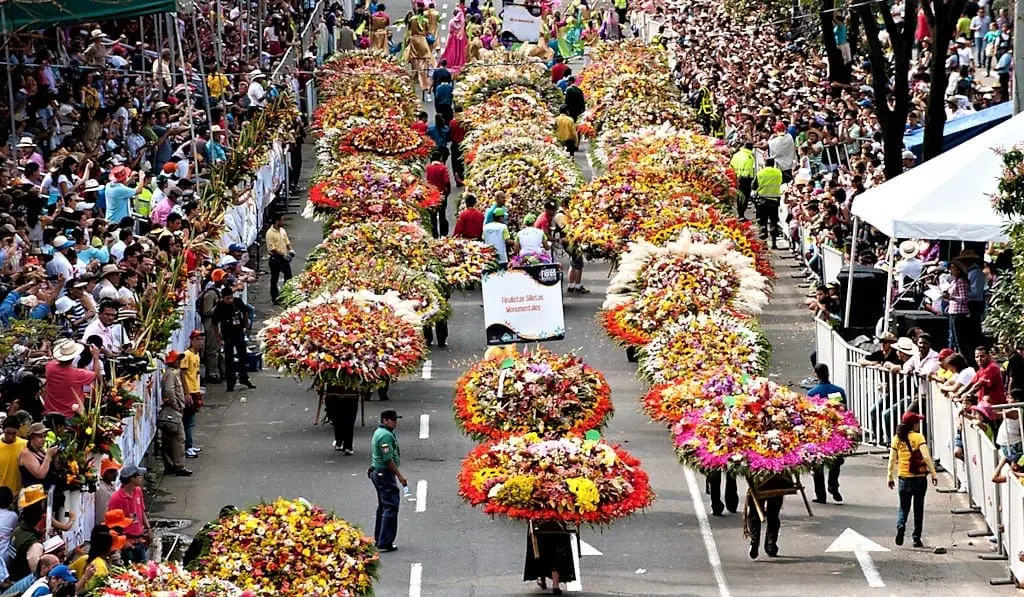 Medellin Colombia is a city transformed and what better way to experience this wonderful city than by visiting its annual Feria de las Flores or Flower Festival held each July to August?
In 2020 the event was moved to Novermber with events held online, but in 2021 the Feria de las Flores will be held from 12 to 20 August with some modifications and cancellations, including the car parade and orchid exhibition. Some events will be in person and others will be virtual. Further information can be found here.
In the 1990s the city was in a precarious position, associated with drug lords, rampant crime and terror attacks, safety in Medellin Colombia was a serious concern. A visit today reveals a triumph of urban regeneration that for just over one week is celebrated in bloom.
Some of the main attractions is the Joaquín Antonio Uribe Botanical Garden that covers 14 hectares and has over 1,000 species. Within this is the Orchidiarium, a hexagonal structure that has a large orchid and butterfly collection. You can also visit flower beds in different squares across the city.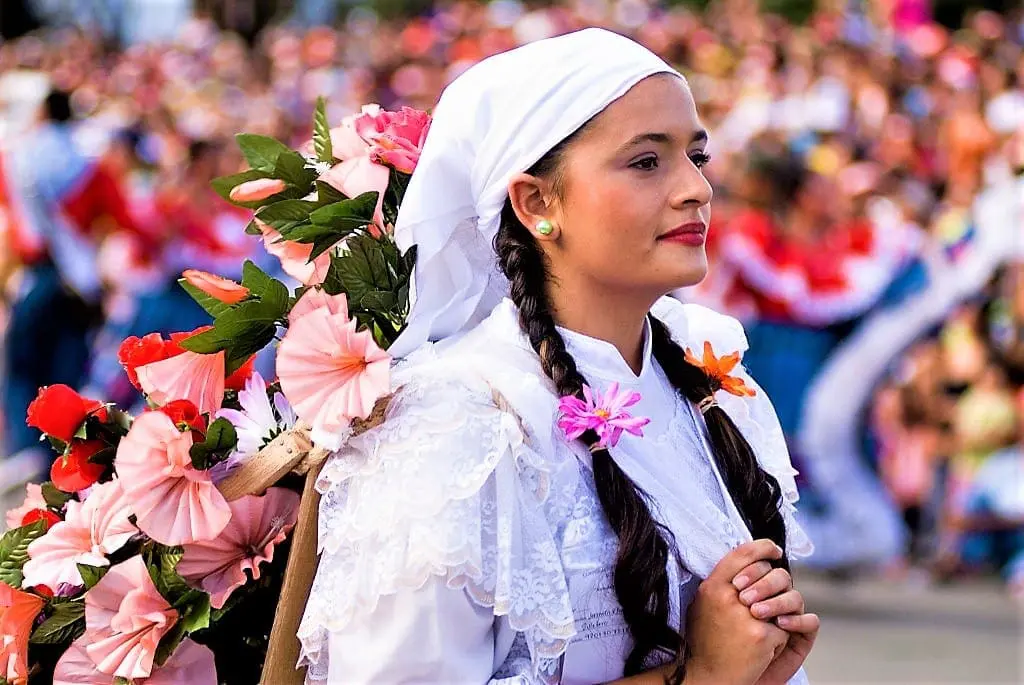 The parade of the silleteros is arguably the most impressive part of the festival. A procession of large lightweight fan-like frames decorated in flowers, it's an explosion of colour and a photogenic celebration.
Most of the events are free.
---
For other major festivals in Colombia, visit its annual Barranquilla Carnival in February, or immerse yourself in Colombia's biggest cultural event La Feria de Cali in December.
---
What else is there to do in Medellin?
If you are flowered out, there are many other things on offer such as a parade of antique cars, musical concerts, dance shows and local cuisine. In many ways the event is a wider celebration of the city itself.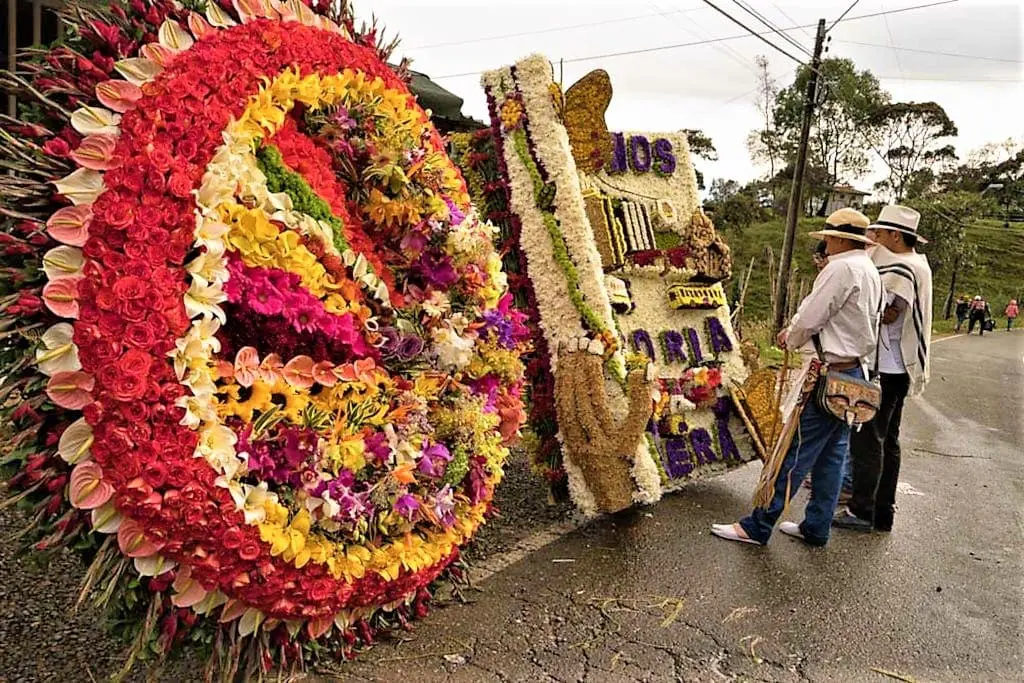 Then, of course, there are the things that you can do in Medellin all year around. The sculptures and artwork of Fernando Botero in both the Museum of Antioquia and the plaza outside should not be missed.
To appreciate the city, take the cable cars – here a system of public transport. Outside the city there are is the Guatape rock formation and coffee plantation tours.
Be very careful with any Pablo Escobar tours, as they may sensationalise or even glorify a figure despised by almost all Colombians.
Programme of Feria de las Flores
The Flower Festival takes place in August each year. The tourism agency has a detailed breakdown of the event, day by day, see below, (though in Spanish). Click here.
---
When is the Feria de las Flores 2021
The festival is from 12 to 22 August, 2021.
Medellin Colombia Weather
Another plus about your visit is that Medellin has a wonderful Mediterranean-like climate year round with average temperatures in the low twenties. The two rainy seasons are from April to May and September to November.
Colombia and COVID-19
Colombia like many counties in South America has been badly affected by COVID-19, we advise that you check on the current situation of he coronavirus before you travel there, and take necessary precautions. The UK Government, for instance, currently advises against travel to Colombia.
---
Medellin is not the only place to visit in Colombia, read Mike East's Things to Do in Cartagena: from Dawn to Dusk.
---
Medellin Colombia Hotels and Flights
To find the best accommodation and worldwide flights in Medellin Colombia, please search via our comparison engine, which scans all the major booking sites.
Avianca flies direct to Bogota from London. From the USA, there are flights to Bogota direct from Atlanta, Houston, Miami, Washington, Orlando, Fort Lauderdale and New York. Medellin has an international airport with flights to Panama and Caracas.
---
Medellin Colombia Things to Do
Click here.
Details
Start:

August 12, 2021

End:

August 22, 2021

Event Categories:

Topics:

Website:
Mike East
Mike began his career in travel writing by going overseas during his holidays and writing his own guide. He then sent this manuscript off to a range of travel guide companies and got a range of rejection letters — all except one. Getting a contract to write for Roger Lascelles Publications on the Caribbean islands of Trinidad and Tobago and The Bahamas was how his career began. With this opportunity came other pieces for British magazines and The Sunday Telegraph.
Event Navigation
Upcoming Events
October 23, 2021

-

May 31, 2022
Subscribe to our newsletter