Loy Krathong and Yi Peng Festivals, 2022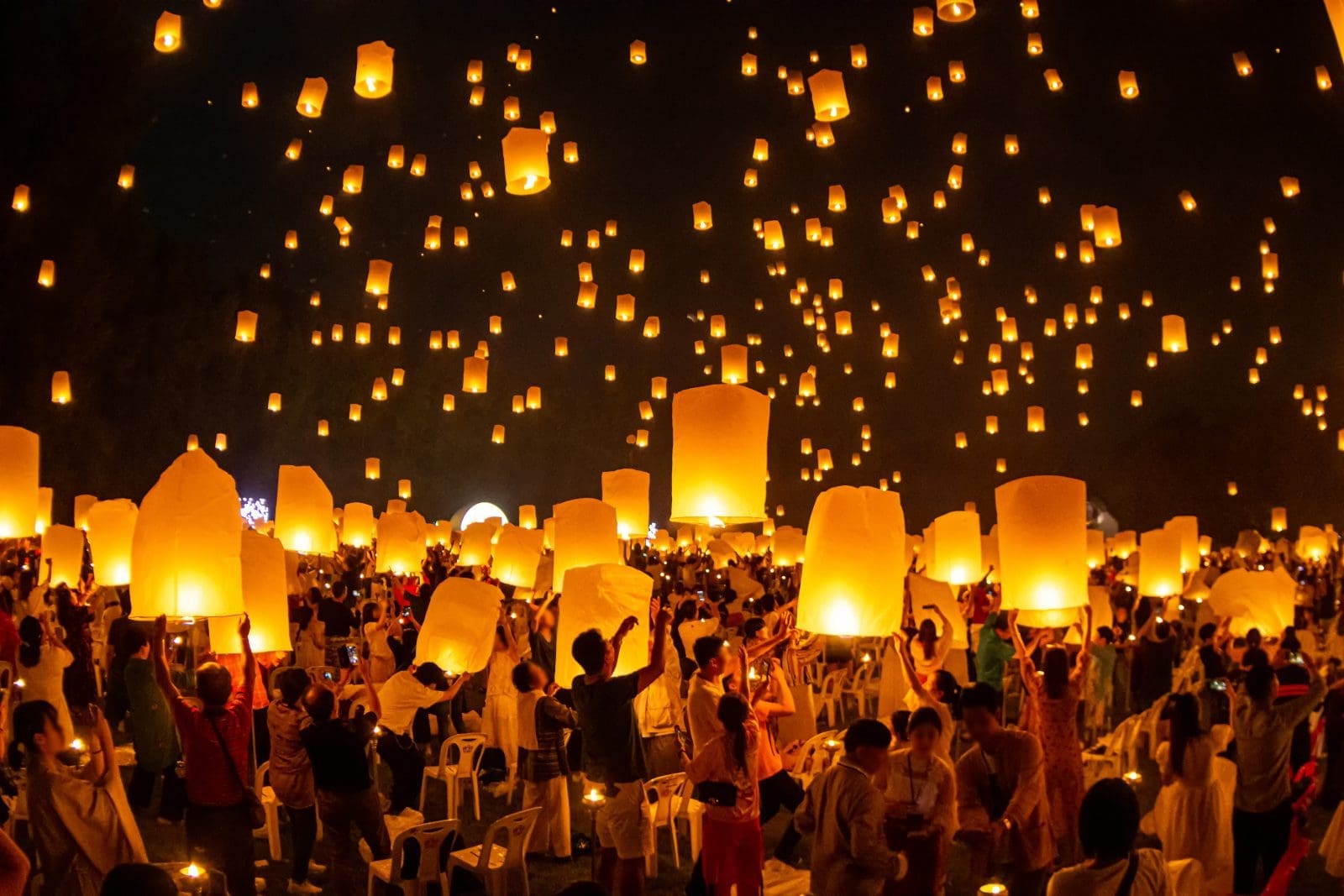 Thailand's most beautiful and beguiling festivals, Loy Krathong and Yi Peng are enormously popular with Thais and visitors alike. Thousands of little candle lights and flowers drift down waterways on small floats called krathong. At the same time the north of the country also sees its nightly heavens illuminated when countless candle-lit paper lanterns are released into the sky.
Even though this is not an official holiday in the Thai kingdom, the festivities span out over three days during full moon on the Thai calendar's twelfth lunar month, resulting in a slight change of date every year.
The origin of Loy Krathong and Yi Peng
Historical accounts about the origin and meaning of the Thai Festival of Light vary. It is often claimed that Loy Krathong originated in Sukothai, a historical former Thai capital from the 13th to 15th century and now a Unesco World Heritage site. Other sources point to Brahmanic origins but adapted by Thai Buddhists to honour Prince Siddharta Gautama, better known as Buddha. Yet another interpretation is that of venerating and thanking the water goddess Phra Mae Khongkha for the plenitude of water during rice growing season, by offering her krathong.
Whatever its true origins, today Loy Krathong is celebrated as a way of marking a fresh start and do away with misfortune. A small float is typically decorated with flowers and contains some incense and a small candle which is then set adrift as a symbol of letting go of anger and bad luck. Some people will add to their float a few nail clippings or small strands of their hair representing anger and misdeeds.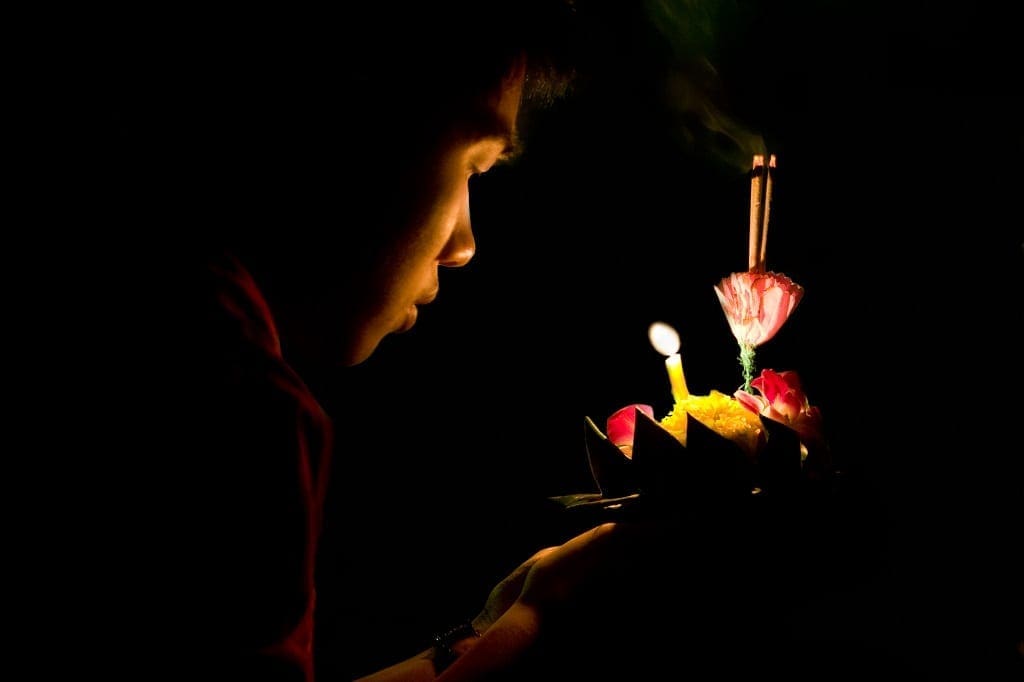 At the same time, in the north of Thailand where the former 13th to 18th century Lanna kingdom was, Yi Peng is celebrated alongside Loy Krathong – and often confused with it by visitors. Yi means "two" and Peng means "full moon day", referring to the full moon of the second month of the Lanna calendar which is closely linked to the Chinese calendar. Confusingly, Loy Krathong refers to the full moon of the 12th month of the Thai calendar, and although both are lunar calendars and both events take place at the same time, they are historically separate.
---
To discover more about Thailand, read Travel Begins as 40's 'Essential Thailand Travel Guide for the Over 40s'.
---
Some believe Yi Peng is, like Loy Krathong, adapted from Brahmanic origins while others think it came from China and is connected with Mahayana Buddhism. It's celebrated as a time to make merit and to mark the end of the rainy season. Today's motives are fairly similar to Loy Krathong – by releasing the khom loi or paper lanterns into the sky, the person's bad luck disappears with it.
How to celebrate Loy Krathong and Yi Peng?
This being Thailand, any event is a good excuse to party and Loy Krathong is no exception. Apart from the beautiful illuminated floats let to drift off on water and into the sky, this is also the time for music concerts, beauty pageants and krathong and lantern contests. In Chiang Mai, Thailand's major northern city, hundreds of colourful paper lanterns are displayed at different spots along the moat that forms a square around the city's historical quarters. It's easy to participate and local people will encourage you to do so.
---
Another one of Thailand's most popular festivals is the extravagant Thai New Year in spring, or Songkran.
---
You can pick up a cheap krathong – or even better, make your own – which consists of a little platform wrapped and decorated with banana leaves. As thousands of floats end up in the waterways all over the country, the Thai government encourages people to use biodegradable natural materials and has banned Styrofoam – the base of the float now often consists of bread or a banana trunk. Don't forget to add some nail clippings or, if you want to be modern, a print-out of a few nasty text messages.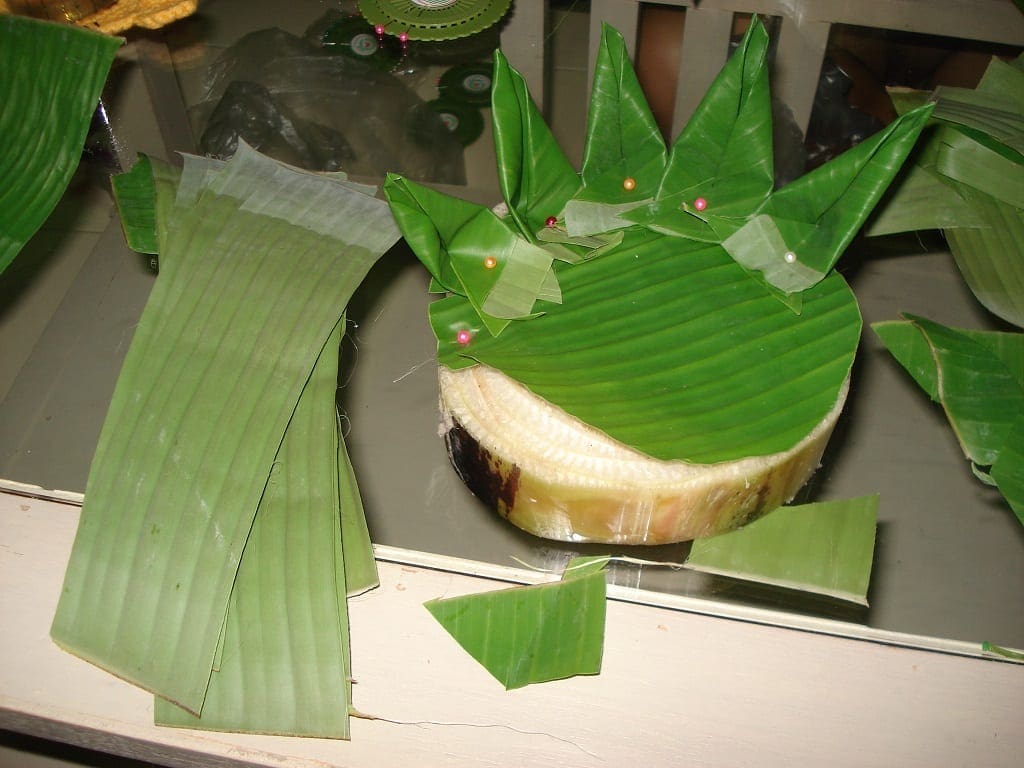 If you happen to be in the north, cheap floating lanterns will be offered for sale in local street shops. They're available in different sizes, made of thin paper suspended around a light bamboo frame and contain a spot to place a tea light or other source of heat. Once the hot air fills the lantern, it will rise into the sky – a truly magical sight and experience if it happens at night and alongside thousands of other khom loi.
However, celebrating these festivals is not entirely without risk. The sight of little candles drifting down the water and ascending into the night sky can trigger one's romantic feelings and it is believed that when setting off a krathong together with your partner, your love for one another will endure if both krathong stay together. On the other hand, if they drift apart or worse – sink – it's not a great sign. Unless, of course, this was a not very courageous but clever premeditated way of sabotaging an unwanted relationship.
---
---
Similarly, it is believed that good luck will come your way if your floating lantern disappears out of sight before the light extinguishes – except when it brings down an aircraft. Last year 157 flights were cancelled or rescheduled in Chiang Mai due to the danger the good fortune lanterns posed to planes. The Thai government has recently placed severe restrictions on where and when lanterns may be launched so be very aware of the local rules if you intend to participate as violators now may face enormous fines or even imprisonment. However, this shouldn't be much of a worry if you use common sense and let go of your khom loi at a time and place where many other local people do it – which should be nowhere near an airport.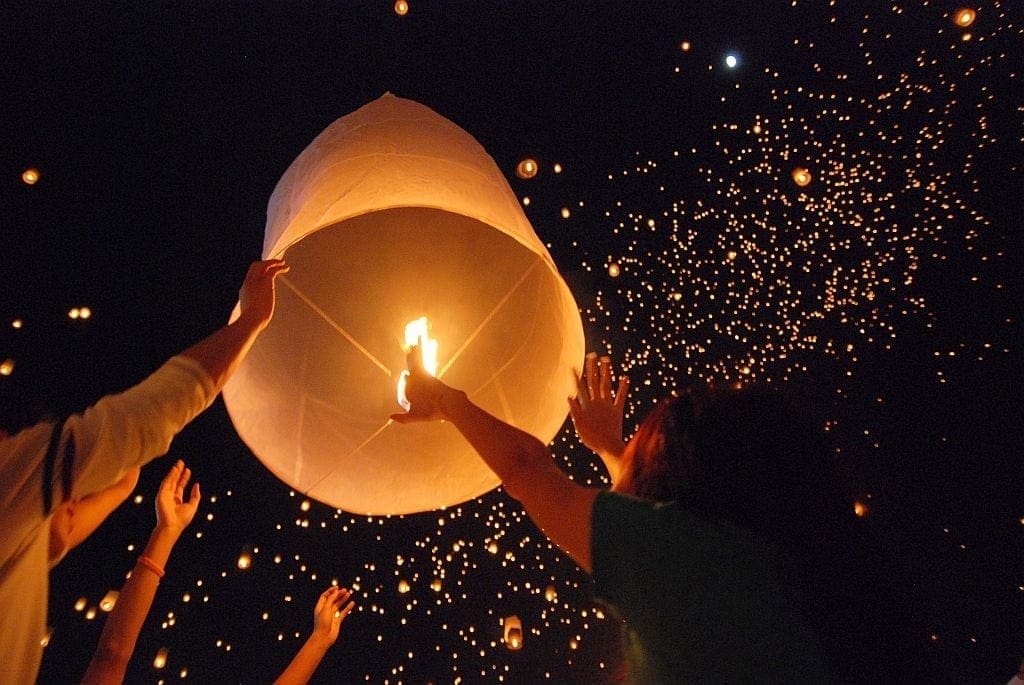 When is Loy Krathong 2022 and Yi Peng 2022
This year 2022 Loy Krathong and Yi Peng fall on 8 November and last until 9 November.
Best places in Thailand to celebrate Loy Krathong and Yi Peng

A particularly popular place to celebrate Loy Krathong is in the historical park of Sukothai when its ponds are lit with small candles, the ancient ruins are illuminated, and drama, dance and music performances take place.
Also very popular is Chiang Mai where you can enjoy the Yi Peng spectacle at the same time as Loy Krathong. Much of the celebrations are focussed along the Ping River – for example near Narawat Bridge – which runs through the city, and along the historical moat. For a more spiritual experience, both temples Wat Chedi Luang and Wat Phan Tao are good spots. Alternatively, find yourself a quiet place out of town and revel in watching a multitude of small yellow lights slowly drift through the black sky in silence.
The most important highlights in Chiang Mai is arguably the giant Kratong Parade which sees flower-covered floats competing for the most beautiful, elaborate and eye-popping creation. They can be watched driven down Thapae Road on the eve of Loy Krathong. The day after, on Loy Krathong Day, over 20,000 Lanna candles will be lit around the city moat and the Three Kings Monument while traditional dances are being performed by more than 200 women on the square in front of the monument (early evening).
---
---
Bangkok is also one of the best places in Thailand for this event. The city's Chao Phraya River is at the centre of the action while other popular spots include ponds in public parks such as Lumpini Park.
If you happen to be in the south of the country, many hotels and resorts in Phuket will organise their own Loy Krathong events. Needless to say, kids love all of this.
These are public celebrations so it's free to join. However, in Chiang Mai there is a separate event organised by a Buddhist sect at their temple complex in Mae Jo where meditation sessions are held and lanterns are released en masse.
Accommodation for Loy Krathong and Yi Peng
If you are looking to book accommodation in Thailand during Loy Krathong an Yi Peng, make sure you do this well in advance. Enter your dates in our flight and hotel comparison engine to search hundreds of sites for the best deals:
---
Other upcoming Thailand festivals:
Read our write-ups of the White Temple Thailand Light Fest in Chiang Rai, and the Monkey Buffet Festival in Lopburi, both held later this month.
Tourist Information on Thailand:
Consult the official website of the Tourism Authority of Thailand for other general information about Thailand.
Main image: Deposit Photos.
Details
Start:

November 8

End:

November 9

Event Categories:

Topics:
Johan Smits
Freelance writer, translator, web content developer, author of the novel Phnom Penh Express and Tommy, a short story. Loves trying out local brews, avoids noise. Chronically indecisive about where to lay down his hat. Shortlisted AITO Travel Writer of the Year 2018.
Upcoming Events
November 17, 2022

-

January 1, 2023
Subscribe to our newsletter